Let's be honest, the CZ Micro Scorpion is a fun little gun…but it's a mixed bag ergonomically.
I love it. It's one of my favorite little subguns, this thing has got issues.
So with the Micro Scorpion in hand, I asked myself if there was anything I could do to improve it.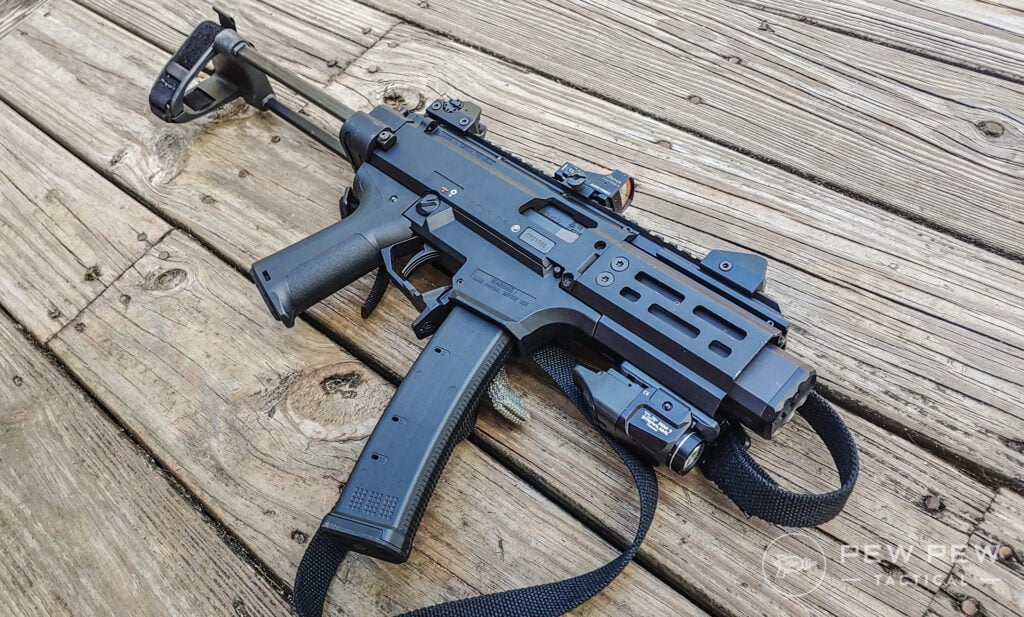 Good news! There is!
With a strong aftermarket, I was able to gather up some accessories and take this from ehh to oohhh!
My guiding principles for this build were to improve the ergonomics while maintaining — or even reducing — the gun's size.
Ready to jump in and find out exactly how I did that?
Awesome! I can't wait to show you.
Table of Contents
Loading…
Meet the Micro Scorpion
First off, let's take a look at our base gun.
The Micro Scorpion is a 9mm pistol that's really freaking big.
Honestly, "pistol" is a challenging term to use to describe a gun this big. There is a world of difference between a Glock and a Scorpion.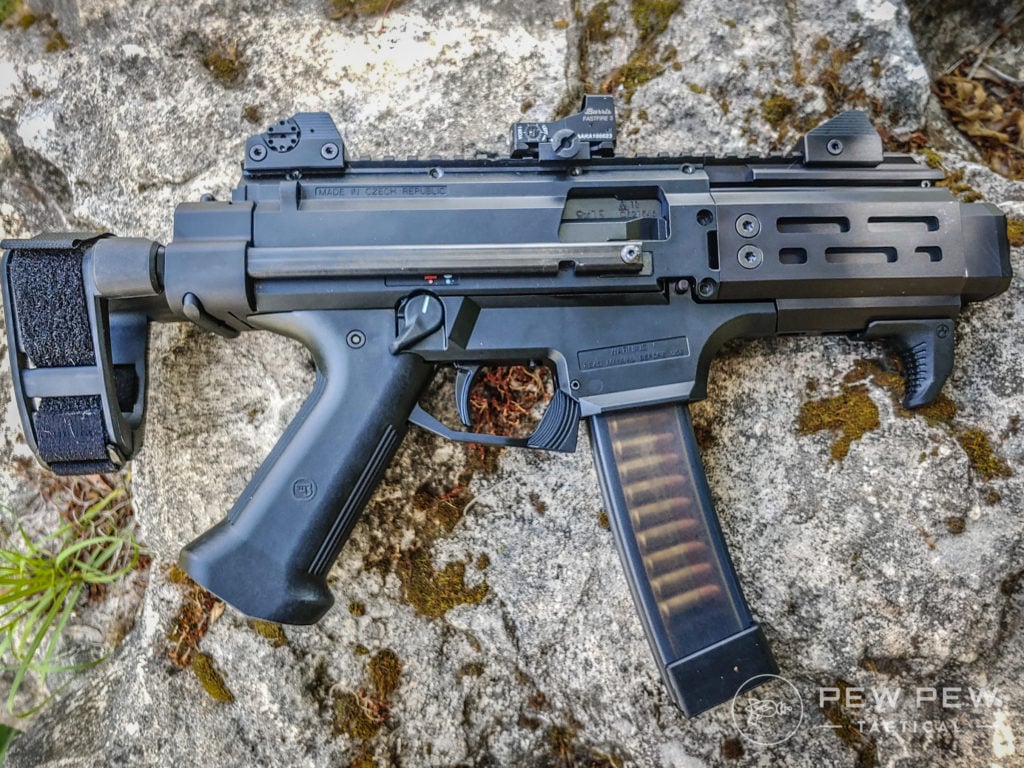 I like to call these "technically it's a pistol"…subguns.
The CZ Micro Scorpion Evo 3 S2 pistol is a K model Scorpion with a short 4.12-inch barrel. So, like…it's a pistol that packs the punch of a much bigger gun.
We gave the Micro Scorpion a full review once before, and there, I pointed out the gun's flaws. In this article, I aim to correct them!
That Blasted Safety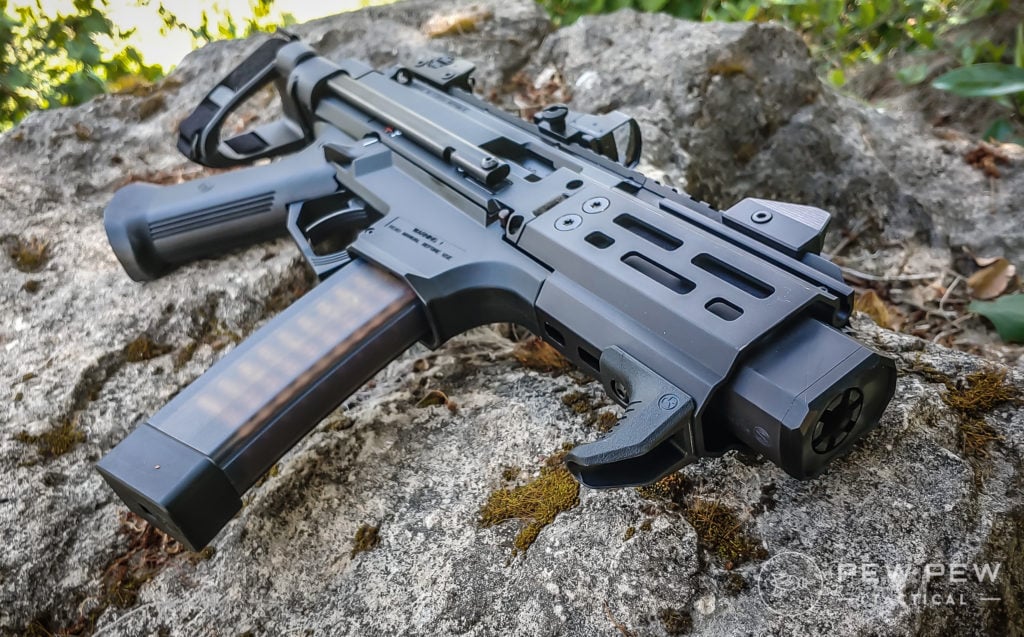 Why the engineers at Laugo and CZ installed this safety is beyond me.
Ambidextrous safeties are great, but when one side digs into your hand with every shot fired, you get sick of it.
One of the first upgrades many people like to make is deleting the ambidextrous safety in some way.
There are tons of options out there for Scorpion upgrades, but I went with a safety selector from Strike Industries.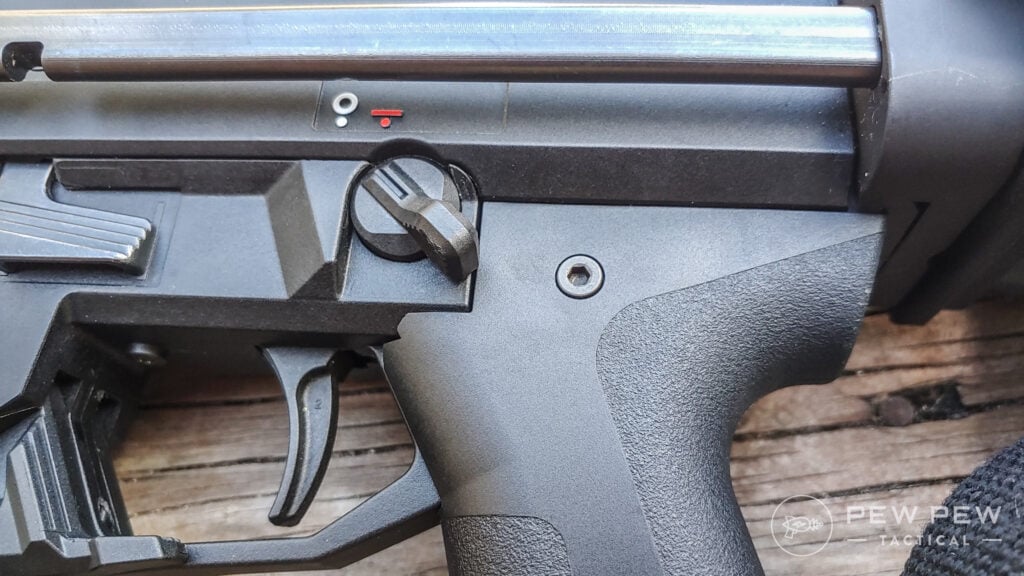 What's so special about it?
Well, Strike Industries produced a very small safety selector switch that gives users the option for both an ambidextrous safety and single side safety.
I chose to remove a single side and ran a safety on the left-hand side only.
It's a much shorter nub, but wider—nearly as wide as me post-SHOT Show buffets.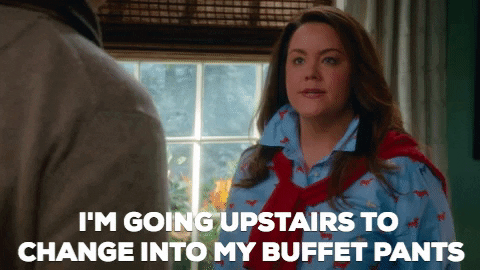 The nub does a brilliant job of catching your thumb and moving from safe to fire.
The Strike Industries selector switch removes the pain from firing your Scorpion.
If you only make two upgrades to your Scorpion, you should add a brace and then a better safety.
Trigger
The trigger is another big issue with the Scorpion series of PCCs. Why anyone would put a 9-pound trigger into a PCC is beyond me.
The good news is for $9, you can give it a substantial upgrade.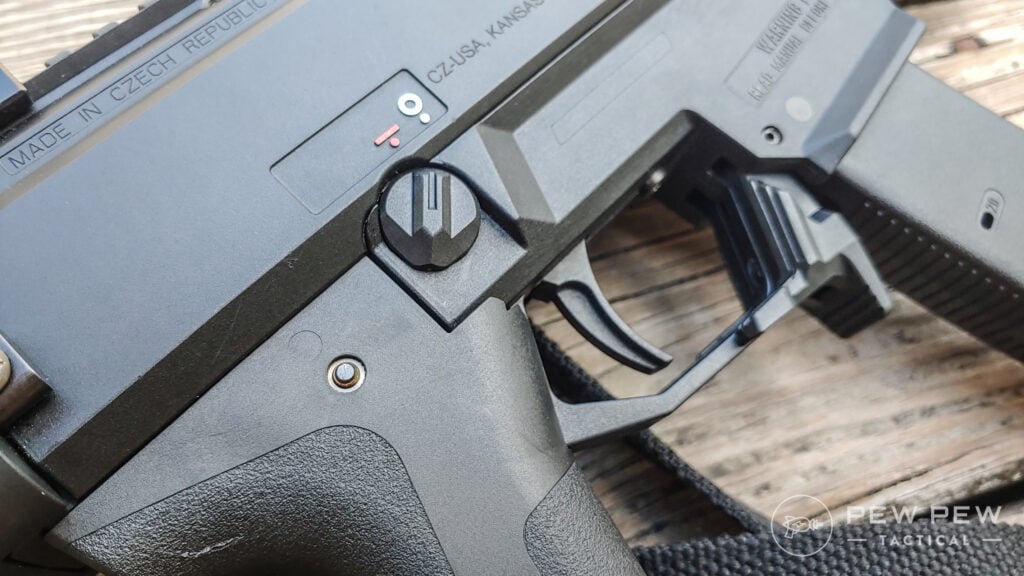 The HBI Trigger spring kit reduces the weight of your Scorpions trigger from 9-pounds to what HBI claims is 5.5-pounds.
In my gun, the trigger with the spring kit was closer to 6.5-pounds, but still drastically improved from the stock trigger.
Best of all? The HBI trigger spring kit is very simple, very cheap, and a worthwhile upgrade to your Scorpion.
Installation is easy; however, you may want to check if your trigger pack is welded. If so, this won't be a simple install.
Most newer Scorpions won't have this issue, but you should most certainly check yours.
Pistol Grip
Another addition from Strike Industries is the pistol grip.
I initially settled on a Magpul grip, but it wasn't on the market just yet.
Impatience got to me, and I ordered the Strike Industries pistol grip and never looked back.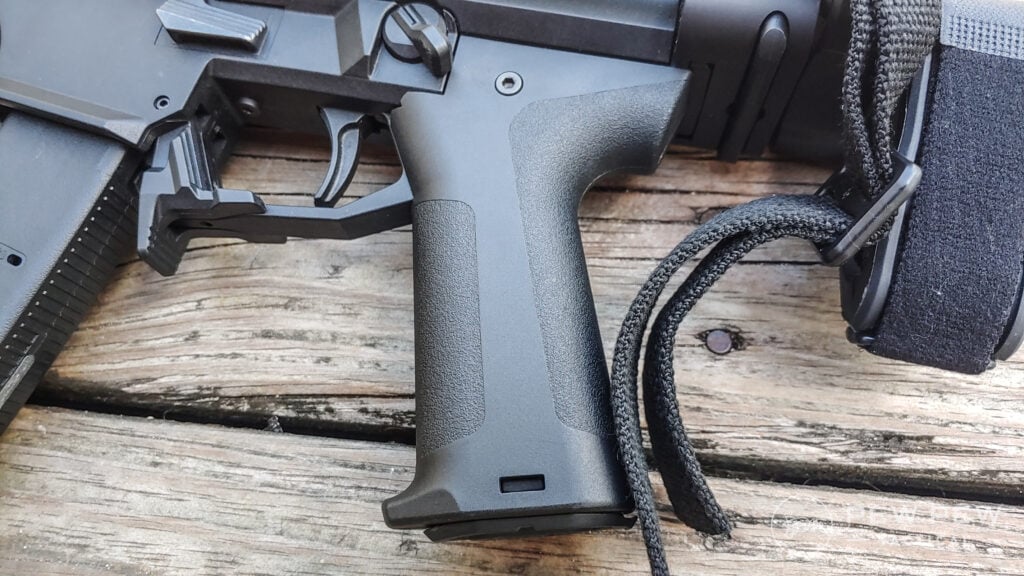 While half a dozen other options exist, the Strike Industries grip was also designed to work in coordination with the SI safety.
That's proper vertical integration.
Ultimately, I was quite happy with the Strike Industries pistol grip.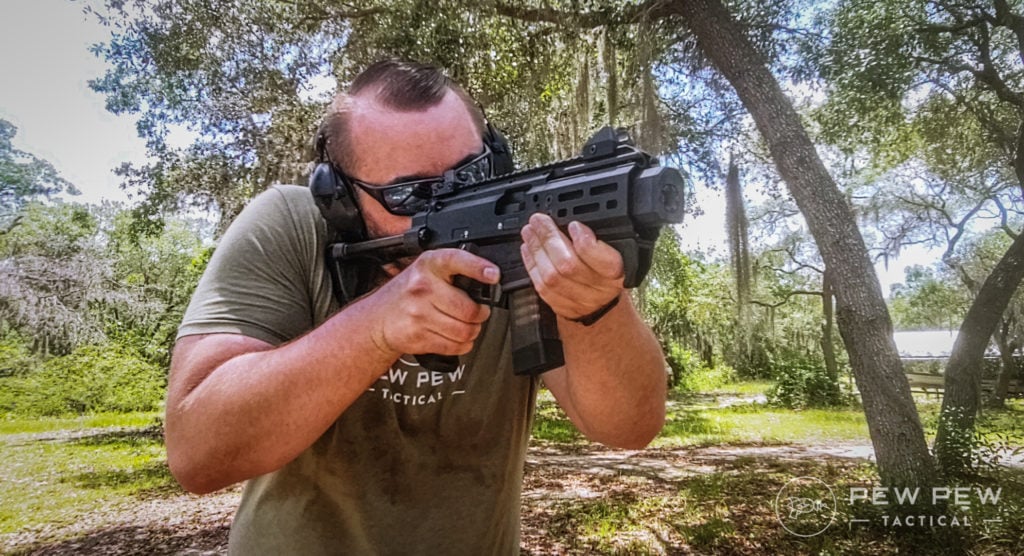 An initial issue many reported with the original grip was that it was pushed rearward to an extreme angle and sat outside the comfort of most American shooters.
The Strike Industries pistol grip corrected that problem and provided a more vertical grip with a 15-degree angle.
On full-sized rifles, the slant can be more exaggerated without a comfort issue, but I've also found short guns to be better paired with more vertical grips.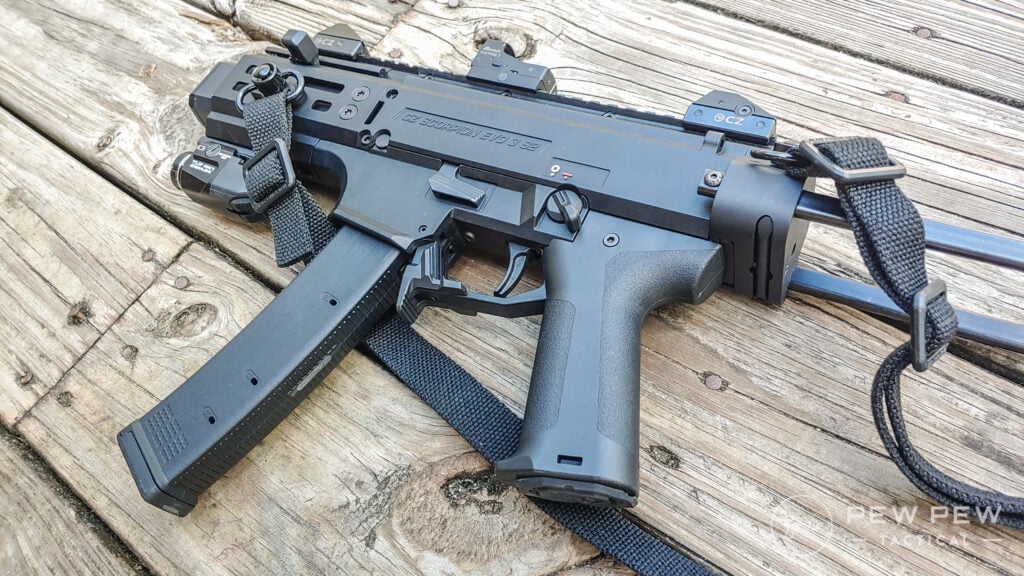 With the more vertical design, I can tuck in my elbow tight to the body and build a more stable platform to shoot from.
It feels ultimately much more comfortable with a squared-up stance.
The pistol is hollow and comes with a plug, so you can use it for storing small tools or lots of Skittles.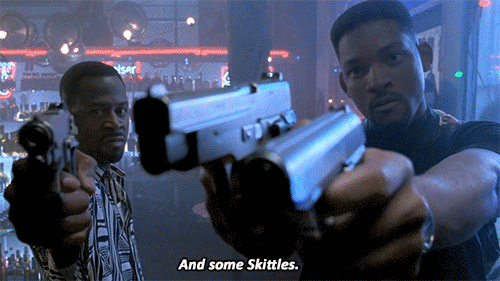 The grip is tacky — but is left somewhat bare to allow stipplers to make their mark, should they desire.
Overall, the Strike Industries pistol grip is a much better option than the stock CZ grip, especially on the smaller Micro Scorpion.
It allows you to keep your elbows locked in nice and tight.
Magazine Release
The Scorpion magazine release isn't terrible and is entirely functional.
It most certainly doesn't need to be replaced, but, like just about anything, it could be made better.
Plus, Strike Industries was already covering my gun, so why not add one more part?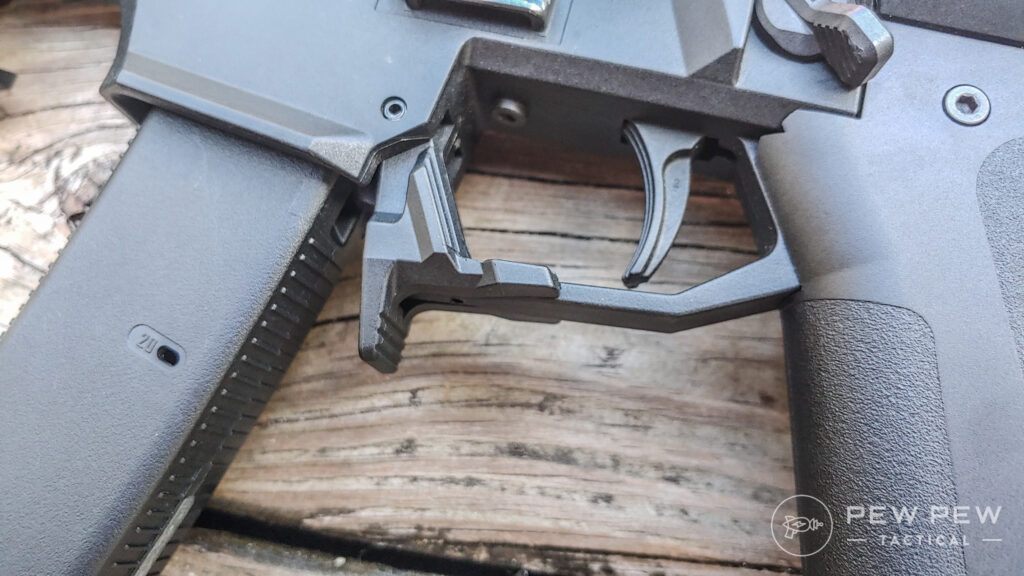 My big Eastern European hands allowed me to easily reach the stock magazine release with my trigger finger for speed reloads, but apparently, not everyone is a giant.
Strike Industries gave shooters of all hand sizes a more ergonomic and more comfortable to reach magazine release.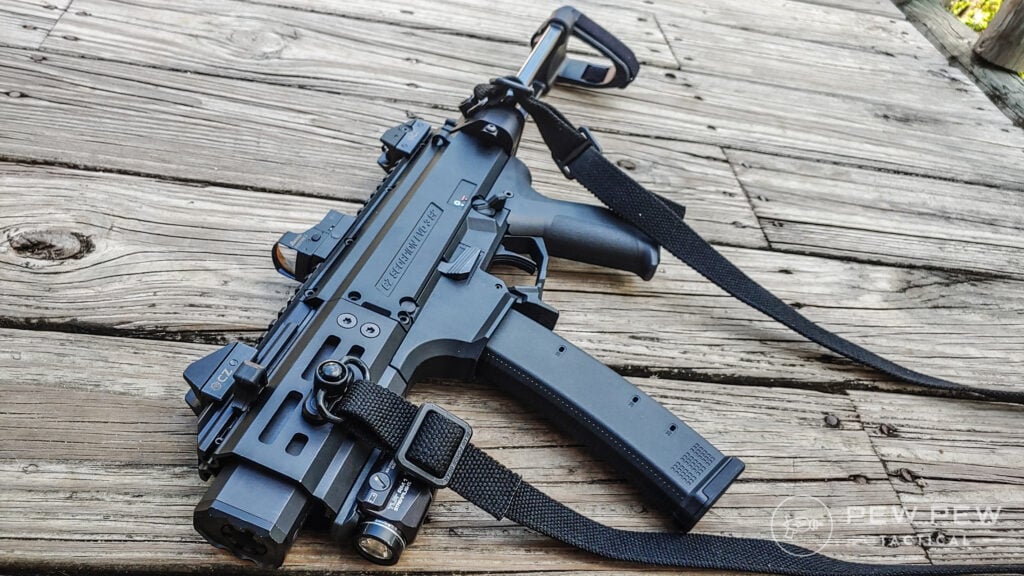 You have a long overhang, which makes reloads with retention quick and easy.
A portion of the magazine release rides along the side of the trigger guard, and this makes speed reloads with the trigger finger more accessible to those non-giants wielding subguns.
The Strike Industries magazine release is substantially larger than the stock option and does offer more intuitive magazine swaps for both lefties and righties.
It's a simple, worthwhile addition to your Scorpion.
Magazines
The CZ Scorpion OEM magazines are well made, seem to hold up, and are even affordable. There is nothing necessarily wrong with stock CZ magazines, but who's to say there isn't a better option?
Like many platforms, Magpul approached the Scorpion with open arms and put the PMAG blessing onto the platform.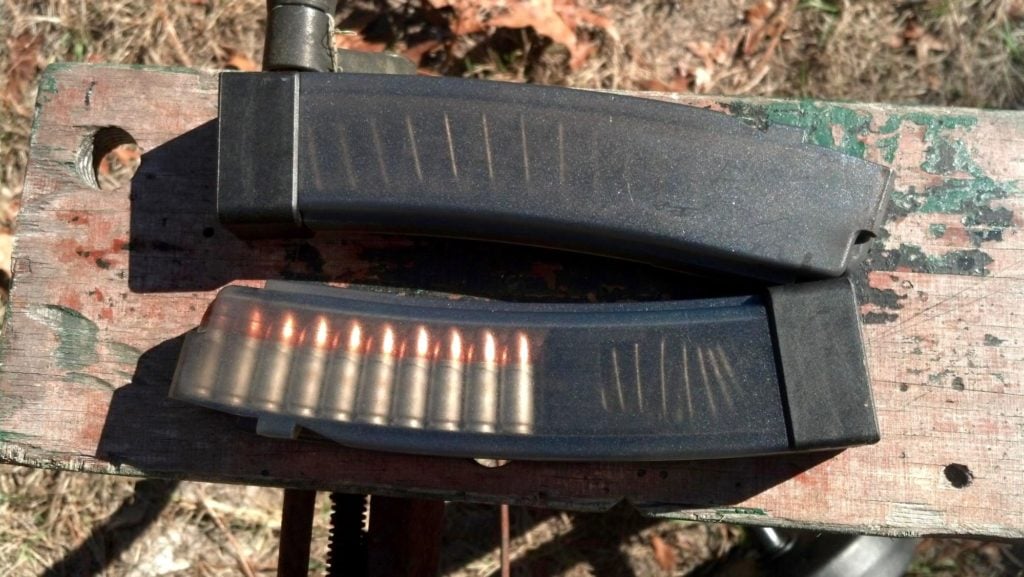 The Scorpion PMAGs offer you a few advantages over standard Scorpion magazines. Most notably, you get 35 rounds in the PMAGs.
More rounds are always better than fewer rounds, right?
I think that the Micro Scorpion is a great home-defense weapon, and having five additional rounds can be a comforting feeling.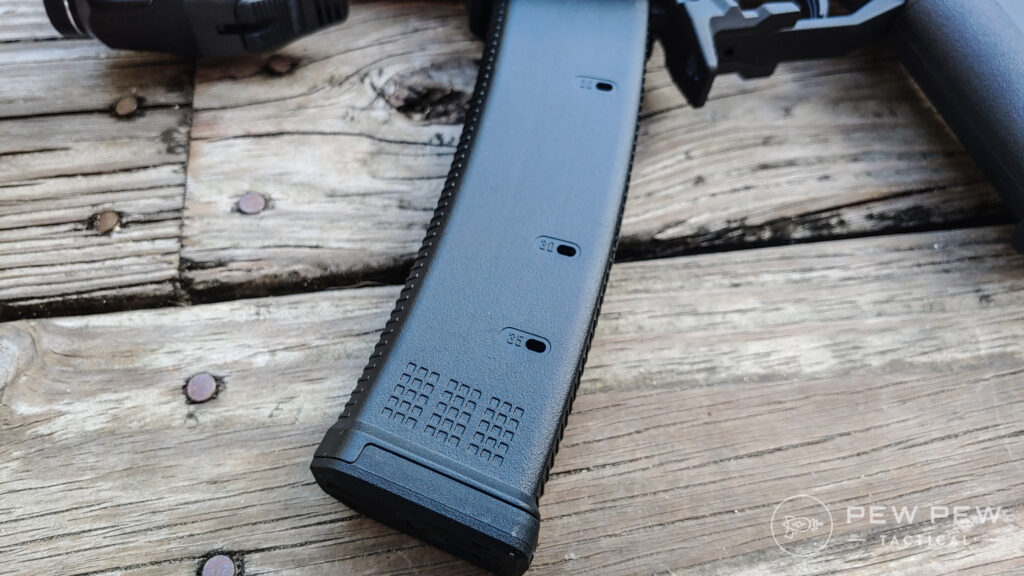 PMAG users also get an aggressive external texture that makes the magazines more comfortable to grip. There are plenty of witness holes to allow you to see where you stand ammo wise.
The PMAG variants offer you the proven Gen M3 polymer that's proven to be robust enough for military use.
Oh, and the PMAGs are cheaper than the OEM magazines. I'll gladly pay less money for a better product!
Brace
There are lots of options for braces for the Scorpion.
You can convert a Scorpion stock to a Tailhook brace, the SB Tactical EVO folding variant, or you can even tack on an adapter and an AR tube to open up options even more.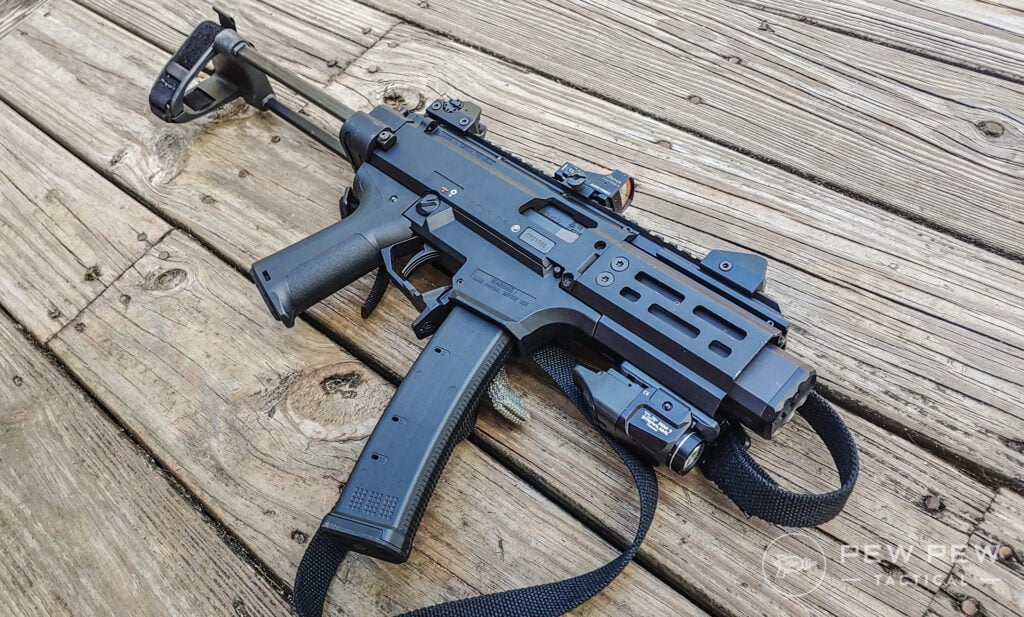 With the Micro Scorpion, I can only think of one option, and that's the PDW brace.
The Scorpion PDW brace is the result of the mad minds at Manticore Arms and SB Tactical.
As a PDW brace should, it collapses to make a tiny package.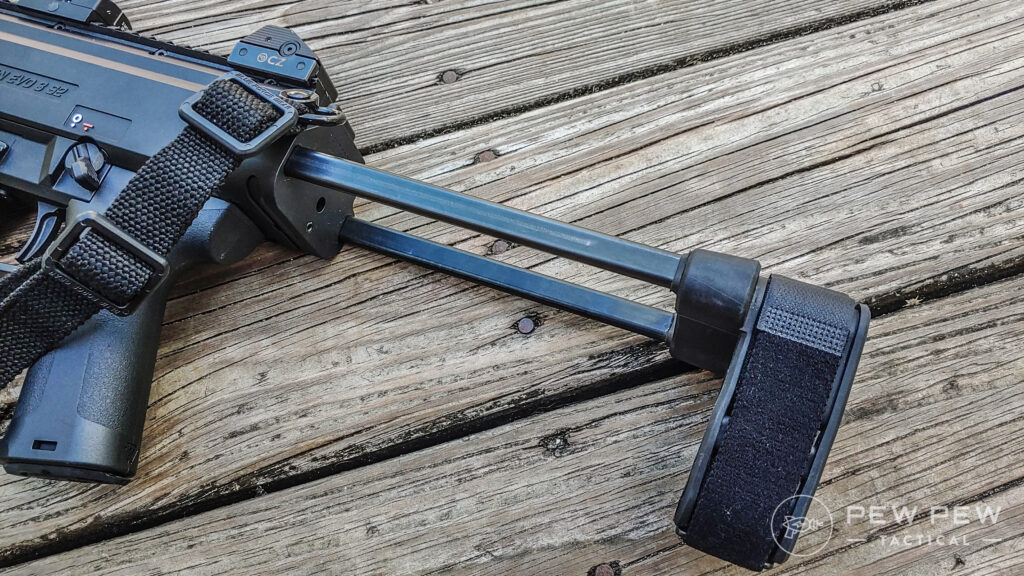 Admittedly it offers less support than the Evo folding model, and that's to be expected from a wire style stock. The words "cheek weld" have no power here, either!
However, there is no more appropriate brace for the Micro Scorpion than this one.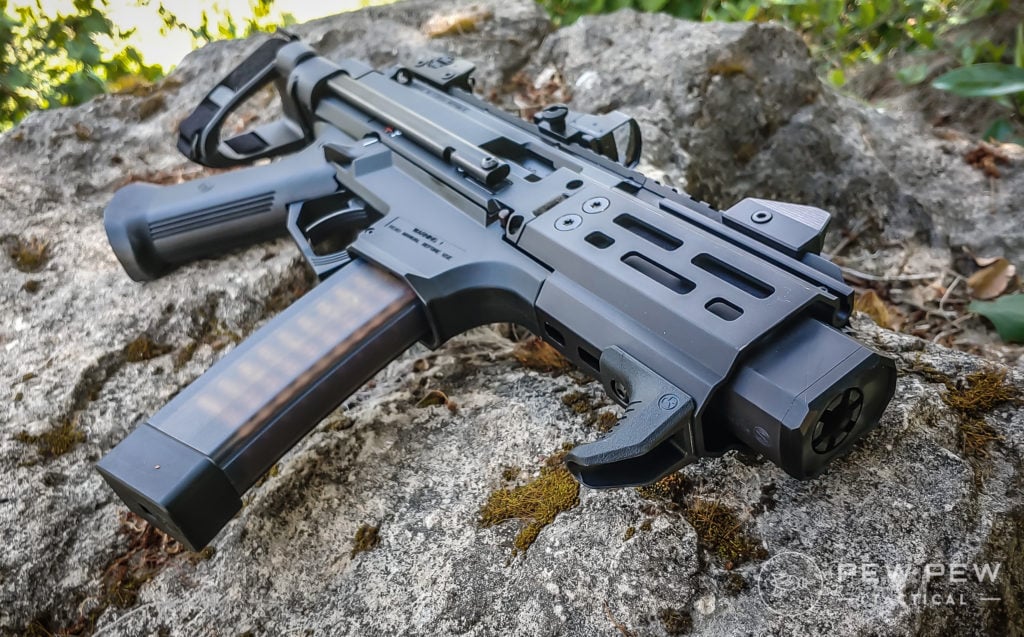 The metal arms are relatively rigid, and there are two settings for different LOPs. When collapsed, the brace deploys with nothing more than a tug.
Once deployed, the brace can be collapsed with the press of a button.
The PDW brace just looks perfect on the Micro Scorpion and fits the goal of the gun of being both small but more effective to handle.
Ultimately if you make one upgrade to your Scorpion pistol, it should be the addition of a brace – and I'm saying that after replacing just about everything that could be replaced!
It's a night and day difference in how the gun handles and how effective you can be with it.
Sling
I'm like a broken record in repeating myself throughout all these builds, and one constant theme you'll see in my builds is the presence of Blue Force Gear Vickers Slings.
Maybe I'm just a fangirl, or maybe I don't like change, or maybe when I find something I love, I cling to it.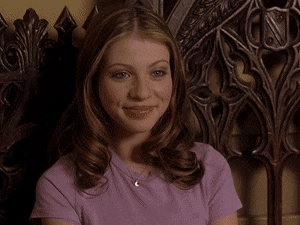 A big ol' rifle sling on a little bitty Scorpion just seems silly, though.
Instead, I went with the lighter, thinner One sling from Blue Force Gear.
It retains the Vickers design, including the quick pull tab for instant adjustments, both broad and precise.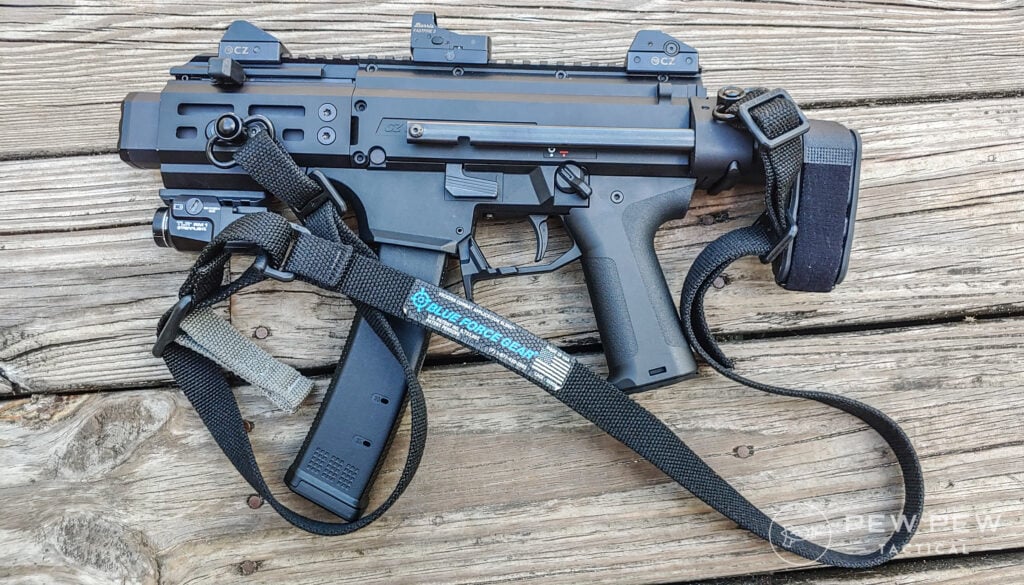 The One sling takes its name from the fact that it's only 1-inch wide. It trims a quarter-inch off the sling's width, and expectedly that reduces the weight by a good margin.
The One sling is a two-point, and many would likely prefer a single point on a gun like this, but I really hate swinging weapons, so here we are.
Like all of the Blue Force Gear Vickers slings, the one is well built, incredibly durable, and likely to last a very long time.
Optic
I experimented with a number of optics and options for the Micro Scorpion.
I used the Romeo 5, the Foresight, the Swampfox Blade, and while they all worked, they didn't meet my need for teeny tiny.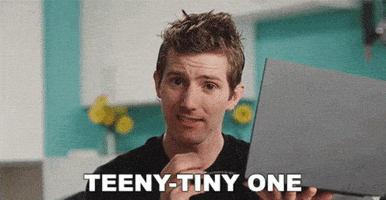 Then I fell back onto an old friend, the Burris Fastfire 3.
I picked up a Fastfire 3 for a great price years ago, and it's long been an optic I use to review guns.
If the gun doesn't come with sights, then I'm tossing the Fastfire 3.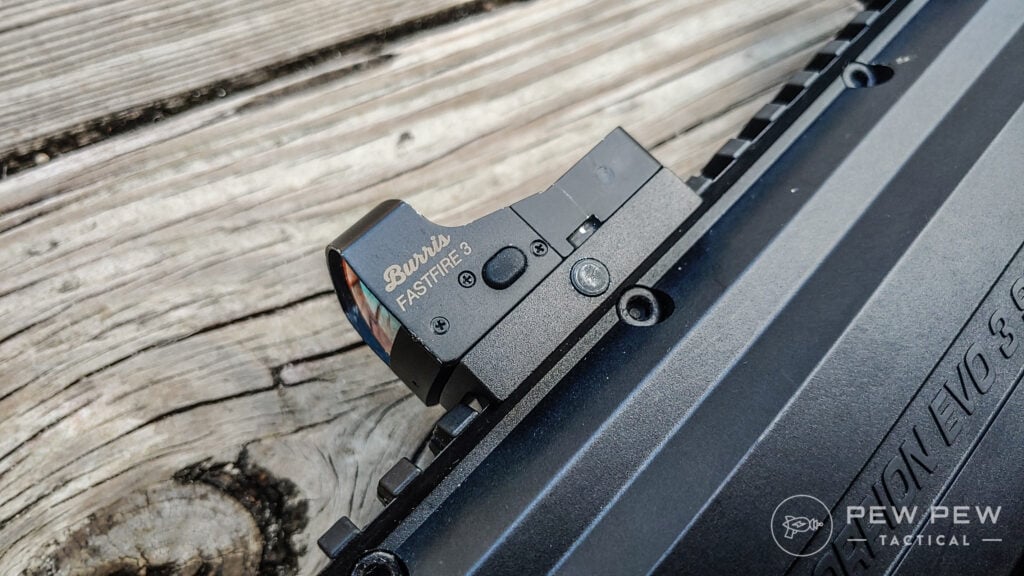 The Fastfire 3 came with a Picatinny mount, and the low mount placed it at the perfect height to co-witness with the gun's extraordinary iron sights. If you're looking for a very simple micro red dot, the Fastfire 3 is it.
You get three brightness settings and an auto mode. A single button controls everything.
The 3 MOA red dot is small enough for subgun work but big enough for speed as well.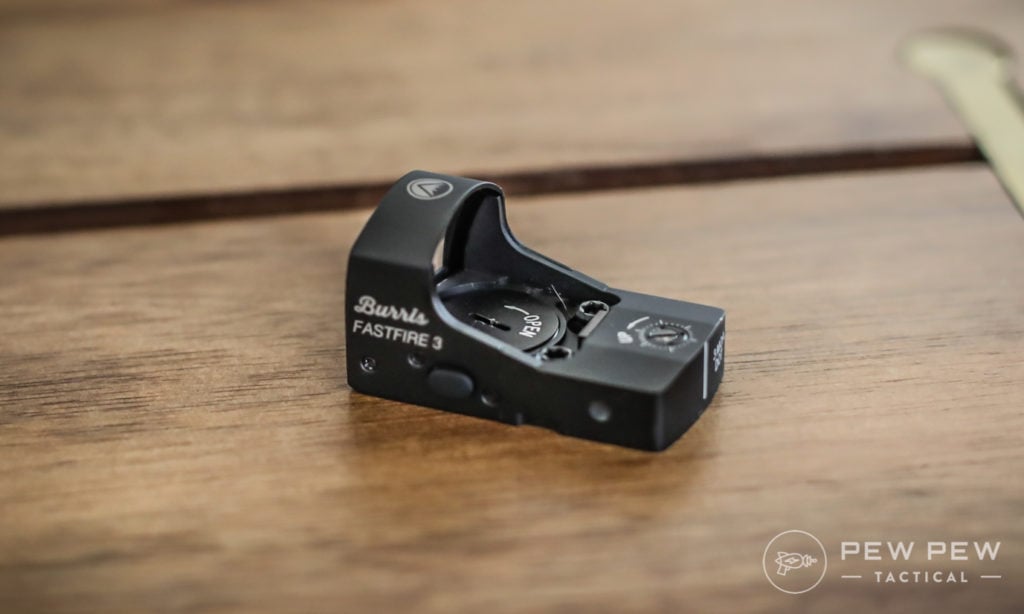 One thing worth stanning is the top-loading battery. You do not have to remove your dot and re-zero to swap batteries.
Zeroing this thing is simple, too — or maybe it's just simple to me because I've done it a million times.
Any kind of quality micro red dot would be an excellent contender on the Micro Scorpion, but for now, the Fastfire 3 works wonders.
Light
What is a home-defense subgun without a light? Nothing, that's what!
My light of choice is the small and sleek TLR RM 1.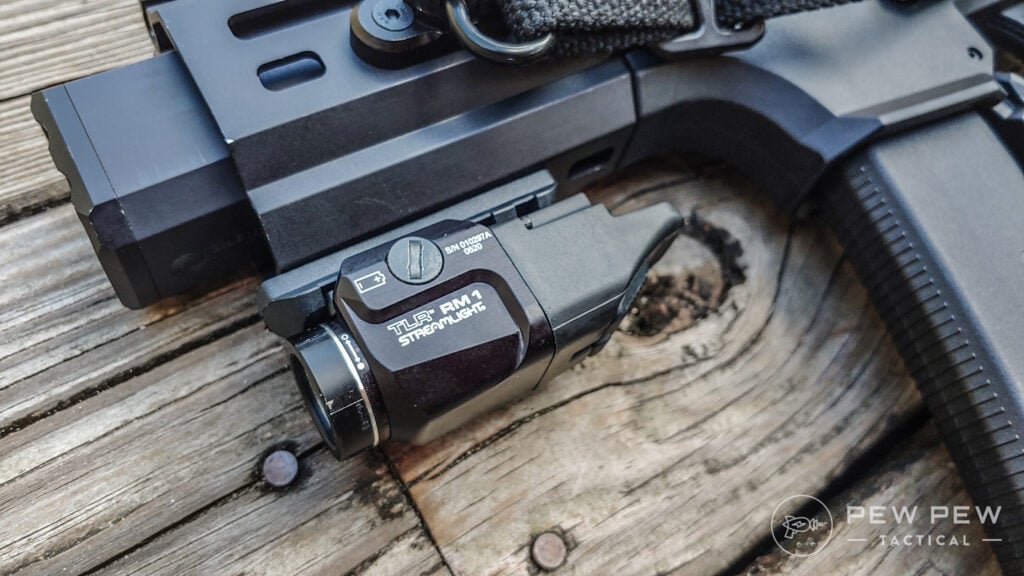 This new Streamlight design is very Inforce-like with mostly metal construction, pressure pad compatibility, and a choice between two sizes: the RM 1 and the RM 2.
Of the pair, the RM 1 is the smaller one and packs 500 lumens. The beam is limited, but the light is also small.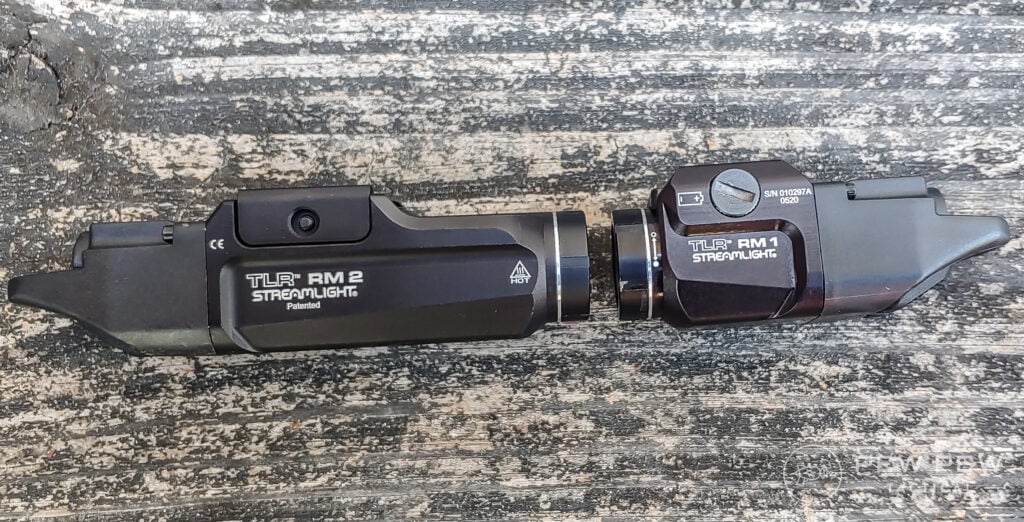 It will work well indoors or in an urban environment, basically anywhere that you'd be using a 9mm subgun anyway.
The RM 1's massive button makes it easy to activate and get into action.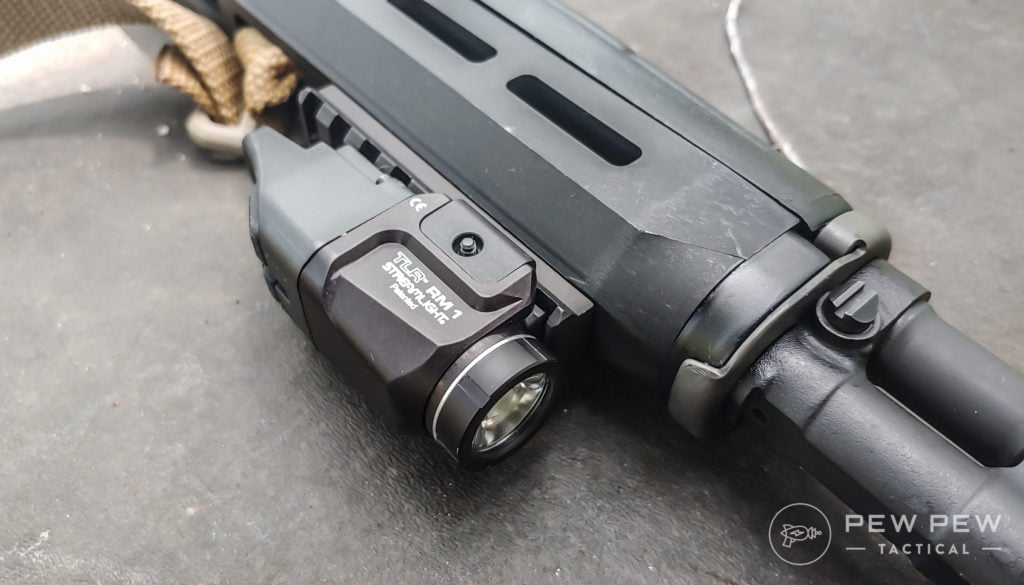 What makes this light a must-have is its petite size — perfect for the very small M-LOK handguard on the Micro Scorpion.
If you are using the Micro Scorpion for home defense, the RM 1 fits the bill quite well.
Conclusion
CZ's Micro Scorpion is a teeny tiny subgun that's reliable, accurate, and plenty capable. It has its flaws, but the good news is most of those are easily corrected with the right upgrades.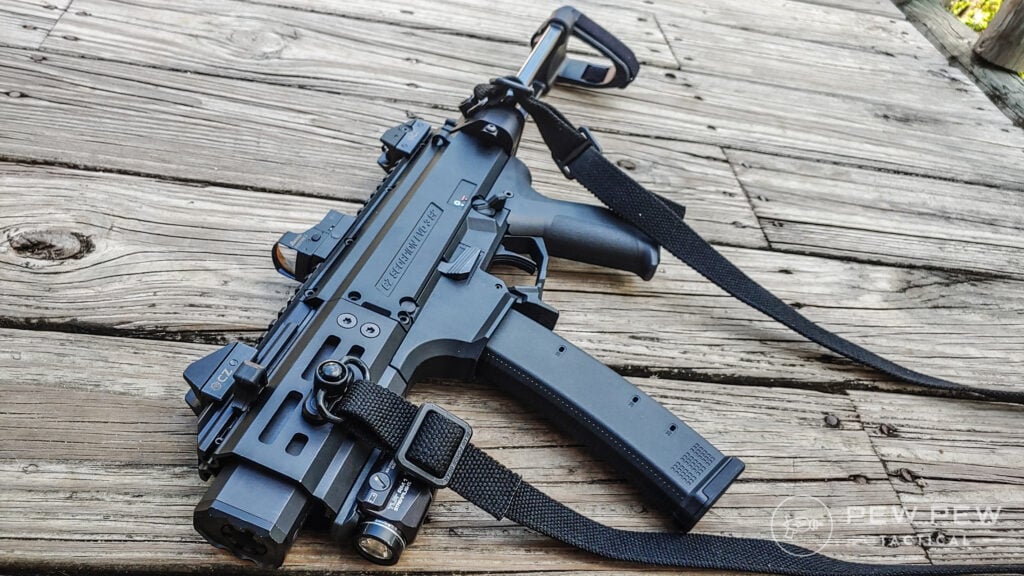 It's telling that the Scorpion series has quickly amassed a small cult's worth of enthusiasts.
Like always, a dedicated group of enthusiasts drives the aftermarket…one that is quick to correct any perceived deficiencies.
While these aren't your only choices, the above upgrades are my solutions that fit inside my narrow window of customization options.
What have you slid in, slapped on, or tinkered with to make your Scorpion a better option for you? Let's chat about it in the comments below! Also, check out our review of the CZ Scorpion EVO 3 pistol that we used here.