Best AR-15 Upgrades [2019]: Handguards, Triggers, Barrels, BCGs
Want your AR-15 to be the best it can be?
We've built dozens of AR's and we'll cover all the best AR-15 upgrades such as handguards, triggers, BCGs, gas blocks, and more.
Table of Contents
Loading…
Why Upgrade the AR-15?

After you get some time with a more basic AR, you'll likely start to realize could be improved to meet your specific purpose.  And the AR-15 modular system makes upgrading a breeze for most components.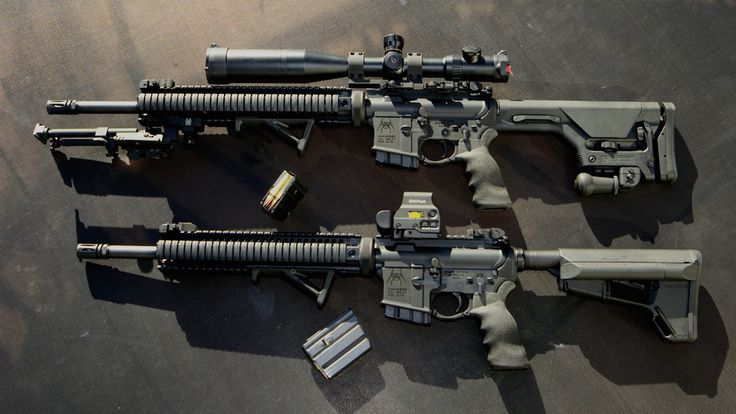 We'll start off first with possible upgrades to the upper receiver group followed by the lower receiver group and furniture.  We'll also provide examples of what we think are the best in class for each type of upgrade.
Don't have an AR yet?  Check out our Buyer's Guide to the AR-15 first.
Let's get started!
Best AR-15 Muzzle Brakes & Compensators
Brakes, compensators, and their hybrids are a super easy upgrade to help you reduce felt recoil and minimize vertical movement of your Slickgun.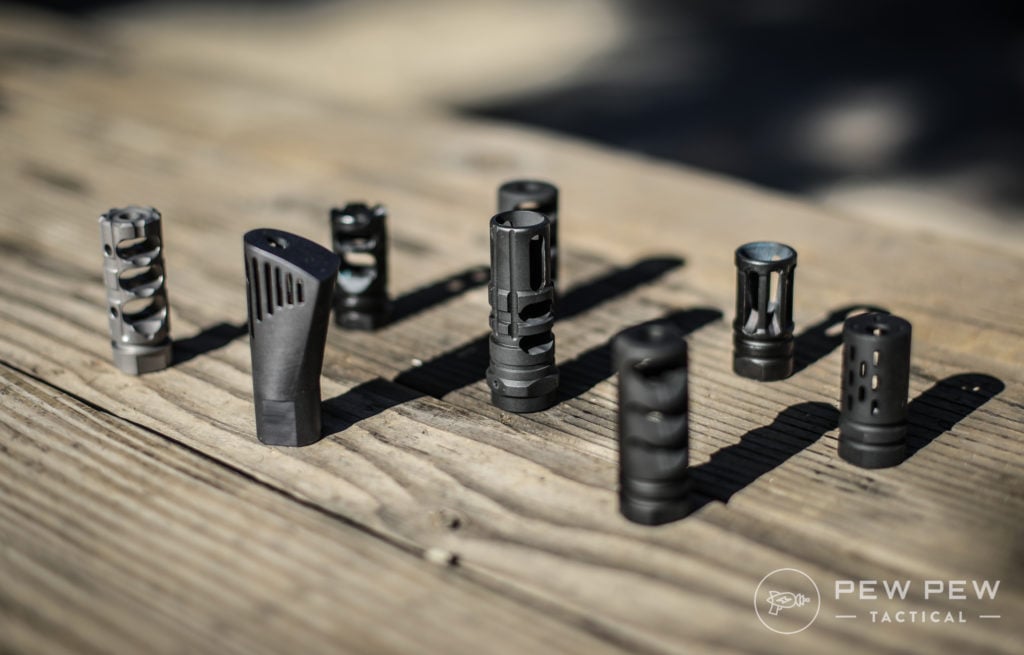 We cover a bunch of the best and most popular ones in our Best AR-15 Muzzle Brakes article…but here are our favorites.
Starting with…our Editor's Pick.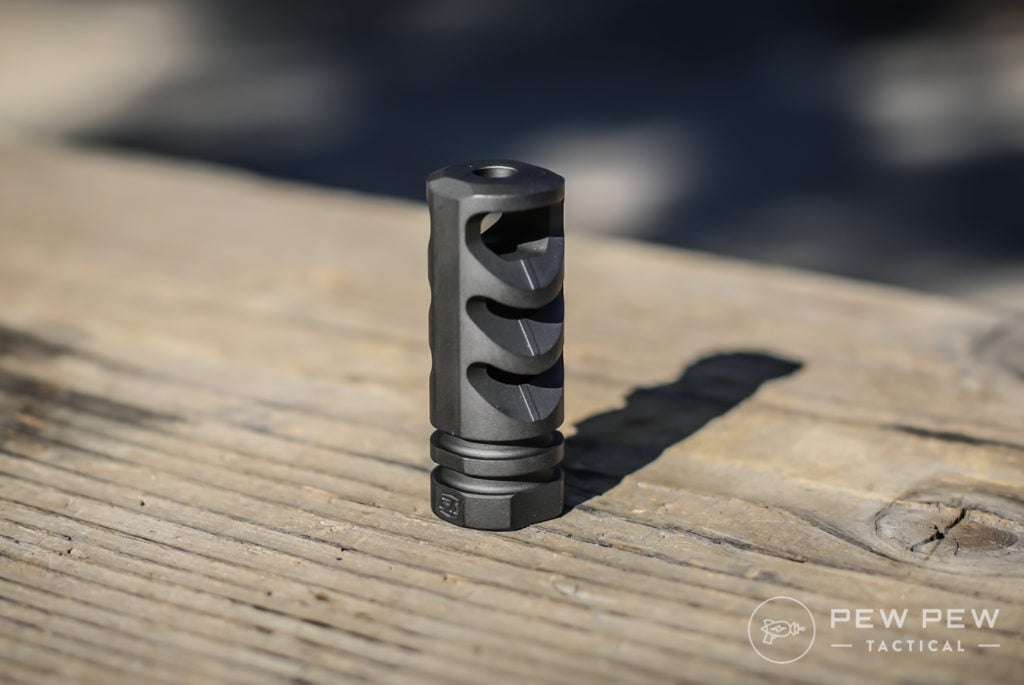 The Precision Armament M4-72 Severe Duty is one of the best recoil reducing brakes…plus it had the least reticle movement after firing.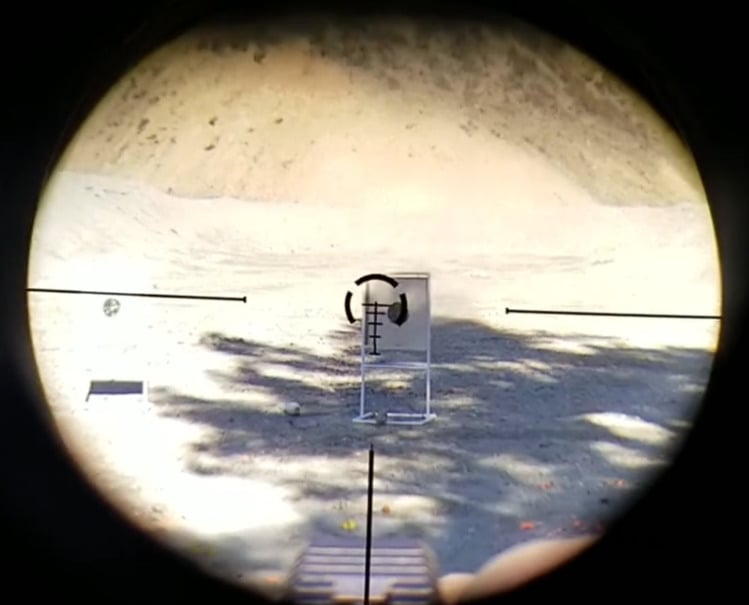 It barely moves!  But beware…it is really loud and will annoy people next to you.  Still…it's the most effective.
The Best Hybrid Brake/Compensator goes to the VG6 Gamma.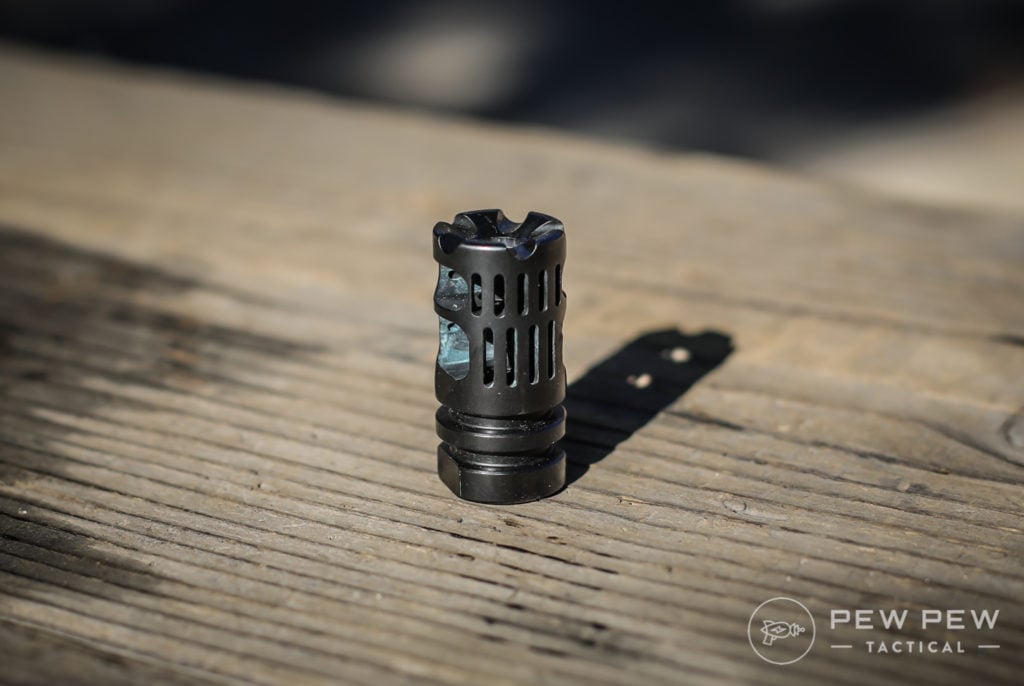 It's less punishing to your range friends but is also great at recoil reduction and limiting reticle movement.
And our Goldilocks Muzzle Device goes to the Strike Industries J-Comp V2.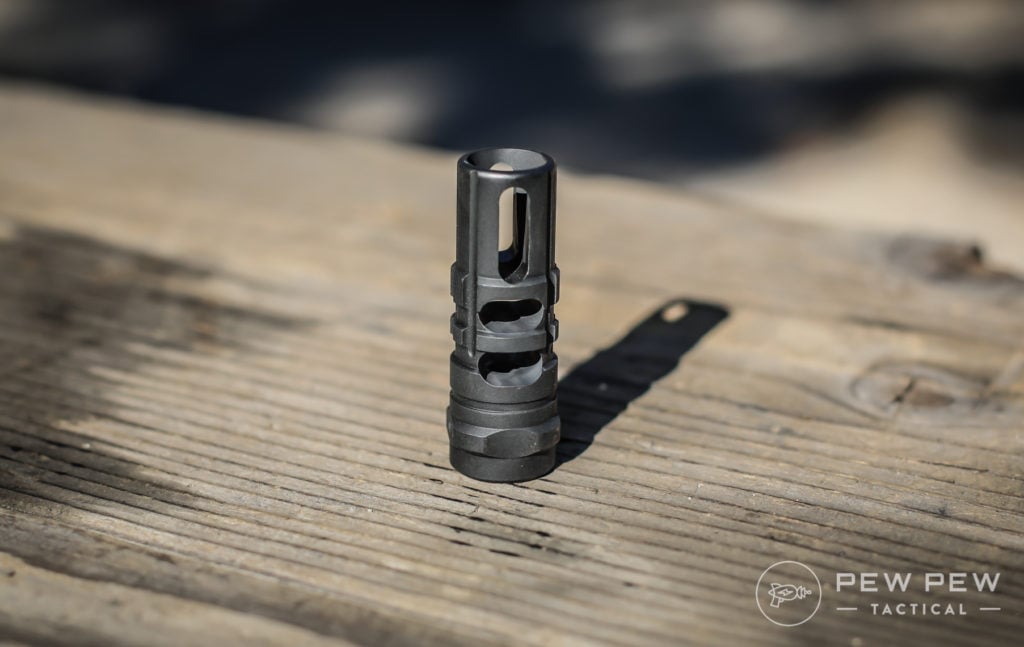 It's great at recoil reduction…might have some flash-hiding capabilities…and definitely has very little reticle movement.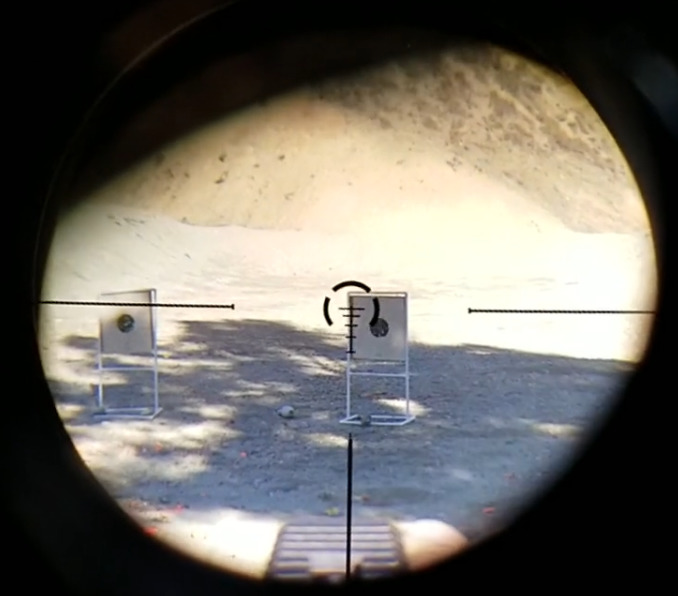 Oh…and it's around $30-40 only.
Again…see the rest of all the tests (along with videos of side blasts and live fire) at Best AR-15 Muzzle Brakes.
Best AR-15 Triggers
In our original How to Choose Your AR article, we recommended sticking with the stock Mil-Spec (military specification) trigger and letting it smooth out with use.  We still advise that with critical use AR's such as home/self defense.
As you go with "better" triggers, you're skirting the line between performance and reliability.
And with some guns, you want to make sure they will always go bang.  For others such as range plinking, competition, or precision shooting rigs, you care more about the crispness and lower trigger pull weight.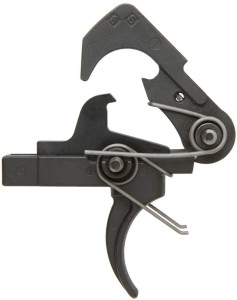 We'll cover three varieties of aftermarket triggers: upgraded mil-spec, single stage, and two stage.
But also check out our complete Best AR-15 Triggers article for all our tested ones.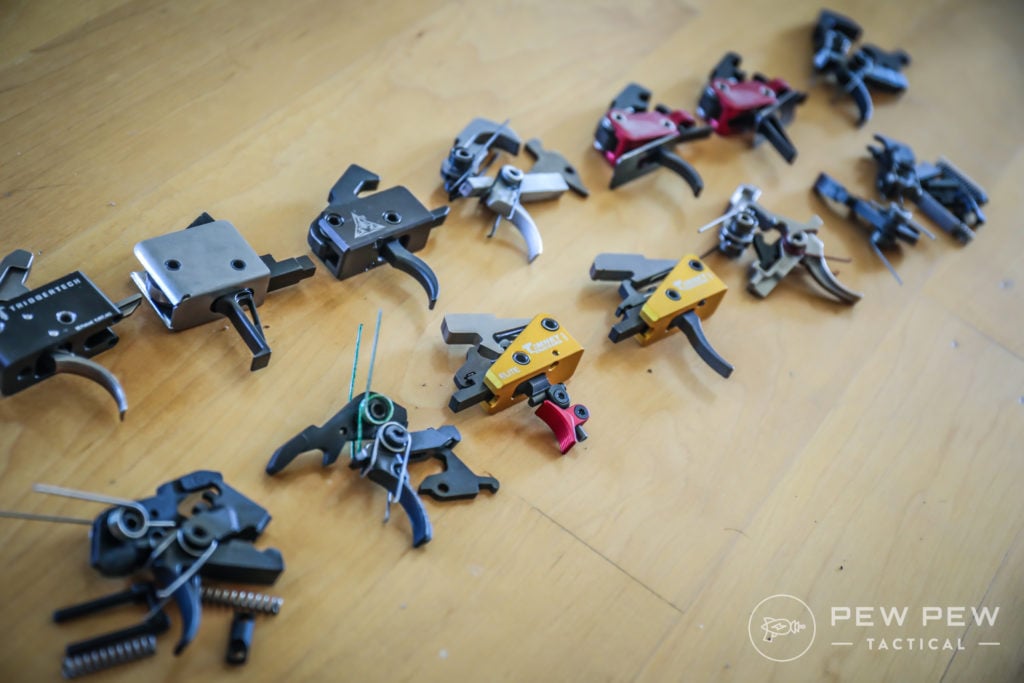 Upgraded Mil-Spec Triggers
These still maintain the same geometry as mil-spec stock triggers but are polished for a better feel.  They maintain the same reliability with slightly better pull weight and crispness.
ALG Defense Trigger QMS: The go to brand for mil-spec reliability with some refinement at a 6.5 lbs trigger pull.
ALG Defense Trigger ACT: The slightly crisper version at 6 lbs. ($60)
Single Stage Triggers
These are are very crisp triggers that move back in one movement with a usually lighter trigger pull.
CMC Single Stage Trigger: A drop-in match single stage trigger.  Choose between flat or curved trigger groups.  Breaks at around 3-3.5 lbs.
POF Single Stage Trigger: Several varieties from 4lb to 4.5 lb as well as an Enhanced Finger Placement trigger.
Timney Single Stage Trigger: Very famous trigger manufacturer.  These single stage trigger drop in easily and range from 3 to 4.5 lbs.
Two Stage Triggers
While single stage triggers require all the force to engage, these two-stage triggers allow you to take up most of the slack in the first stage before requiring just a little more pressure to fire on the second (about 1 pound).  Thus, two stage triggers are normally reserved for precision rifles but when pressed quickly act just like single stage triggers.
You can choose varying combinations of force required to "set" the trigger and the final force to "release."
Geissele Two Stage Trigger: Super well-known name in the competition trigger world, especially for their two stage triggers.  Good choice of types of triggers and different weights from 3.5 lb (2.3 + 1.2)  to 4.5 lb (2.5 + 2) total pull weight.  $220-240.  Also, check out their enhanced reliability ($180) models and a more budget model ($170).
Current Favorite Trigger: Hiperfire
Hiperfire is a relative newcomer and their triggers definitely look futuristic.  What that extra set of springs allows is fine-tuning of your trigger pull (2.5-4.5 pounds) while actually increasing hammer strike strength.
One possible problem with traditional upgraded triggers is that in an effort to get the trigger pull weight down, the hammer strength is reduced too.  This might result in light hammer strikes…which equals NO PEW.  I've seen this happen a good amount of times during rifle competitions.
I've tried out their HiperTouch Genesis ($215) and also their top of the line Eclipse ($275), and both offer almost no initial creep, a crisp reset, and actual 2.5 lb trigger pull.  The Eclipse is what I run in my competition rifle now.
Again…see all the triggers we tested in our Best AR-15 Triggers…complete with videos of us firing and split times.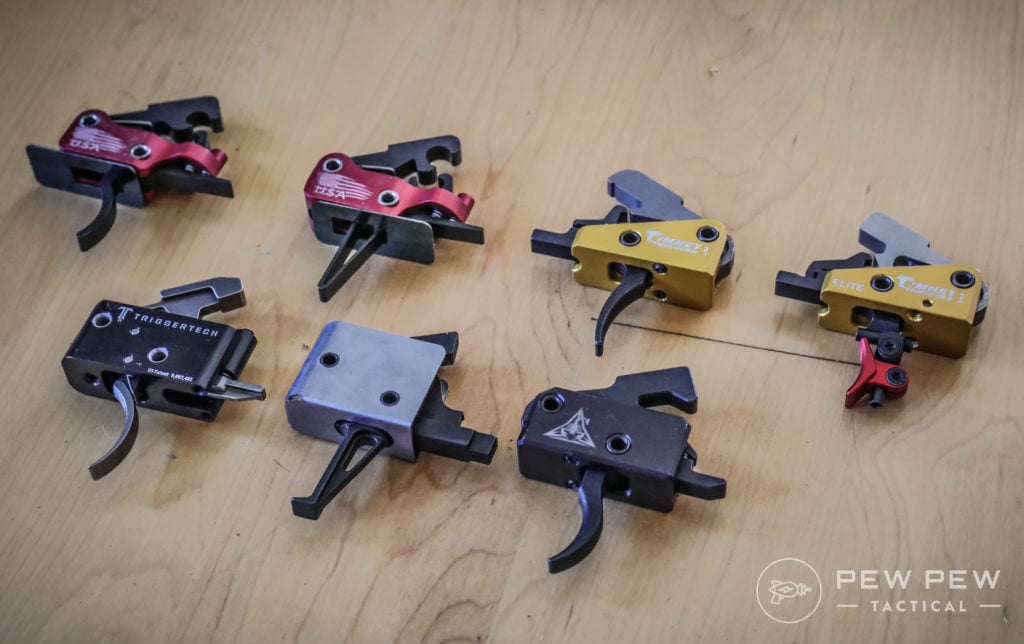 Best AR-15 Barrel Upgrades
If you haven't read the Barrels section in our AR-15 guide, please do that first.  Now that you're caught up, you might consider a barrel upgrade if you've worn out your barrel or if your current profile/length isn't up to par for your purpose.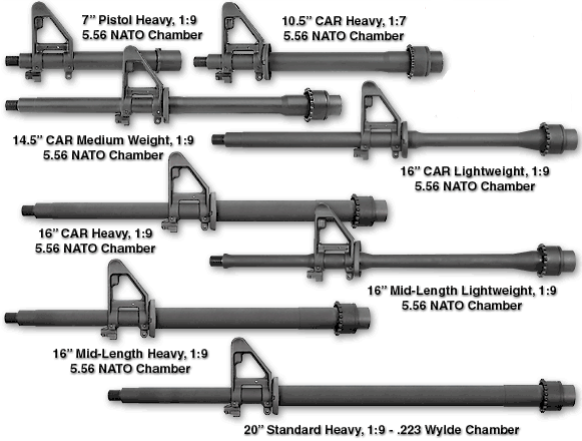 For more accuracy-related tasks, you might consider a heavier contour which makes the barrel stiffer and more resistant to accuracy drop-offs due to heat and barrel whip.
If you're wanting to reach out farther, you might consider a longer 18″ or 20″ barrel for that extra boost in velocity.  Stainless steel barrels are also known for being more accurate but at the expense of a shorter life (and more expense).
Or if you're looking to cut back on weight and looking at sub-300 yard distances, you could go for a lightweight profile and drop to the standard 16″ or even 14.5″ with a pinned muzzle device.
And for critical use rifles, we would suggest both MP/HP tested barrels for that extra margin of safety.
For those looking for a softer shooting AR-15, you could look for a longer gas length, such as moving up to mid-length from a carbine.  The extra length gives more space/time for gas pressures to lower before cycling back.
Still with me?
Recommended AR-15 Barrels & Manufacturers
We cover all of our favorite manufacturers and specific barrels in Best AR-15 Barrels…but here's the gist:
Faxon Firearms: My go-to barrel manufacturer with accurate, affordable, and specific Gunner profile.  Made in-house with their aerospace manufacturing background.  Great across the board for 16″, precision, short, and other calibers.
Ballistic Advantage: Another in-house manufacturer that has a proprietary Hanson profile that reduces barrel whip.  Currently in my competition rifle.  Also great for other calibers.
White Oak Armament: No frills…they are just accurate
Daniel Defense: Cold-hammer forged for extreme durability
BSF: Anyone say…carbon fiber?
Best AR-15 Gas Blocks
Having a low profile gas block allows you to put on a free-floating handguard which unlocks better accuracy and more rail space for your grip and accessories.  Some gas blocks will also be adjustable so you can tune your rifle to your specific ammo to create a softer shooting AR.
Be sure to match up the diameter of the gas block to your barrel profile.  Light profile is .625″, normal is .750″, and heavy profile is .936″.  Also make sure to have the appropriate length gas tube if you are not reusing your old one.
If you have a front sight base barrel, it is extremely difficult to remove and can result in a bent barrel if done improperly.  We recommend taking it to a gunsmith or just shaving it down yourself to have a makeshift low profile gas block.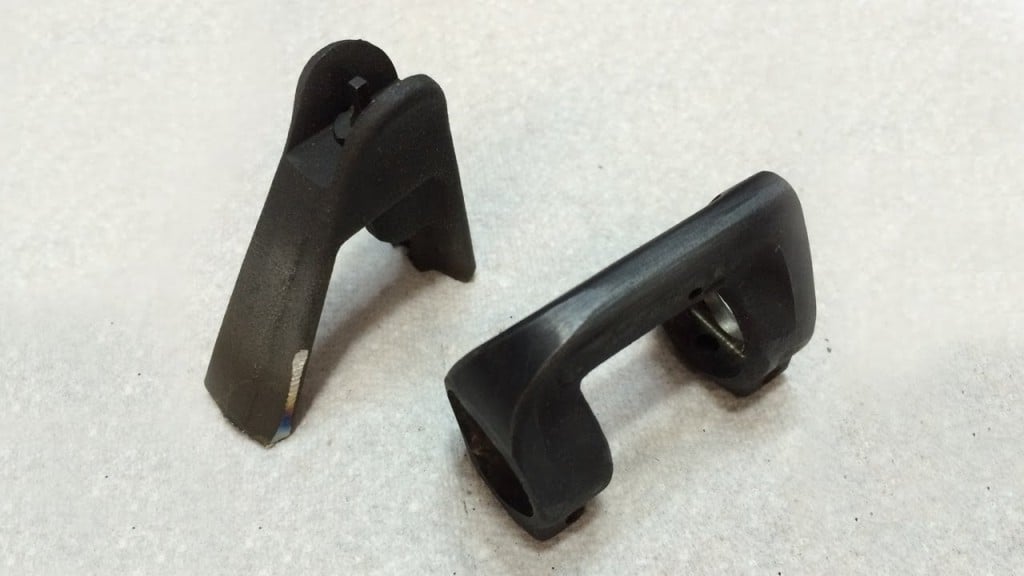 Recommended AR-15 Low Profile Gas Block
Daniel Defense: They do what they are supposed to do and stay on.
JP Industries Adjustable Gas Block with Rails:  This one is not low profile so it allows a shorter handguard but still has the ability to attach accessories on the rails.
Bravo Company Low Profile Gas Block: Another heavy duty low profile gas block for pencil and regular barrels.
Seekins Low Profile .750 Adjustable Gas Block:  We love that it has a set screw to lock in the adjustments ($56).  Hard to keep in stock, here are other adjustable gas blocks.
Superlative Arms Adjustable Gas Block: My new favorite because you can easily adjust without taking off your handguard plus it bleeds the excess gas forward instead of all over the place like other adjustable blocks.  Full Slickguns Review here.
Recommended AR-15 Drop-In Handguards
We'll focus on two types of handguards, drop-in, and free float.  We cover this in much more depth in our Best AR-15 Handguards section.  But here are our top selections.
Drop-in handguards are when you have a delta ring on the receiver and a fixed front sight base.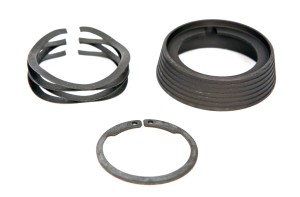 You're limited in the established length from the receiver to the FSB.  Drop-in handguards are also in two pieces so they can fit without removing the barrel, delta ring, or FSB.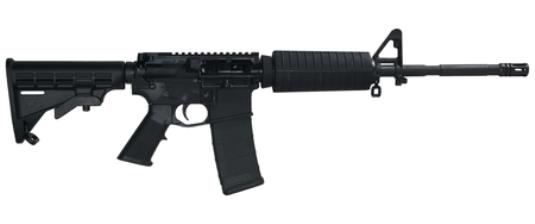 You also have to make sure you get the proper length for your gas system.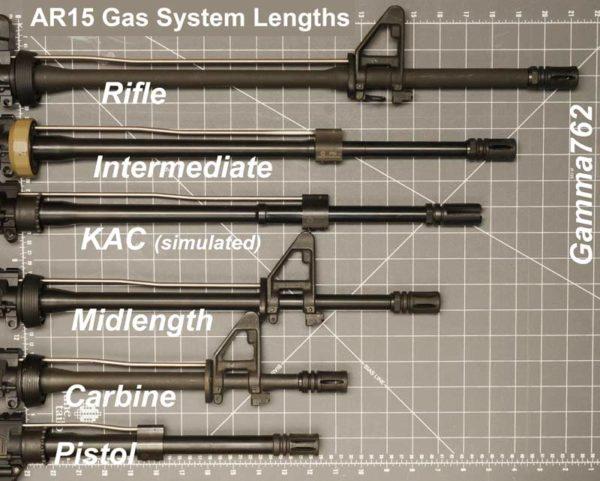 Magpul MOE Handguards
Price: $33
Length: 9.2″ (Mid-Length)
Total Weight: 8.7 oz
Probably the most ubiquitous drop-in handguard due to their weight, affordability, and looks.  Comes in several colors and all the normal gas lengths: carbine, mid-length, & rifle.
Midwest Industries Two-Piece Drop-In Handguards
Price: $130
Length: 9″ (Mid-Length)
Total Weight: 6.6 oz
Aluminum rail options for the different gas lengths.  Pricier but from a reputable company.  We run multiple versions of their free-float handguards.
Troy Industries Drop-In Quad Rail
If you're looking for a quad-rail system, here it is.  Comes in a variety of gas system lengths.
Price: $160
Length: 9″ (Mid-Length)
Total Weight: — oz
Best AR-15 Free-Floating Handguards
Free-floating handguards connect only to the receiver and do not touch the barrel.  This increases accuracy since there's nothing interfering with the barrel such as the stock, grip, or accessories.
You can also choose the length of your handguard to be much longer to accommodate an extended grip and hang extra accessories.  Just be sure to measure your barrel + muzzle device so you order the right length handguard.
My personal recommendation is for a 12″ or 13″ handguard which will give you enough space for almost any arm position.  Plus, I prefer M-LOK over KeyMod.  Looks like US Special Operations Command (USSOCOM) agrees too.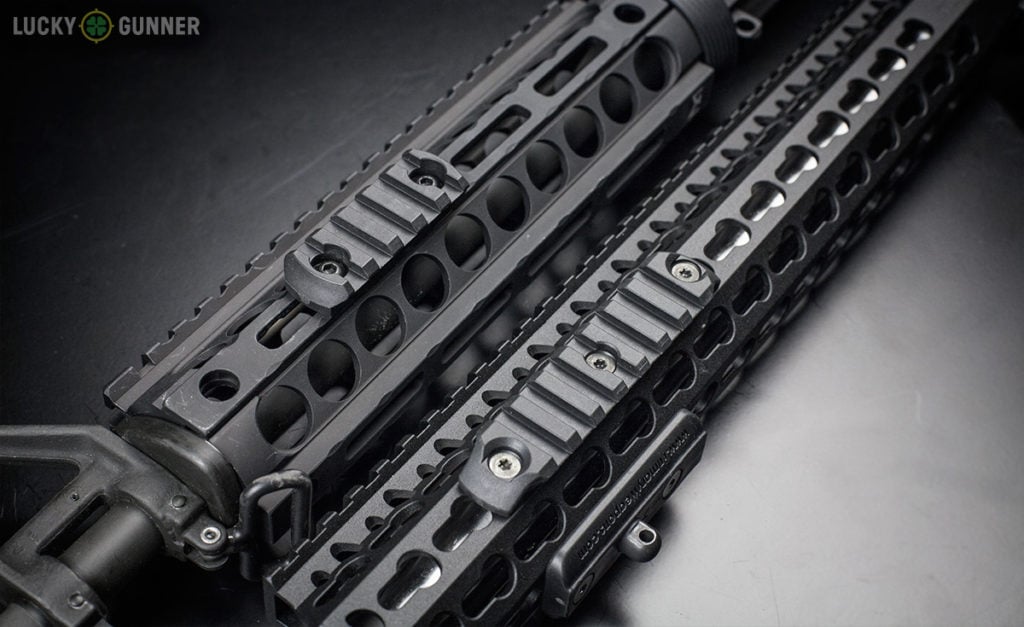 The trend is moving towards just Picatinny rails on the top instead of quad-rails (all around) to reduce weight.  And then just adding on rails where needed for flashlights, grips, etc.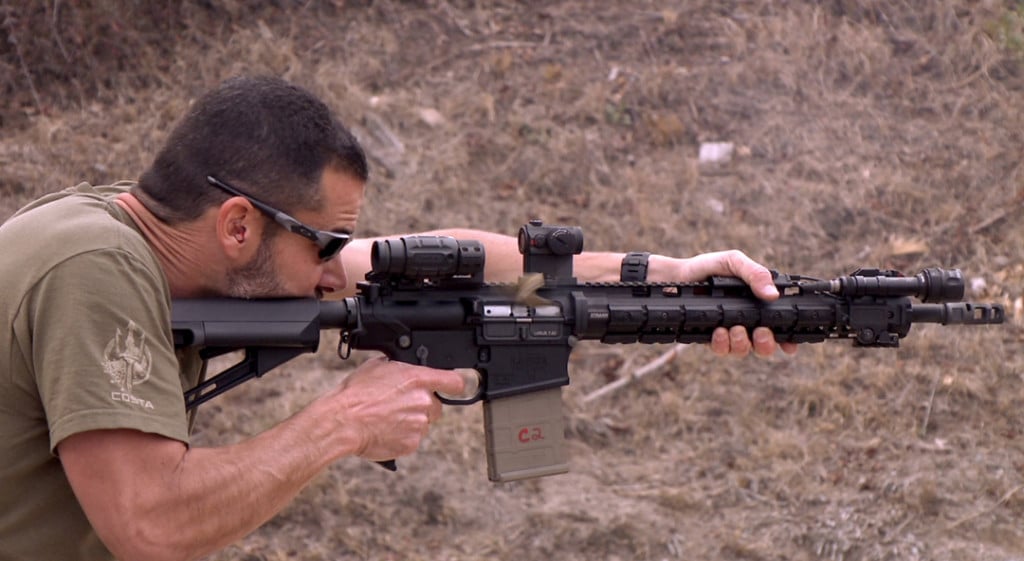 Again, here's a few of our top choices.  For more see our Best AR-15 Handguards article.
Aero Precision ATLAS
Price: $140
Length: 12″
Handguard Weight: 7.0 oz
Barrel Nut Weight: 4.7 oz
Total Weight: 11.7 oz
My current favorite due to the weight savings from the removal of the top Picatinny rails.  Plus the front taper perfectly fits my thumbs.
Here it is on the new Aero upper I'm currently testing (full Slickguns Review).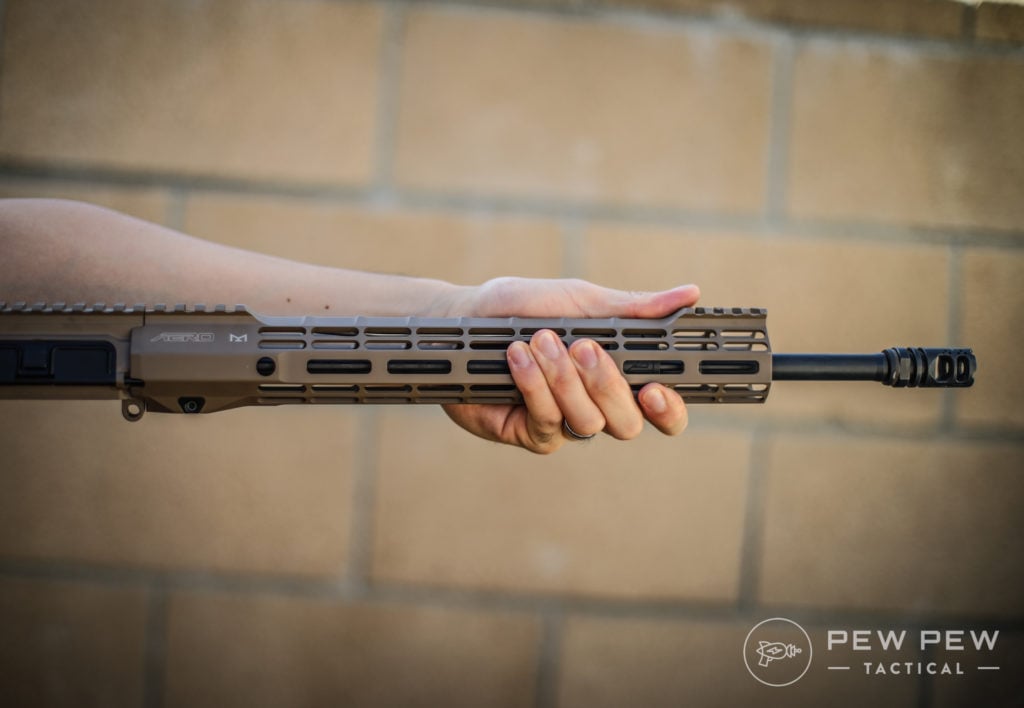 Midwest Industries M3 GL
Price: $190
Length: 12.625″
Total Weight: 8.8 oz
My favorite handguard that is featured in Best Lightweight Handguards.  Comes with 8 sides of M-LOK attachment capability.
Yankee Hill Machine Quad Rail
Price: $160
Length: 12.6″
Total Weight: 15.2 oz
If you're still looking for a quad rail…YHM has got you covered.  A little heavier but you get tons of real estate to put anything your heart desires.
Midwest Industries G3M
The full rail version of my favorite Midwest handguard.  One-piece design that comes with a super slim 1.5″ outside diameter and detachable rails.  What we run in two of our primary guns (two left-most complete uppers).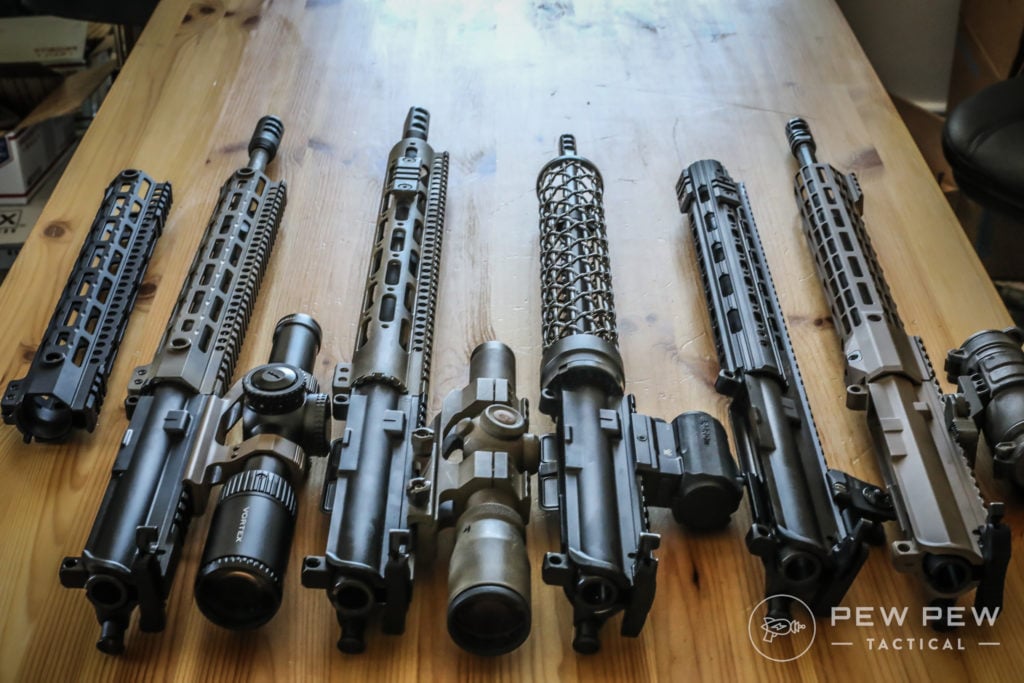 Brigand Arms Carbon Fiber
Price: $296
Length: 12.4″
Handguard Weight: 2.9 oz
Barrel Nut Weight: 1.4 oz
Total Weight: 4.3 oz
Literally, the lightest I've ever felt…and still plenty strong.  But you gotta pay to play.  Winner of the Lightest Handguard roundup.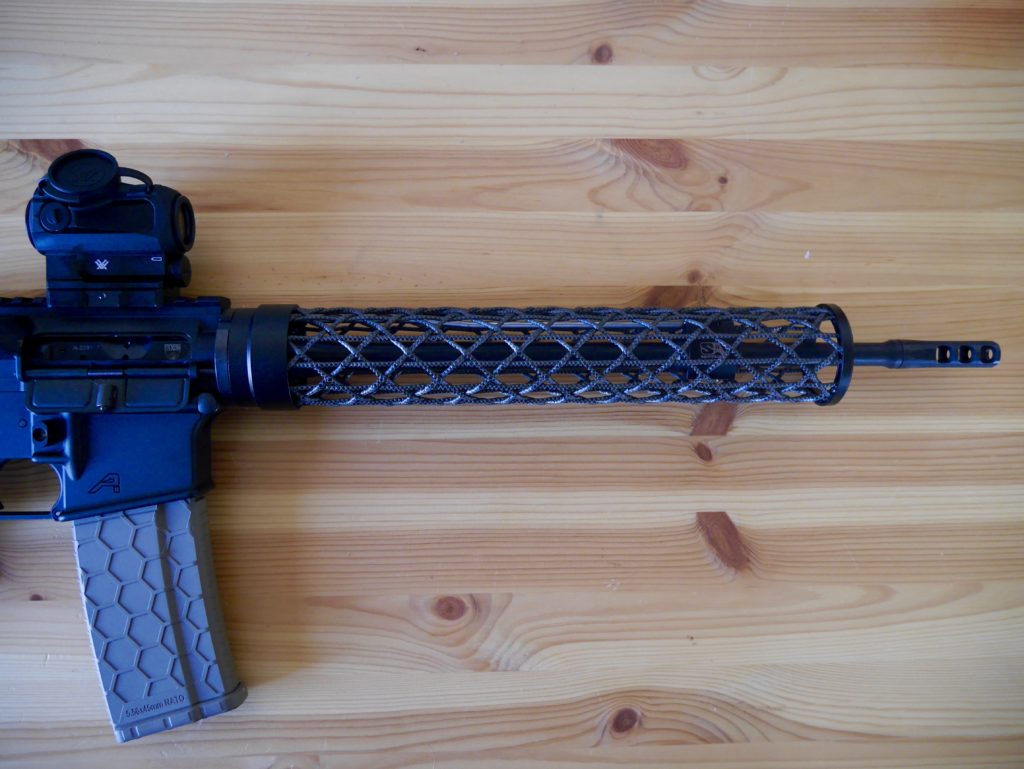 Best AR-15 Bolt Carrier Groups (BCG)
Whatever BCG came with your rifle and has run fine, will likely continue to run fine.  But if you're dead set on fixing something that isn't broken, or if you're building a new rifle, you can take a look at new coatings for BCGs.  It may also help if you're running full-auto or suppressed where the BCG tends to get hotter/dirtier.
The primary new coating of the week is Nickel Boron (NiB) which promises self-lubricity, easier cleaning, higher corrosion resistance, and a different look.  We run one in our race Slickgun and do attest at least to the easier cleaning properties.
WMD NiB BCG:  We run the WMD in our race rifle that has worked great.  We still run the BCG with lube, but we can definitely tell that it cleans easier.
And if you're just looking for some regular BCG's that will run.  You can try out the Brownells ($140), Spike's ($140), or Daniel Defense ($180) ones.  And if those don't suit your liking, here's all of them.  For more budget oriented shooters, you can try Anderson's ($115).
And for the competition shooter…here's our roundup of the Best Lightweight BCG's that will allow you to minimize overall rifle movement and get back on sights faster.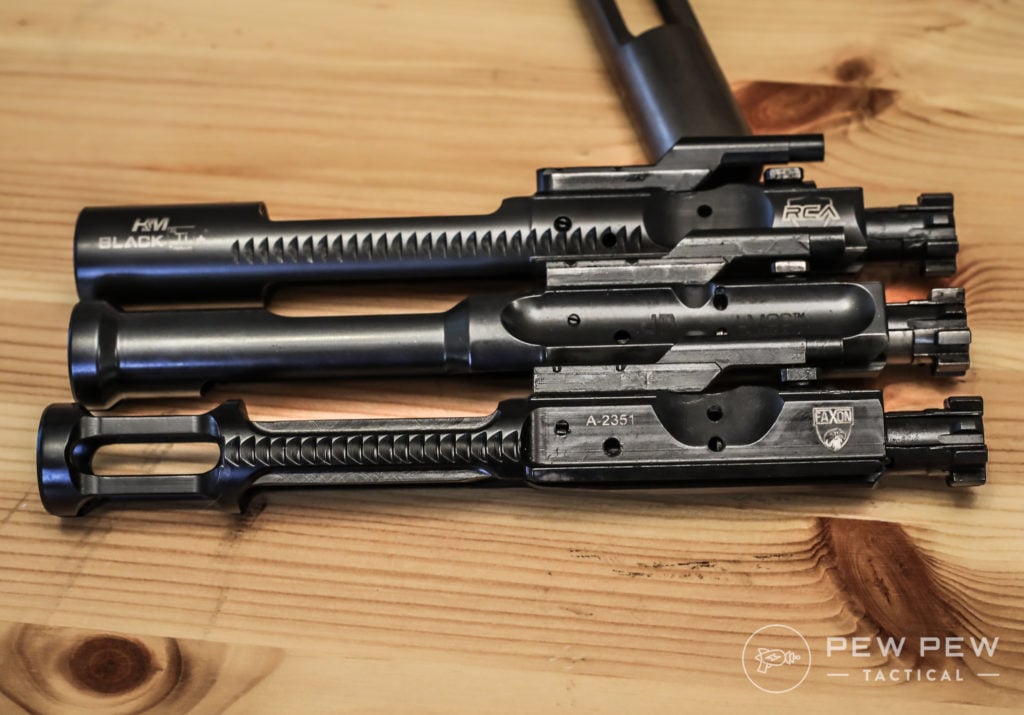 Or simply…check out our Best Bolt Carrier Groups roundup.
Best AR-15 Charging Handles
One of those upgrades that you were fine without…but now that you've experienced it…you wonder how you could have ever done without.
Every one of my serious rifles has an upgraded charging handle for easier and more robust bolt manipulation.
BCM Gunfighter Charging Handle
The OG and one that goes on every one of our competition/defensive rifles.  Makes it much easier to rack the charging handle without worrying about flex or premature wear.
We've tried the cheaper options of just switching out the latch, but it just doesn't feel as robust.  We go for the medium size Mod 4 for the balance of ease-of-use and potential to snag.
Radian Raptor LT (Ambidextrous)
A newer kid on the block…this is the "light version" of the ambidextrous Raptor.  More affordable and lighter.
Especially useful if you're a lefty or like to use your right hand to brass check.  Only a couple bones more than the BCM and you upgrade to ambidextrous controls.
Radian Raptor (Ambidextrous)
The most robust and smoothest ambi charging handle out there.  But it will cost you.
Now let's move onto upgrades you can do to the AR-15 lower…
Best AR-15 Ambidextrous Safety
For the lefties out there or for poor Californians running "featureless" AR-15's who need to be able to flick their safety on the right side.
Battle Arms Ambi Safety: Lower profile safety lever on the right side that won't interfere with right-handed shooting.  What we run in our competition guns.
DPMS Ambi Safety: A more budget-minded version that still gets the job done.
Seekins Ambi Safety: Or if you're looking for some flair and quality.  Plus these work the best with Featureless AR Builds.
Overwhelmed yet?  We're almost done!
Miscellaneous AR-15 Upgrades
Magpul BAD Lever
We love the BAD Lever since you can manipulate the bolt release using your right hand and not resort to hitting the paddle with your left hand.  Also great to easily lock your bolt back during cease-fires at the range.  Great for competitions and what we have on all our AR-15's.  Super easy to install.  ($28)
Are We Done?
That should get you through most of the major upgrades for the AR-15.  But there's still tons of things to upgrade such as AR furniture and optics/lights, and we'll cover them in our next installments.
If you're planning on upgrading a lot…you might be better off building your own.  Check out how with our AR-15 Resources Page.

The post Best AR-15 Upgrades [2019]: Handguards, Triggers, Barrels, BCGs appeared first on Pew Pew Tactical.