Triggrcon 2019: Range Report
We shot a bunch of fun stuff at the 2019 Triggrcon Range day.
So let's just get to it with some quick videos and small paragraphs.
Alphabetical order…
Barrett
By far the longest line of any of the booths at this year's range day was Barrett's – and for good reason. How often do you get a chance to shoot a suppressed .50? This was my personal first time handling an M107, and surprisingly the recoil isn't as gnarly as you might think!
While Barrett's MRAD platform is available chambered in multiple calibers, we got to shoot a suppressed 6.5 Creedmoor variant. Soft shooting and reasonably ergonomic, we were able to drill the ~200 yard steel easily, but it would have been nice to stretch the Slickgun's legs a bit more.
B&T
B&T's APC300 is a rad little piston driven carbine chambered in .300 Blackout – though the felt recoil is much less than you'd anticipate for the cartridge.
The APC9 PRO K is officially the US Army's new submachine Slickgun, shown here with a Glock magazine.
For reasons.
The lower receivers are configurable to accept B&T's own mags, Sig P320 mags, or Glock magazines. The Slickgun's a bit snappier than I was expecting, but it was still a blast to shoot.
The integrally suppressed APC9 SD was slightly more controllable than the PRO K likely due to its slightly longer barrel length.
An awesome little subgun to be certain, although this particular model sprayed us down with gas as we shot it, and the metal handguard was pretty damn hot from getting passed around a constant stream of eager shooters.
Bear Creek Arsenal
Bear Creek Arsenal's 16″ .300 Black AR shot well enough, but beyond that it's another AR-15. Not too much to say here.
Dead Foot Arms
Dead Foot Arms' FOLD-AR utilizes an innovative locking system that allows you to fold both the barrel and stock to either side of the receiver for storage.
The Slickgun's also usable with the stock folded, though obviously this isn't the most stable shooting platform.
Neat truck Slickguns, for sure.
Devil Dog Arms
Devil Dog Arms had several of their 1911 variants out at range day.
I'm not much of a 1911 guy, but the entire focus of these Slickguns is apparently their trigger systems, which DDA touts as not needing to be tuned out of the box.
Here's a tiny boi 9mm version. Wow!
As you'd expect, they make a .45 variant as well. Wow!
Faxon Firearms
The Faxon ultralight AR-15 weighs in at about 4.9lbs, making it a lightweight and maneuverable carbine that doesn't kick any more than you'd expect due to the aggressive muzzle brake.
Also in tow was Faxon's FX-19 striker fired polymer pistols.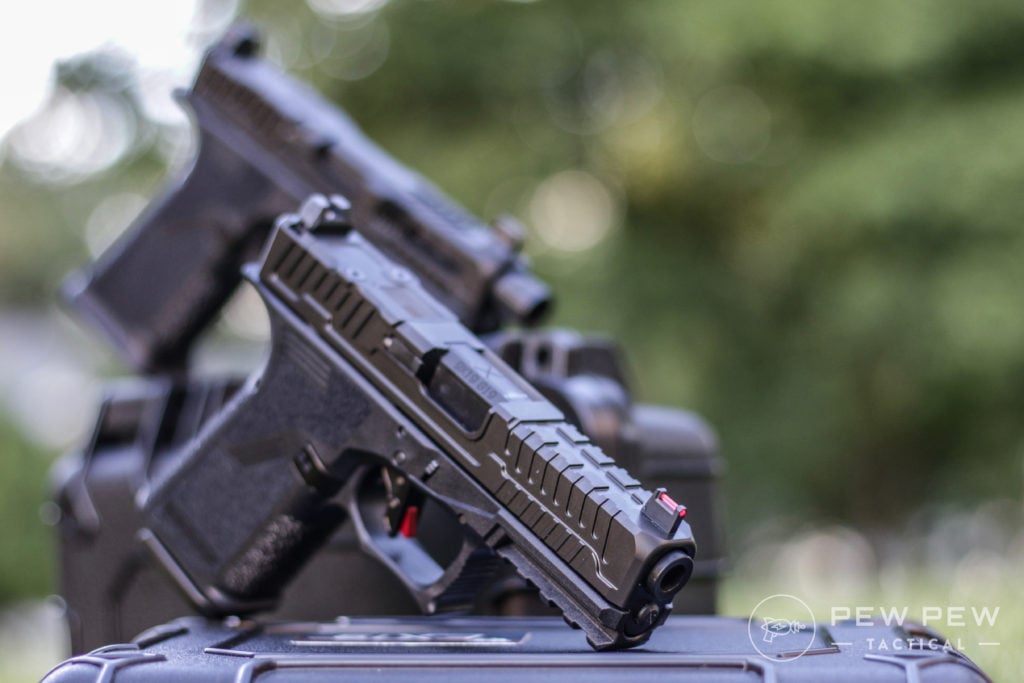 Our full Slickguns Review of them is here.
Foxtrot Mike
Foxtrot Mike had a handful of different SBR PCCs to shoot – including a model chambered in .45, which doesn't seem super common for pistol caliber ARs.
The Slickguns ran great with the steel-cased Wolf that was fed through them, and they've also got an interesting approach towards a side-charging system that resembles the iconic HK style charging handle to boot.
Killer Innovations
Killer Innovations had a variety of Glocks out for range day fitted with their unique muzzle brakes and matching barrels. Here's one without the brake just for comparison.
Here's another Glock with the brake system installed.
There's a pretty noticeable difference in muzzle climb between the two, and we were actually pretty impressed by how flat the Slickgun shot.
Mag dump!
LWRC International
We finally had a chance to get our hands on LWRC's SMG45 – seen here suppressed.
The Slickgun's a psuedo clone of the legendary UMP45, and includes a handguard that features LWRC's unique MLOK-like attachment system.
We're very pleased that the Slickgun ran so well after a few production delays.
Maxim Defense
Maxim Defense brought out a couple PDWs to play with – one being chambered in .300 Blackout. A lot of punch in a tiny package!
Blap.
Mirzon
Mirzon's enhanced P320 grip modules were surprisingly cool!
While I don't have a ton of trigger time on the stock P320 platform myself, the Slickgun shot and handled very well, and felt like a much more natural fit for my hand than a lot of the other pistols on display this year.
Sig Sauer
We had the chance to shoot a suppressed MCX fitted with Sig's newest Romeo 8H red dot.
The Romeo 8H has 4 different selectable reticles and boasts approximately 100,000 hours of run time on standard CR123s.
We dig it.
Zev
More Glock brakes!
This time from Zev. Here's the Slickgun sans brake.
And here's the Slickgun with Zev's brake installed. Another super flat shooter.
Quarter Circle 10
QC10 makes some pretty high-end PCCs, and while there isn't too much to say about the nth AR chambered in 9mm of the day, we dug em.
.45 ACP, BROTHER.
Conclusion
That's it for now…we'll update this article with some more innovative stuff from the convention hall and VIP party happening this Friday.
What was the coolest thing you wish you got to try?
The post Triggrcon 2019: Range Report appeared first on Pew Pew Tactical.
Slickguns – Guns In Your Dream

Source link
Please follow and like us: