Sig Sauer P365 [Review]: The Complete Carry Gun?
Man oh man did SIG make a huge splash right before SHOT Show 2018.
What had stunned and stopped me, and left me stuttering is disbelief and doubt was the dimensions of SIG Sauer P365 pistol. The initial press release showed what's a small gun, but showed nothing for scale.
What was shocking was the fact the SIG P365 was roughly the same size as the Glock 43 but carried a total of 10 + 1 rounds.
After finally getting to handle one at SHOT I was impressed and knew I had to have one. So now I have one. It took some time because the gun had teething issues and production was stopped, but finally its here again.
The SIG Sauer P365 is finally in my hand, in all its little glory.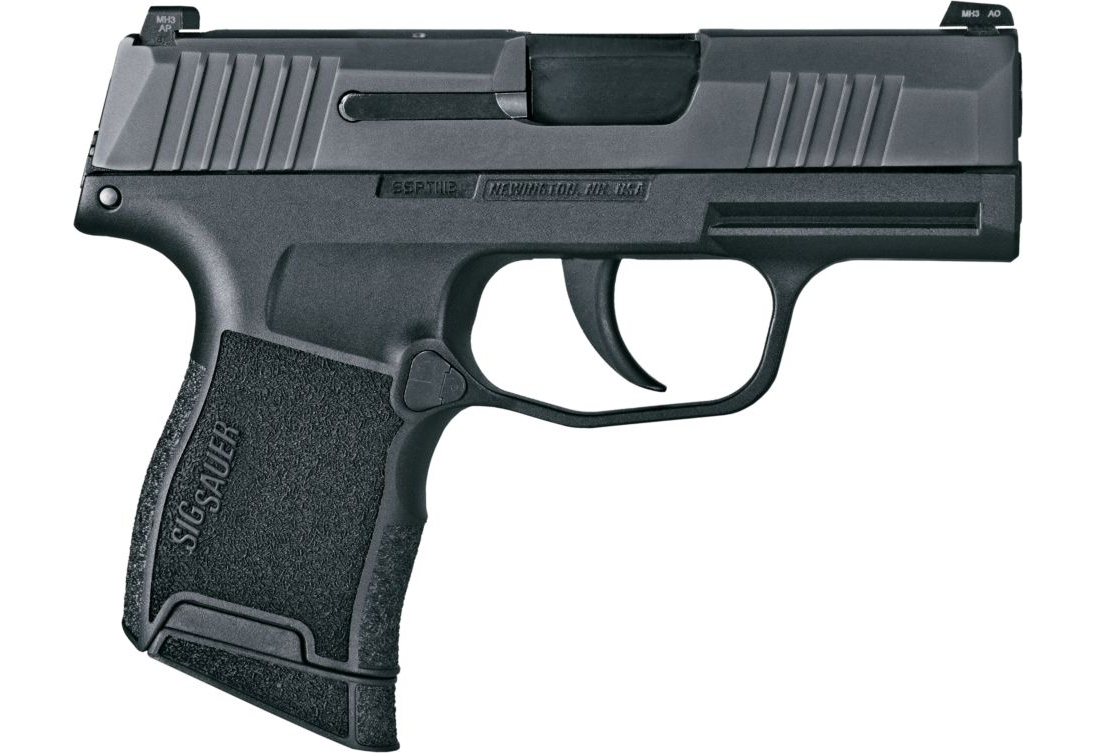 Sig Sauer P365
See It
Compare prices (3 found)
Cabelas (See Price)
Brownells (See Price)
Rainier Arms (See Price)
Prices accurate at time of writing
By the end you'll know all about the P365 and if it makes sense for your carry and shooting needs.
Table of Contents
Loading…
Initial Impressions
The SIG P365 is a tiny gun. It's effortless to carry and super comfortable. It packs ten rounds and comes with two 10 round magazines. One is flush fitting and the other features a slight pinky extension.
The P365 also has a factory 12 round magazine that extends the length of the gun overall just a hair. This would give you twice the capacity of the Glock 43, and nearly twice that of the capacity of the S&W Shield and Walther PPS M2.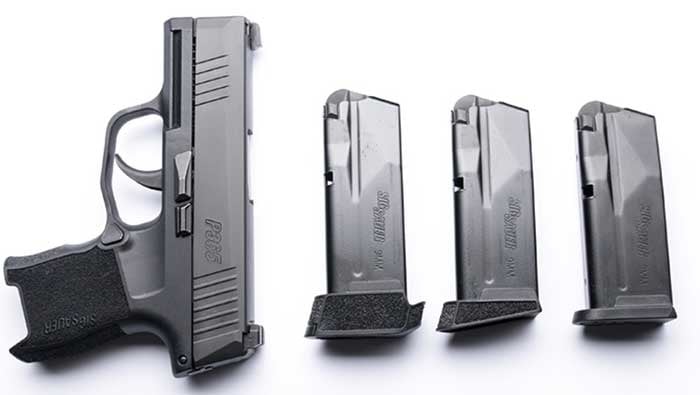 Sig Sauer does advertise heavily that it's a 10 + 1 gun, which is true, but it can be a hassle to load that full magazine with one in the chamber. You have to force the magazine in when it's full.
This iteration of SIG also comes with the SIG Sauer XRay3 night sights, which are amazing. The front sight is a high visibility day and night sight. The front sight has a high visibility green ring around a tritium vial.
The rear sight rocks two tritium vials and besides that are blacked out. The rear sight is serrated to reduce glare in bright environments.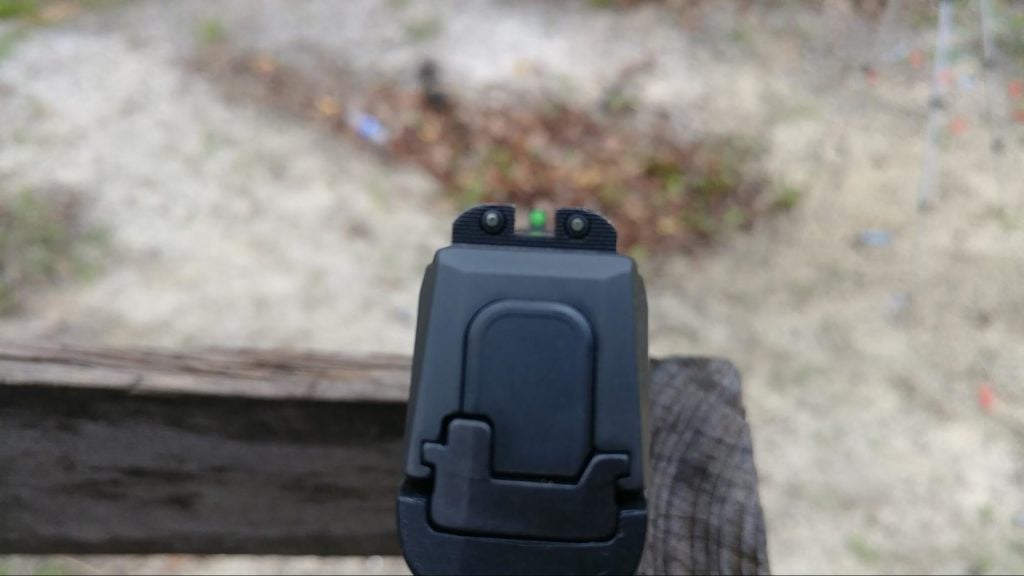 Compared to the Competition
The CCW market is a crowded one. There are more guns than ever designed for concealed carry that is small, potent and easy to carry. To keep this an apples to apple comparison, we are only comparing 9mms to 9mms.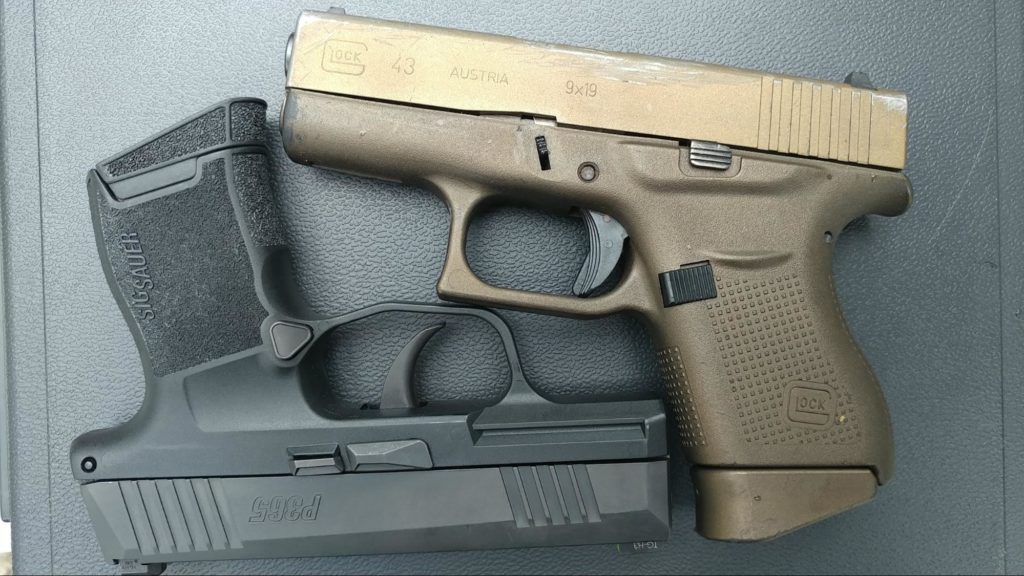 Glock 43
The Glock 43 was a huge deal a few years ago, which is true whenever Glock releases something new. The G43 is a single stack 9mm that features the same simplistic design Glock fans have come to know and love.
Here is how they stack up size wise.
| | Sig P365 | Glock 43 |
| --- | --- | --- |
| Width: | 1″ | 1.02″ |
| Length: | 5.8″ | 6.26″ |
| Weight: | 17.8oz | 17.95oz |
| Barrel Length: | 3.1″ | 3.39″ |
| Height: | 4.3″ | 4.25″ |
| Capacity: | 10+1 | 6+1 |
Walther PPS M2
The original Walther PPS was one of the first single stack carry guns and came out well before the Shield, the XDs, or the Glock 43. The PPS M2 was a bit of a modernization of the design with a more Americanized magazine release, a rounder grip, and a lack of rail.
| | Sig P365 | Walther PPS M2 |
| --- | --- | --- |
| Width: | 1″ | 1″ |
| Length: | 5.8″ | 6.3″ |
| Weight: | 17.8oz | 21.1oz |
| Barrel Length: | 3.1″ | 3.18″ |
| Height: | 4.3″ | 4.4″ to 5.3″ |
| Capacity: | 10+1 | 6 to 8+1 |
Smith & Wesson Shield 2.0
The Shield is the American heavy hitter in the single stack polymer frame firearms realm. This little guy was and is extremely popular, affordable, and very easy to find. Outside of the trigger, there isn't too much you can say is bad about the gun.
| | Sig P365 | S&W Shield 2.0 |
| --- | --- | --- |
| Width: | 1″ | .99″ |
| Length: | 5.8″ | 6.1″ |
| Weight: | 17.8oz | 20.8oz |
| Barrel Length: | 3.1″ | 3.1″ |
| Height: | 4.3″ | 4.5″ |
| Capacity: | 10+1 | 7+1 or 8+1 |
Glock 26
Since I'm comparing it to nothing but single stacks lets take a minute to compare it to the Glock26. The Glock 26 is a favorite 9mm double stack, subcompact Glock designed for concealed carry.
| | Sig P365 | Glock 26 |
| --- | --- | --- |
| Width: | 1″ | 1.18″ |
| Length: | 5.8″ | 6.41″ |
| Weight: | 17.8oz | 26.12oz |
| Barrel Length: | 3.1″ | 3.42″ |
| Height: | 4.3″ | 4.17″ |
| Capacity: | 10+1 | 10 to 33+1 |
Looking at a variety or single stacks and a few double stacks tell me SIG designed this gun the right way. They've given it double stack capacity in a gun the size of a single stack. This could potentially be a revolution in the CCW handgun industry.
Speaking with local dealers, they say they can't get enough of them. My favorite gun store has a waiting list with about a dozen people on it. It could be the next big thing in CCWs and create a trend in the industry for smaller, double stack 9mms.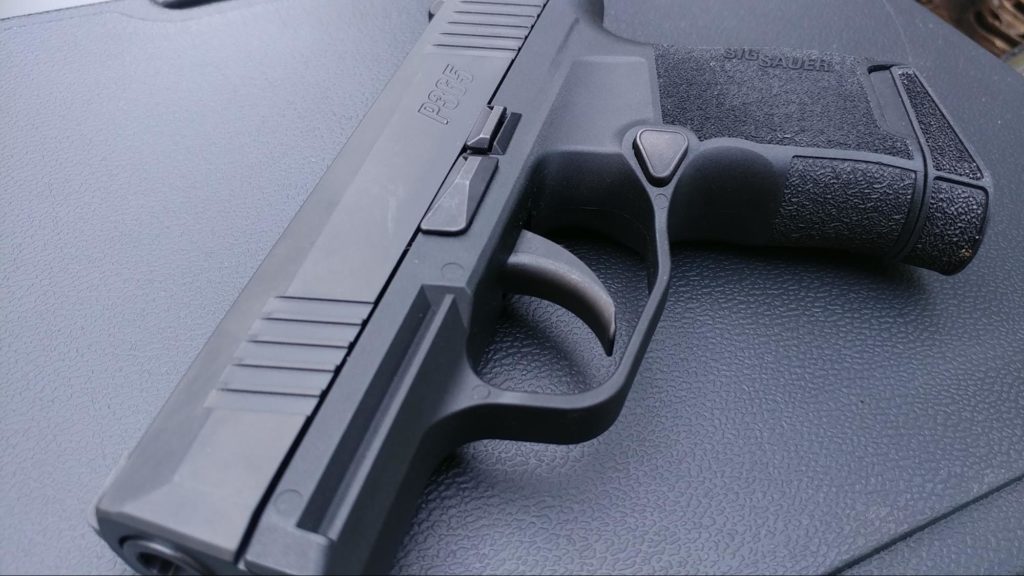 SIG designed the magazine first and then built the gun around in. If that's true, the design works and is brilliant.
Ergonomics
Let's talk about ergonomics here. They can make or break a gun. A lot of single stacks have a few different issues, and they are often related to compromises made to the grip to reduce size.
The SIG sports a very functional and comfortable grip. It has a tremendous little palm swell that fills the hand well. The trigger guard has a nice undercut that allows you to get an excellent and full grip on the gun.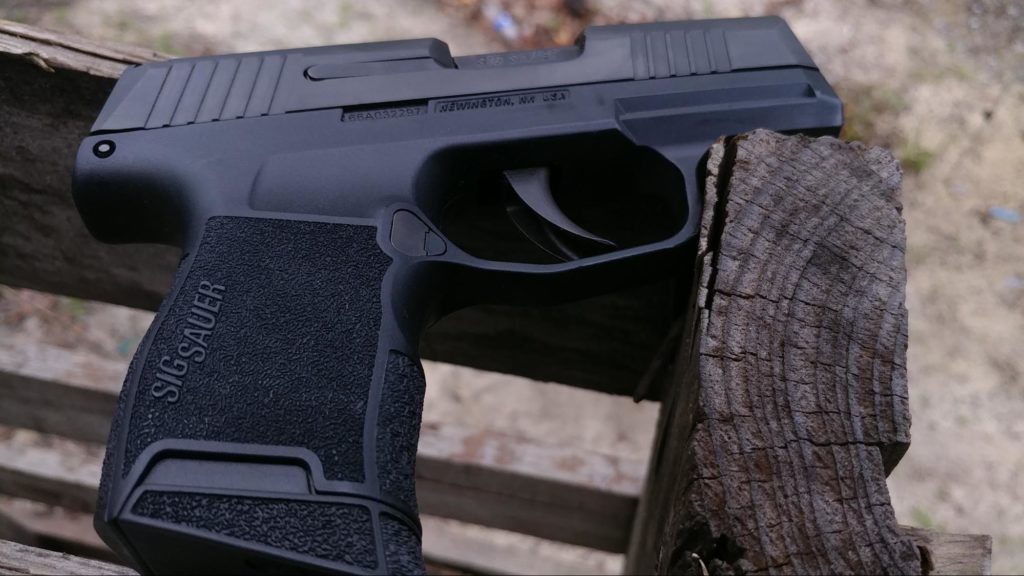 With the 10 round magazines rocking the pinky extension I can fit my entire hand on the grip. There is no hanging pinky here, and I like that. A better grip means more control.
Small guns tend to be hard to control, so the more control, the better.
The gun's controls are simple and easy to reach. The slide lock is small but textured with a 'step' that allows your thumb to reach it with ease. The gun's magazine release is triangular and is a low profile design.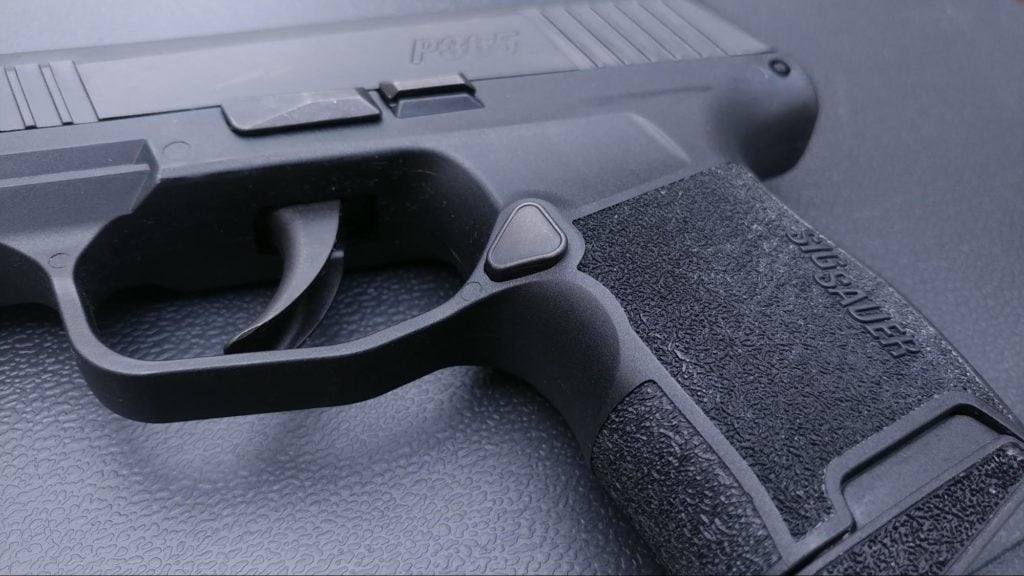 It's not hard to reach, but it's not like the magazine release you'd find on a fighting pistol. It's small, but its something you have to expect from a little gun.
The trigger is brilliant. I'll say it now it's superior to the other pistols we've compared the P365 too. It's crisp, gives a very clean break, and a tremendous audible and tactile reset. It's not a match grade trigger, but as a stock trigger, it's impressive.
On the Range
Shooting the SIG P365 is more fun than it should be. Over time I've gotten pretty used to shooting small handguns, but you can always feel the discomfort associated with that hand slapping recoil.
The P365 isn't a Glock 17 regarding comfort, but it does have high marks for comfort.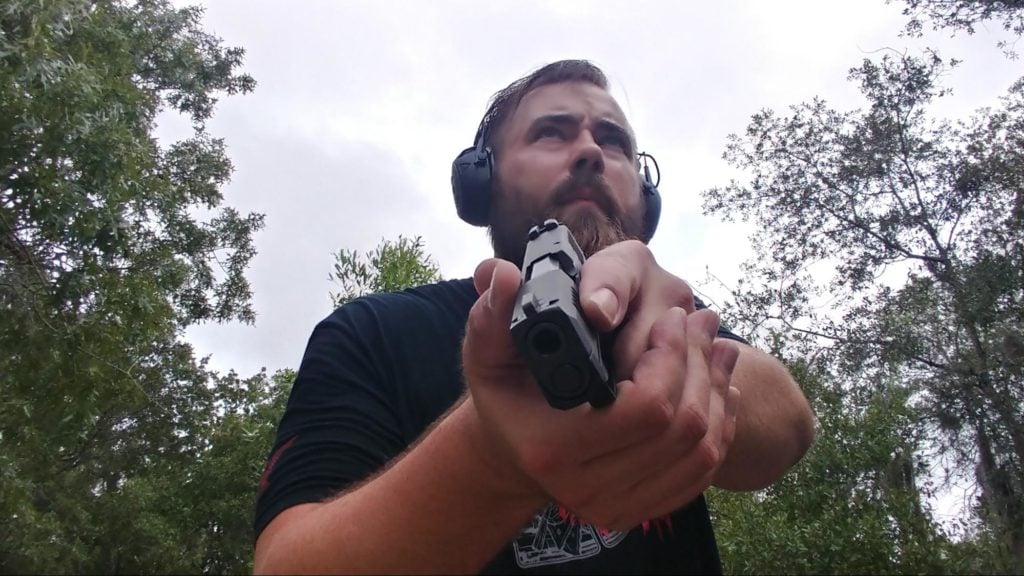 A significant portion of this comfort factor comes from the excellent grip. It doesn't feel like I'm holding a board like the PPS and Glock 43. The higher undercut allows me to get a full grip on the gun and this also helps mitigate recoil and even muzzle rise.
Hitting accurate double taps is pretty straightforward. If you take a peek at my target here, you'll see it marks out the critical areas of a man-sized opponent.
I can quickly place a double tap in the vital areas of the chest and pelvis area.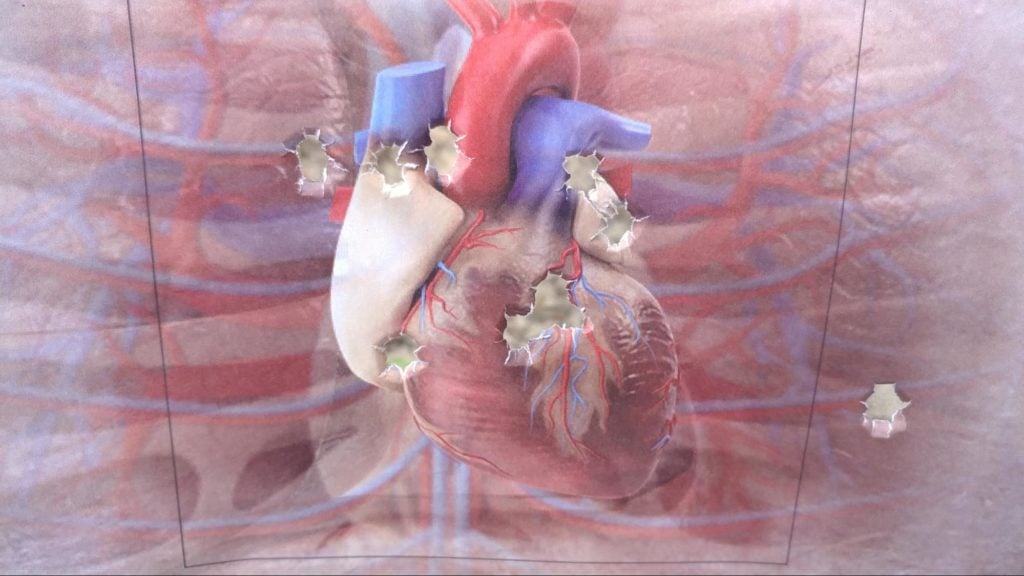 Accuracy is also top notch, thanks to the combination of great trigger, great sights, and a little practice with the fundamentals.
Backing out to 25 yards placing shots into the chest or pelvic area isn't a challenge. I can group an entire magazine where they all need to be.
At 35 to 50 yards I can even ring my 21-inch ShootSteel popper if I take it slow. Of course, I'm not hitting 100% of the shots, but at least 70%.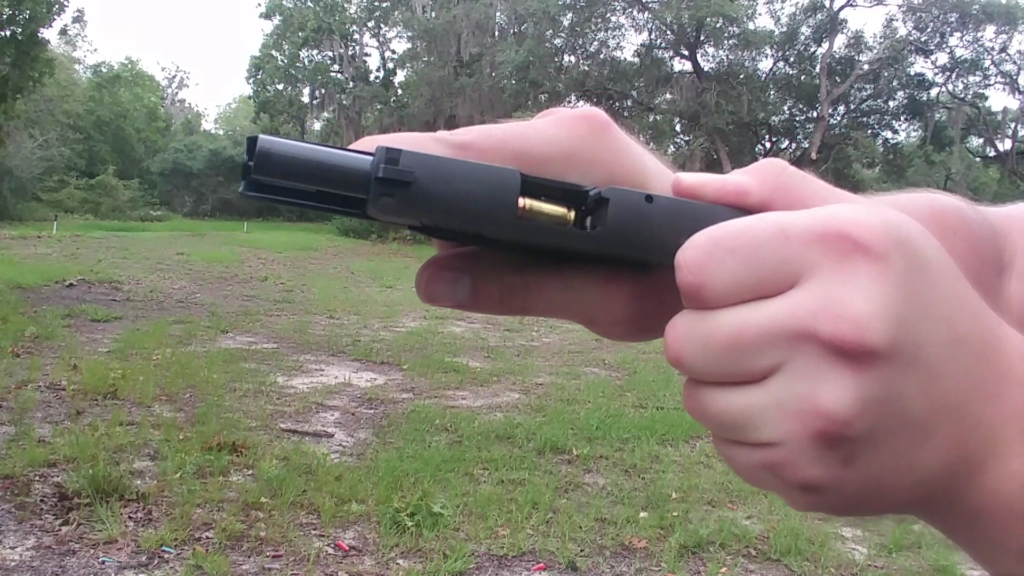 Lastly, I want to say the gun itself is quite easy to rack. More so than most small firearms, and if you have weaker hand strength, I think this is an excellent choice. It's not a compromise like the S&W 380 Shield EZ.
Conceal Carrying It
This has also been my carry gun for the last month or so and I've been carrying it in my No Print Wonder V3 in the IWB configuration. This holster is quite lovely, and one of my favorites so far. The holster can only do so much.
The SIG P365 is a tiny gun; it's so comfortable and just one of those guns you'll forget you're carrying. The SIG P365 is a great little carry gun, and it's been a welcome entry into my waistband.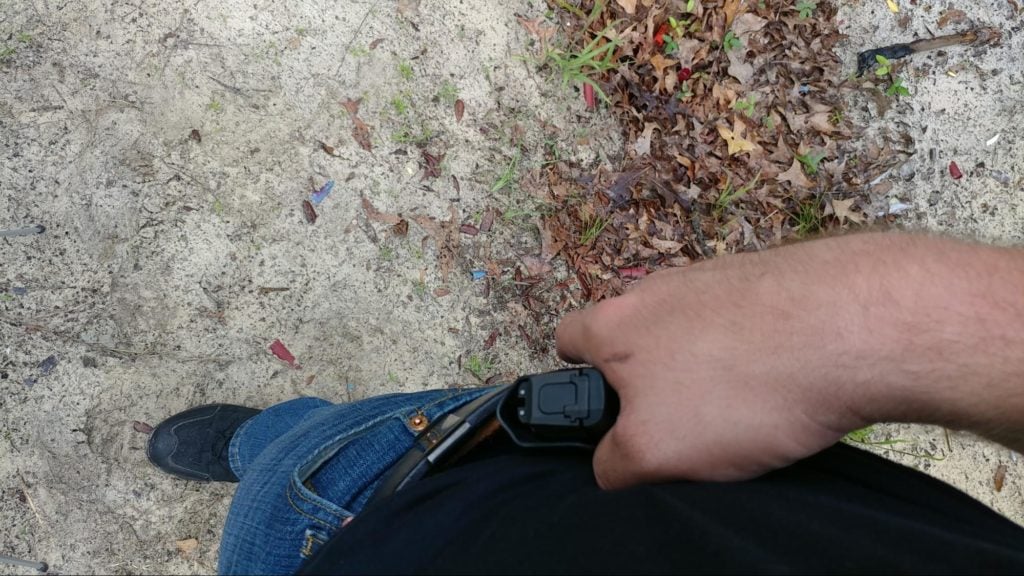 It's currently May in Florida (at the time of writing this…), which is like August everywhere else. I've been rocking regular summer clothes and light shirts and pants and had zero issue toting it.
The P365 conceals extremely well, without compromising comfort or my ability to draw the gun.
Ammo Bears Mentioning
Lastly, I want to mention the new SIG P365 ammunition. Named 365 this ammo is designed for tiny guns, like the P365 or the Ruger LC9, or Glock 43, or any other pocket pistol 9mm.
It's light recoiling, uses reduced flash powder, and best of all comes in both defensive and training ammo.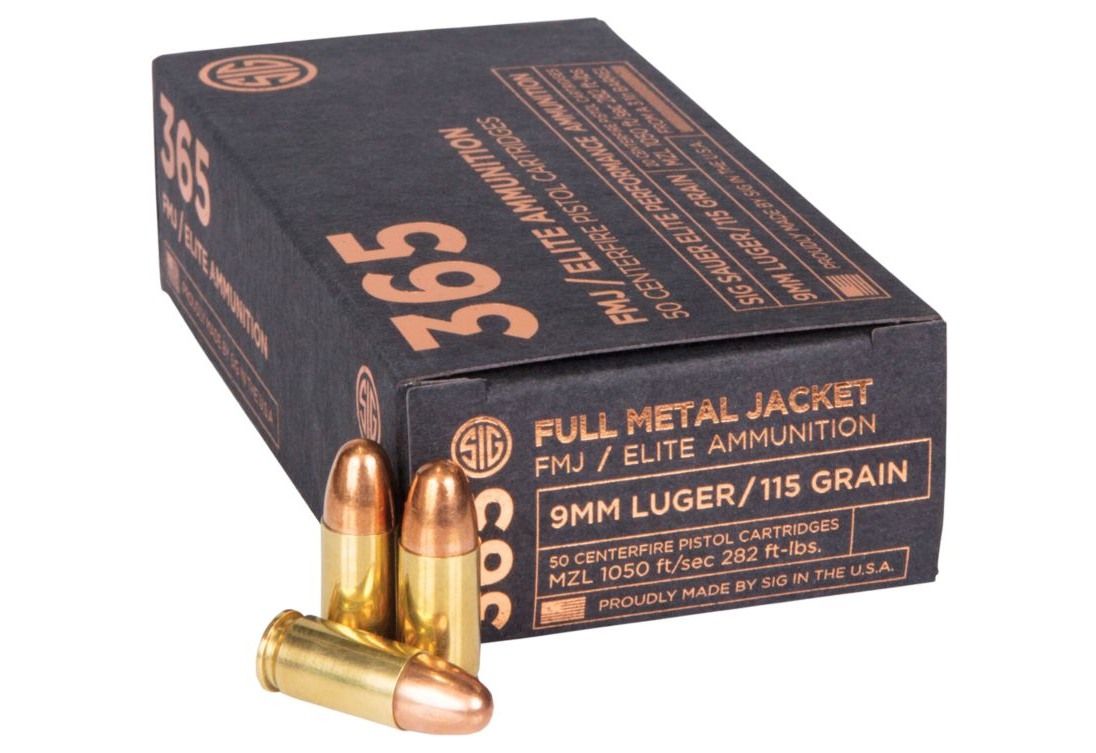 Sig 365 Ammunition
See It
Prices accurate at time of writing
The training ammo is 115-grain FMJ, and the defensive ammo is 115-grain JHP. The rounds are identical, except for the projectile of course. The cartridges are even loaded on the same machines.
What this gives you are rounds that feature the same recoil, muzzle rise, and point of aim. You'll be able to effortlessly switch between training ammo and defensive ammo without missing a hitch.
The only problem with the SIG P365 ammo…it's harder to find in stock than it is to find a P365 itself!
Alternative options
Thankfully, SIG isn't the only company – or even the first – to offer a line of ammo that is designed for short barreled sub-compact pistols.
Federal HST is a long established defensive ammo but it now comes in a new flavor – HST Micro.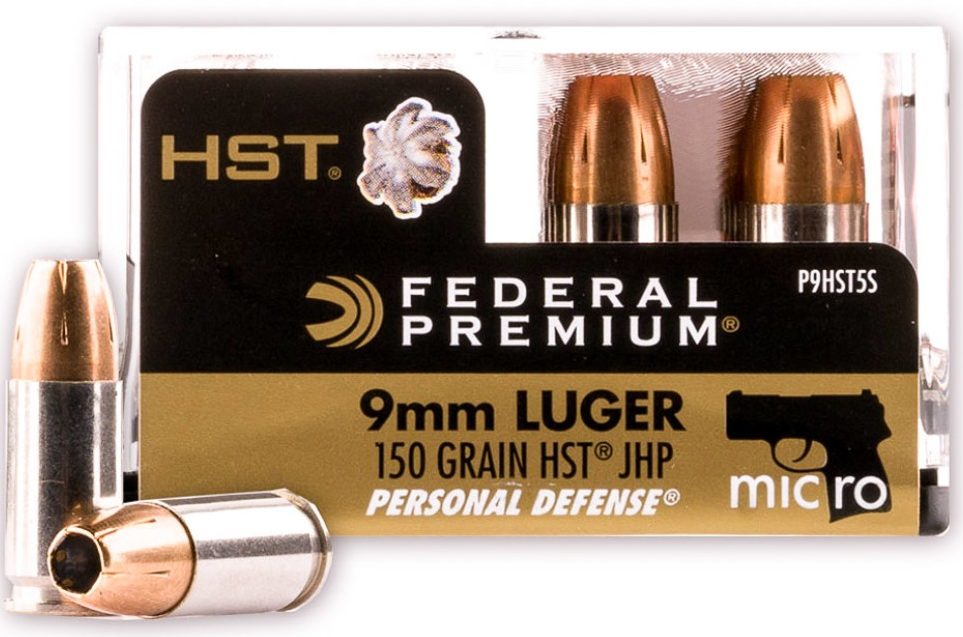 Federal Micro HST 150gr JHP
See It
Prices accurate at time of writing
Designed for small guns, the HST Micro has less flash, less recoil, less noise, and fires subsonically.
Best of all? It still expands like you would expect from standard Federal HST ammo. Check out the Lucky Gunner Ballistics Test for more science goodness.
If you want more defensive and training ammo options, check out our Best 9mm Ammo article!
By The Numbers
Reliability 5/5
I had zero hitches with any of the ammo I used. This includes the 365 training and defensive ammo, Speer 124 Grain JHPs, Tula, Winchester Steel, and more. No jams, failure to ejects, or magazine failures occurred.
This is even after I dropped magazine after magazine while practicing my reloads. The gun works, and I've never cleaned it, or even added oil after receiving it from SIG.
Ergonomics 3/5
While the ergonomics are solid for a small gun, it's still a tiny gun. The magazine will often catch your hand while reloading and fail to drop free. I'm almost always resting my thumb on the slide lock, which creates a situation where the slide rarely locks to the rear after the last shot.
Other than that the gun is comfortable to shoot, has a great trigger, and very minimized recoil and muzzle rise.
Accuracy 4/5
For a small gun, it's quite accurate. The short sight radius is an issue, but when it comes to defensive use, this gun is more accurate than it needs to be. The great sights and trigger make it a smooth shooter.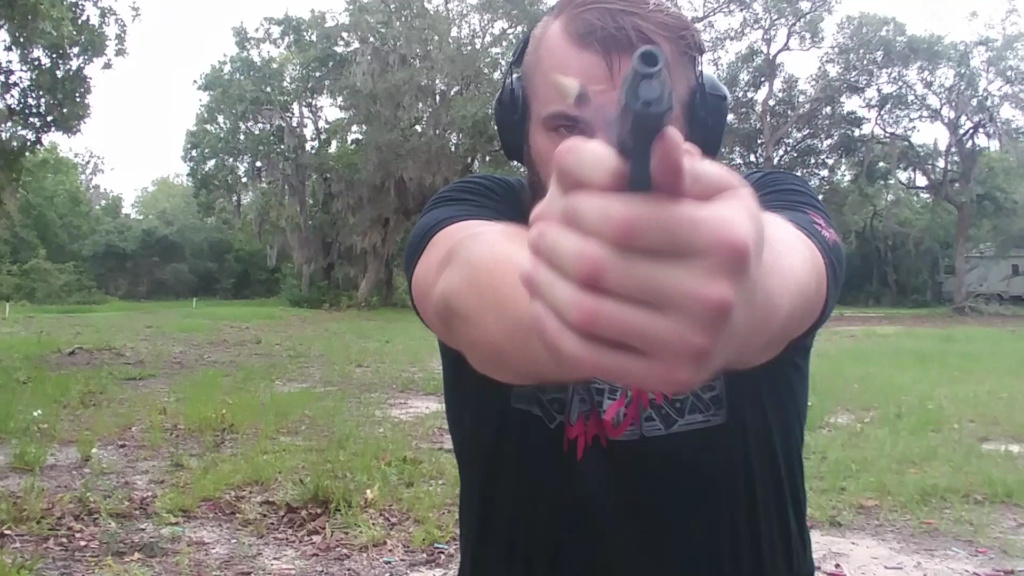 Accessories and Upgrades 2/5
There is nothing… The gun is bound to be a big hit so this score may change, but for now, its just holsters. The gun rocks a proprietary rail, so maybe SIG is going to release a full line of P365 accessories.
For now, you are stuck with a great gun and a decent selection of holsters.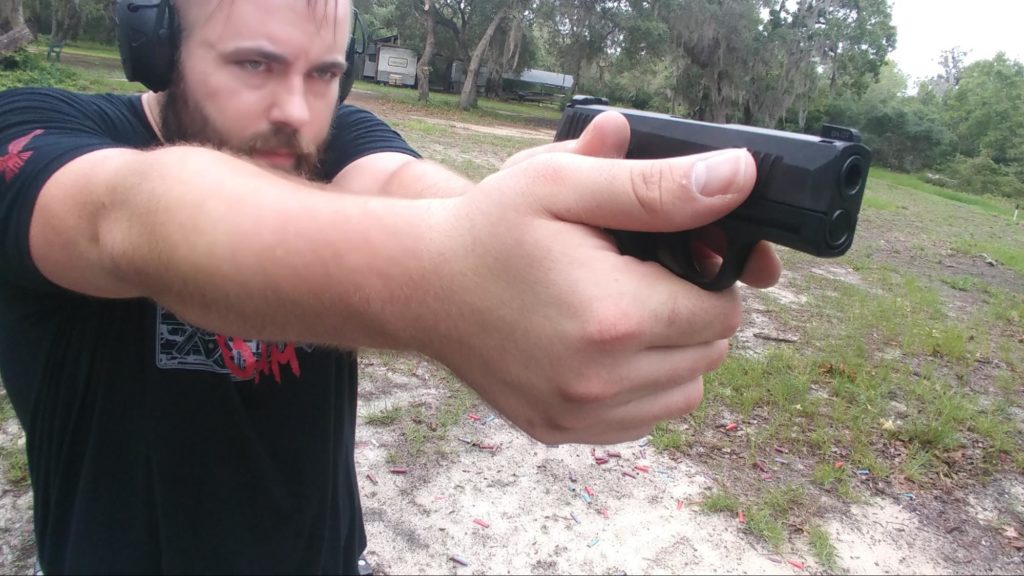 Bang For your Buck Value 3/5
With an MSRP of 599.99 and magazines running between 35 to 48 dollars, this gun is priced a little higher than other competitive pistols. That being said it's not priced too much higher. The magazines are a tad pricey, but they are well made.
I would have upped the score a point is they included a 12 round mag instead of two 10 round magazines. Are 48 bucks worth an extra two rounds? I haven't decided yet.
Overall 4/5
Conclusion
The SIG P365 is my favorite subcompact 9mm so far. I enjoy shooting it, carrying it, and I never feel likes it's too much or too little. It's one of the few pocket pistols I'll take out and plink with for fun.
Most small guns I shoot are for training, and keeping skills sharp. This one is just fun to fire. No slide bite, no hand slapping recoil, just a little gun that goes bang when I pull the trigger.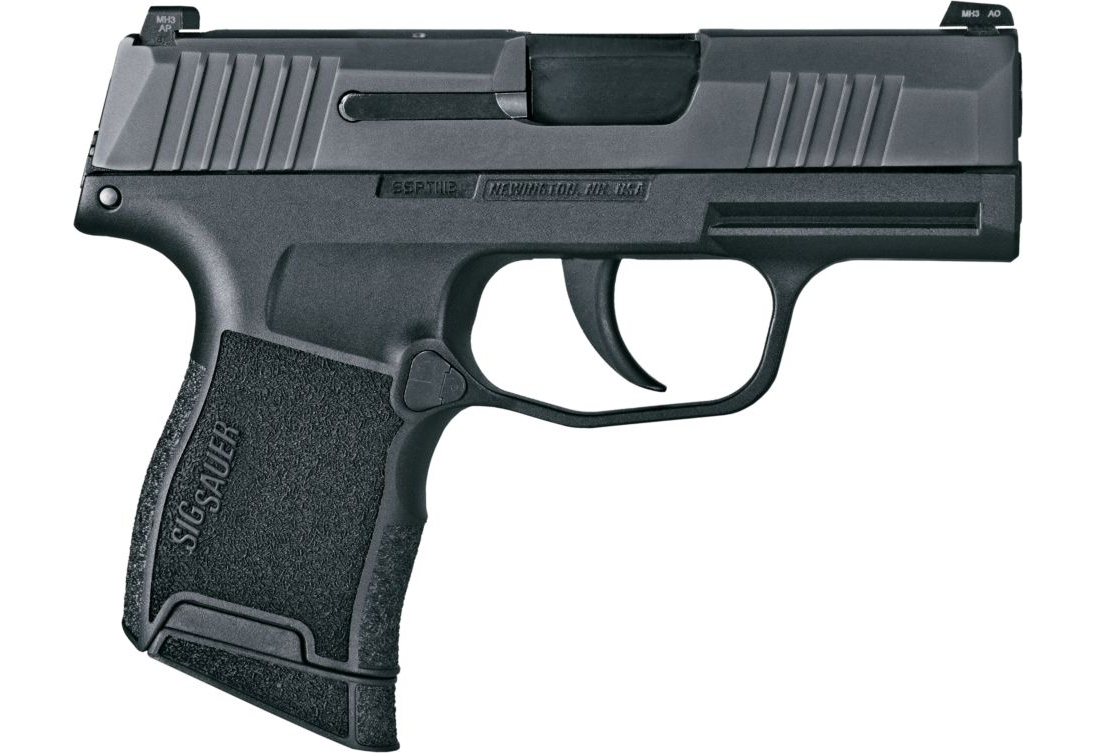 Sig Sauer P365
See It
Compare prices (3 found)
Cabelas (See Price)
Brownells (See Price)
Rainier Arms (See Price)
Prices accurate at time of writing
Does anyone have some time with the SIG P365? If so what are your thoughts? If not, what is a gun that's captured you? Check out our Complete CCW Guides for more guns and techniques.
The post Sig Sauer P365 [Review]: The Complete Carry Gun? appeared first on Pew Pew Tactical.
Slickguns – Guns In Your Dream

Source link
Please follow and like us: