[Review] Palmetto State Armory AR-10 in .308
Can you really get a reliable AR-10 .308 for $600?
Palmetto State Armory (PSA) aims to make that a reality.
I test out their AR-10 in .308 (other calibers coming soon) across 6 types of ammunition, multiple magazines, and hundreds of rounds.
Find out if it passes the reliability and accuracy test.  Plus a video of my nailing 600 yard targets with ease!
Best Entry Level AR-10

PSA AR-10 Complete Rifle
See It
Prices accurate at time of writing
Table of Contents
Loading…
Who Is It For?
Budget buyers who want something that works out of the box that doesn't always turn heads or shoots half MOA.
Someone who wants some options in terms of barrel length, gas system, and handguards
Someone who can wait a little for things to be in stock and ship
Why Is It So Cheap?
If you don't know yet…PSA is known to be the market leader in affordability.  They get that way since they own all the companies that take raw metal to the finished product.
They sent me this AR-10 to fully test out after my review of their AR-15s.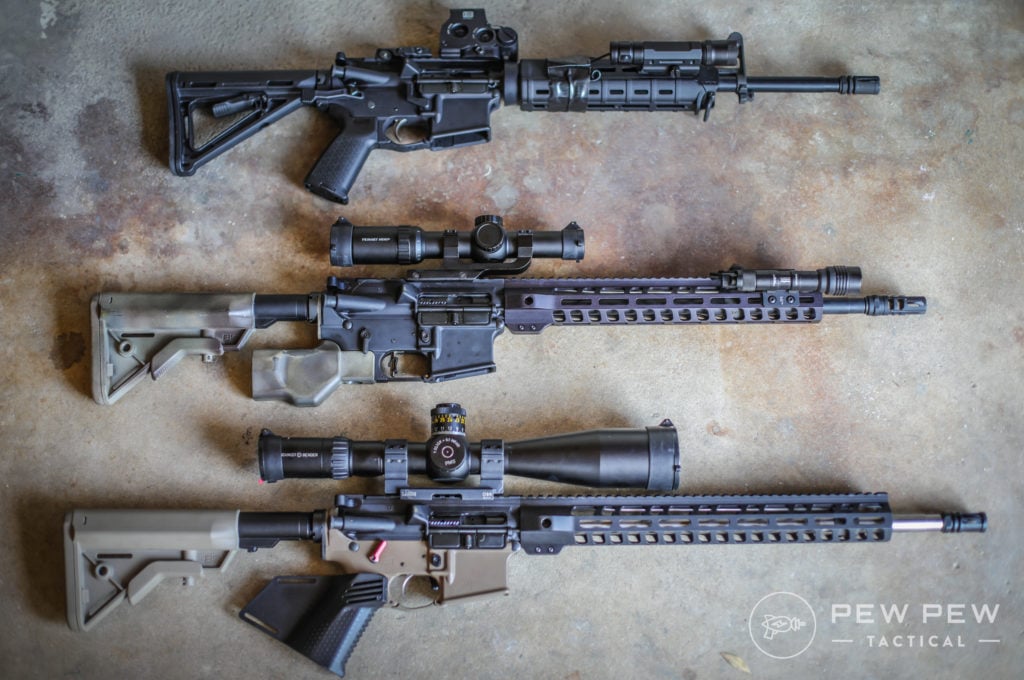 I test it the same way as I do with all my other guns.  And actually increased the types of ammo through the AR-10 since they are known to be finicky with the gas system.
Fit, Feel, & Finish
Upper
I opted for the shorter 18″ upper in stainless steel for a little lighter weight compared to the 20″.  If you're strictly bench or prone shooting you can get the 20″ for a little more velocity.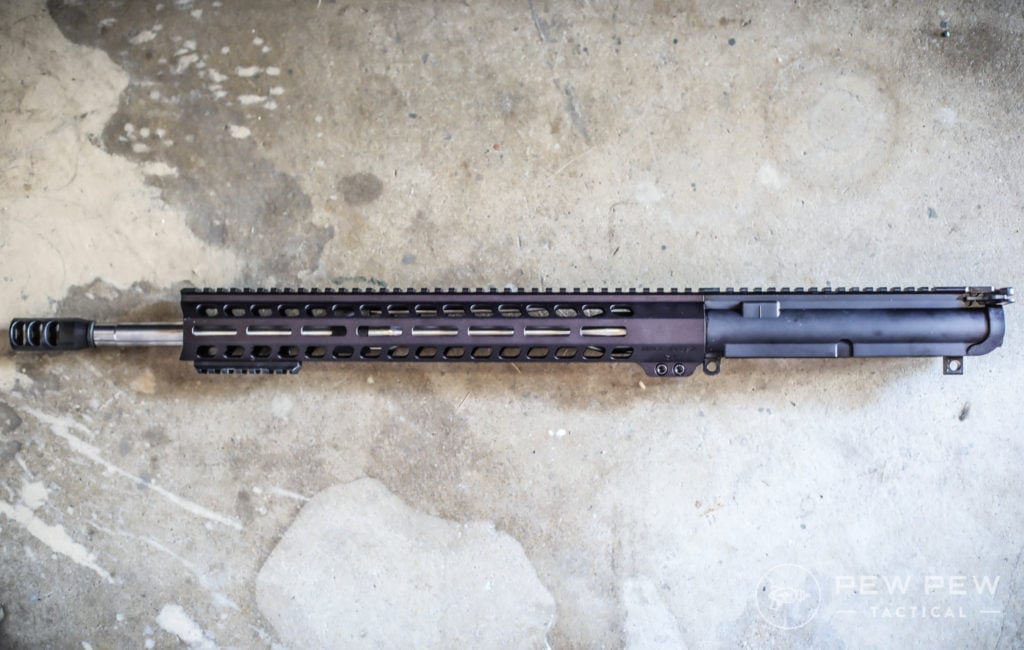 You can see, like in my previous reviews, sometimes there's a color mismatch of the handguard to the receiver.
Not a deal-breaker for me but keep that in mind.
The lightweight 15″ M-LOK handguard was nicely machined and didn't have any sharp edges like some in their AR-15s.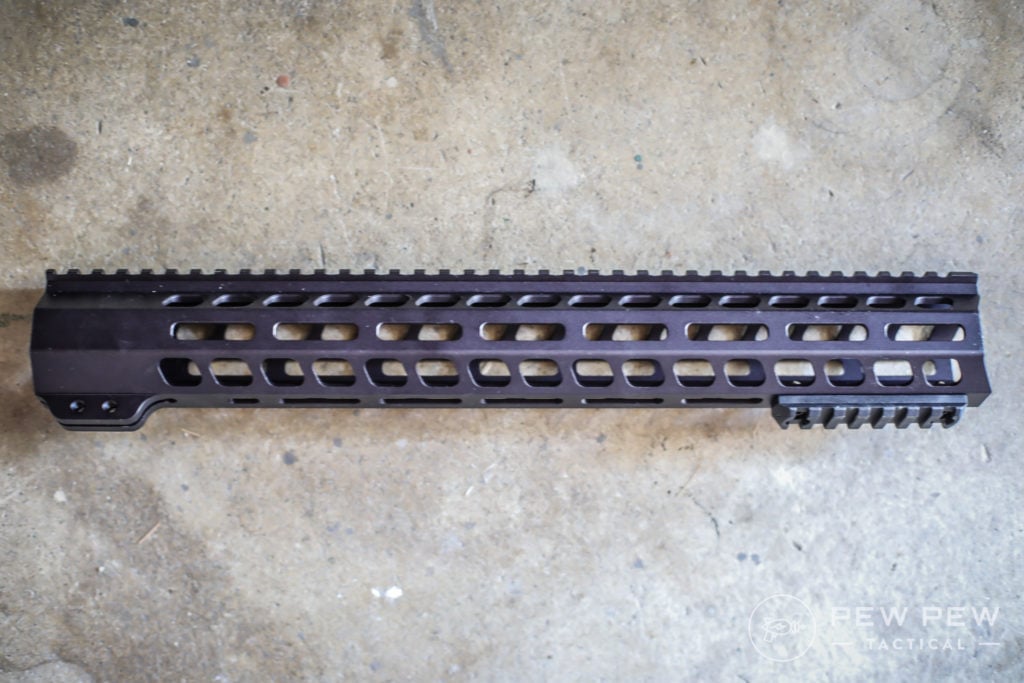 The barrel looked good and had a centered and tightened gas block.  It normally will come with a flash-hider but I switched it out for a .308 compensator I had lying around.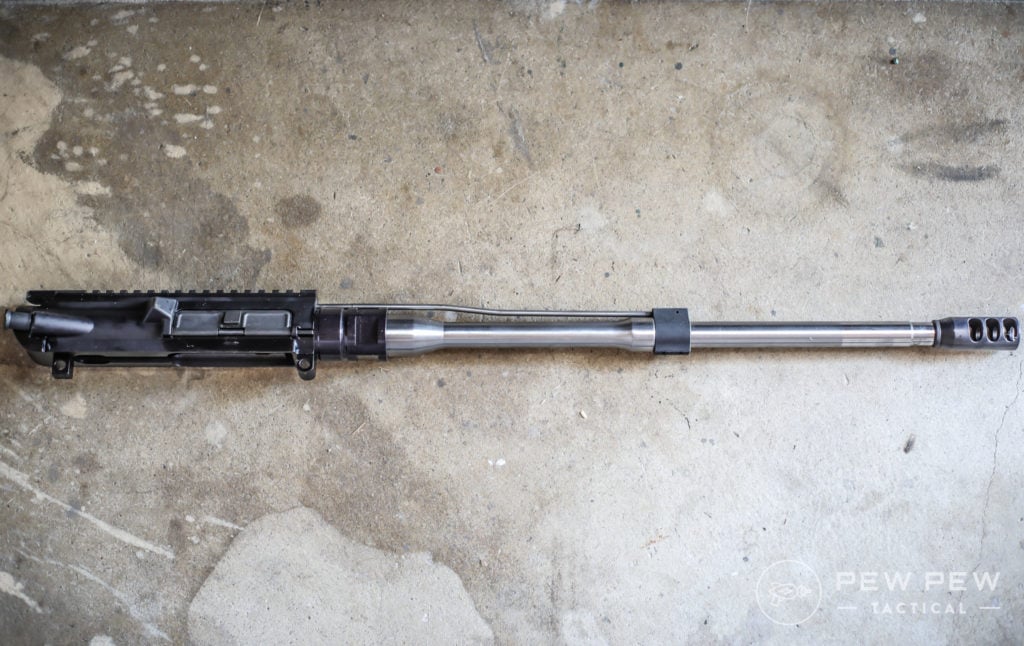 Here it is showing the caliber and 1:10 twist rate.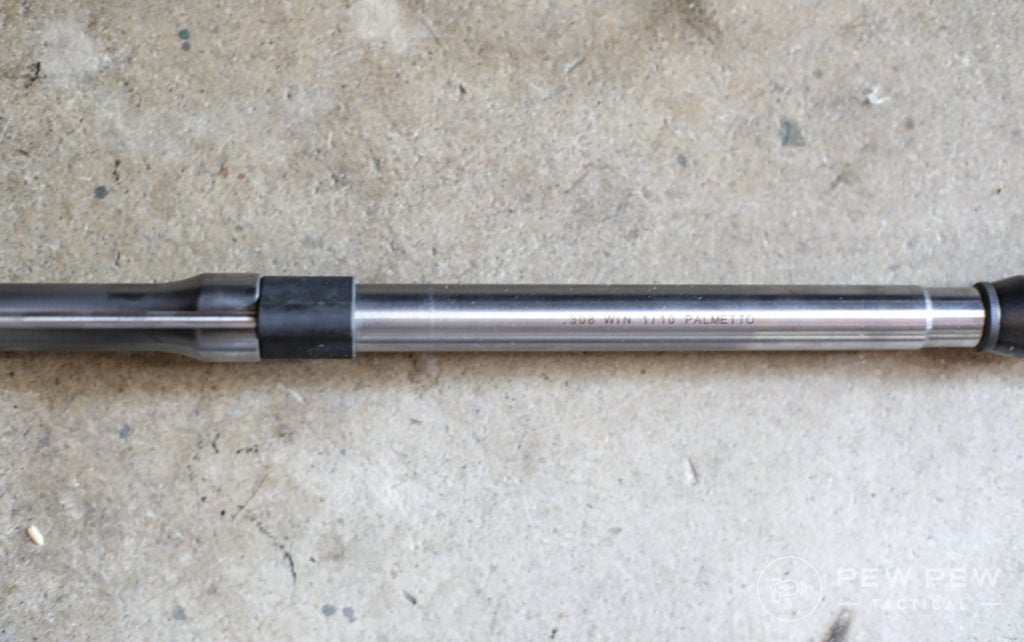 BCG was properly staked.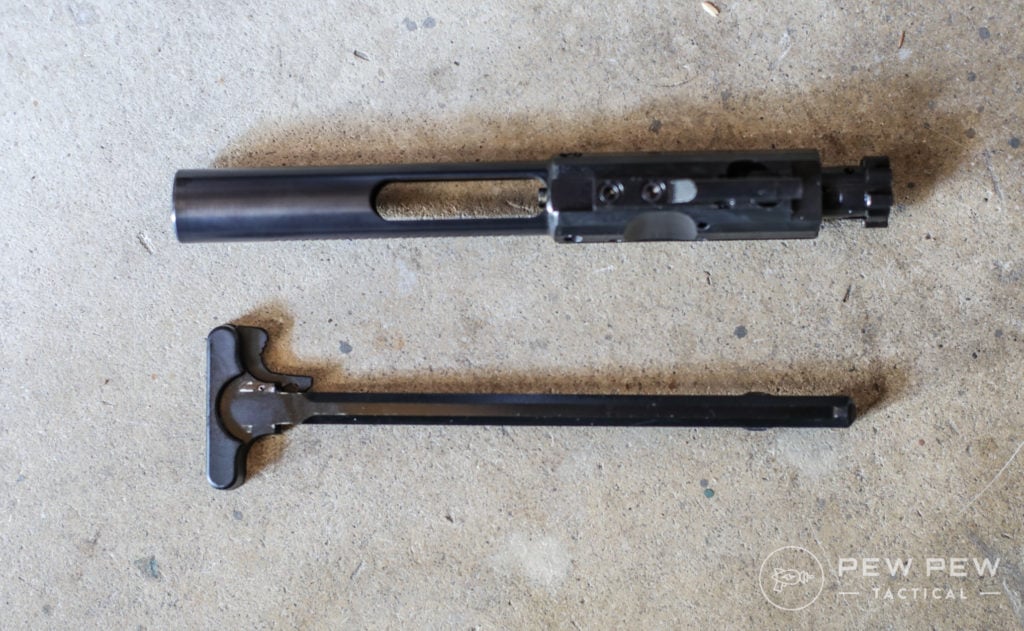 And the bolt was marked MPI (magnetic particle inspected).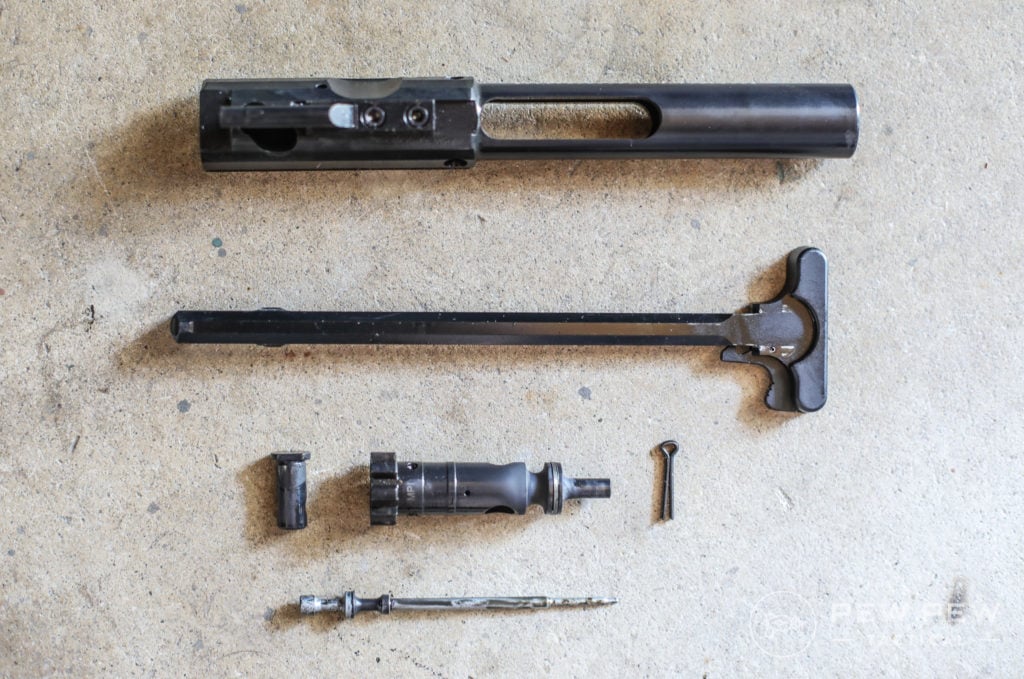 Lower
Colors and fitment match pretty well.  Nothing much to write home about.
Like their 9mm AR (full review), the pistol grip holds in two detents…the normal safety detent plus the rear takedown pin.  Much easier for install!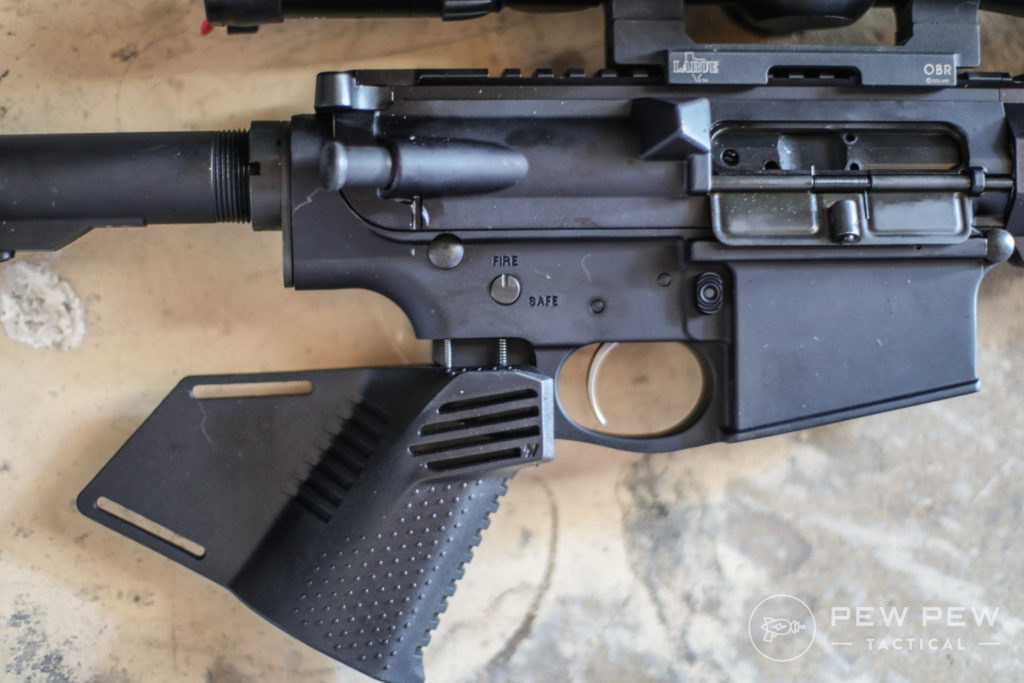 My biggest complaint with my lower is that the takedown pins are SUPER tight.  Even after so many installs/removals for break-in…I still have to use a screwdriver and hammer every time.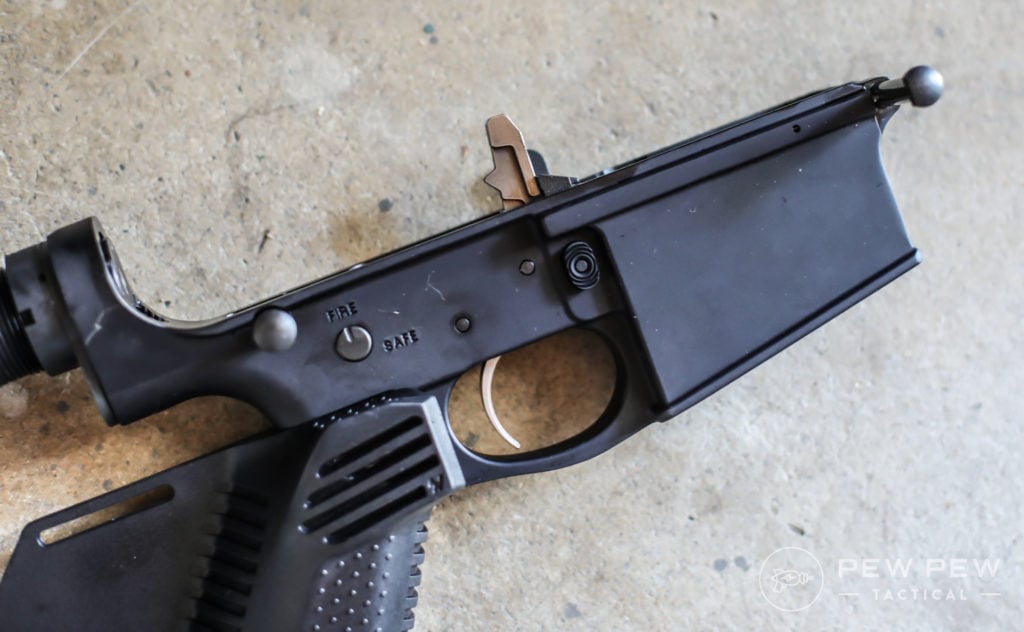 The lower originally came with PSA's EPT trigger which is surprisingly crisp compared to mil-spec.  But the above is a Triggertech I swapped in for accuracy testing.
You can also check out their 2-stage trigger which is great for the money.
Magazine release works well and sometimes the mags were a little tight to get in…but always dropped free.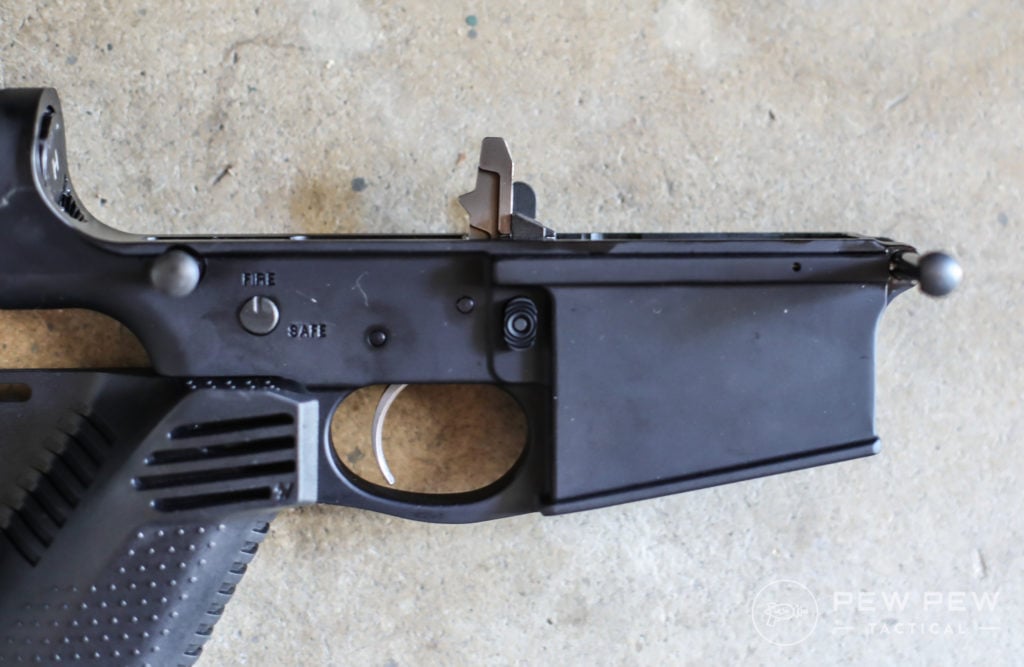 So far so good…especially for around $600.
How Does It Shoot?
Boom!  Let's get down to the important stuff…
Break In
I broke the barrel in during a trip to BLM desert land while setting up for night vision (Best NVG Goggles).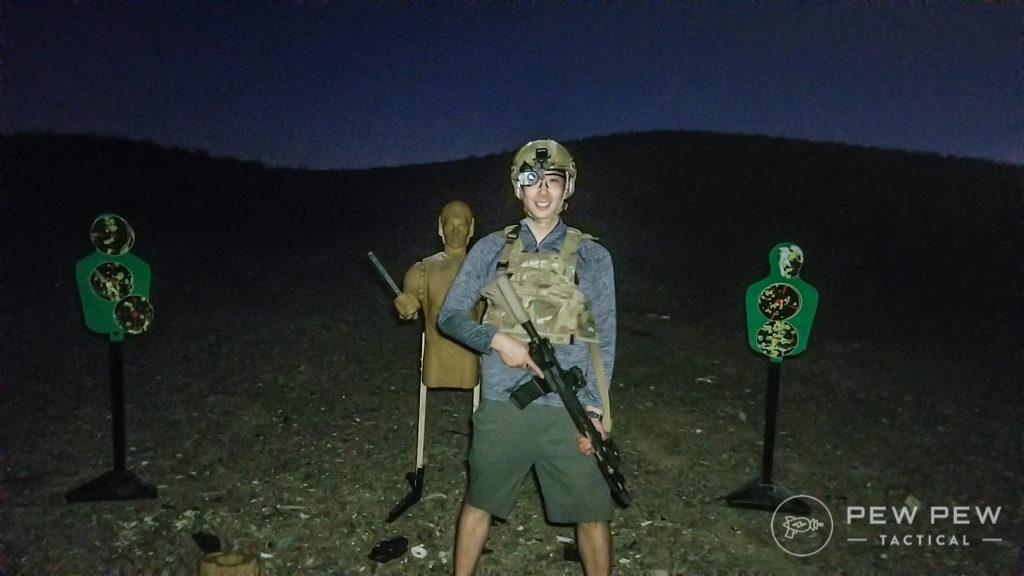 I usually don't do break-in for AR-15s but since this is more of a precision gun…
5x: 1 shot, copper remover, wait 5 min, bore brush, gun cleaner, clean patch
5x: 5 shots, copper remover, wait 5 min, bore brush, gun cleaner, clean patch
Check out Best Gun Cleaning Kits for my favorite gear and brands.
Recoil
A lot more than the 5.56 AR-15 if you've never shot a .308 semi before.
You'll often read that PSA overgasses their AR-10s.  I think that's a fair statement.
I broke in the rifle standing up and after those 30 or so rounds I was definitely feeling it…this rifle is more meant for bench shooting or even better…prone.
There's no adjustable gas-block so you can't tune down the amount of gas heading back into the BCG.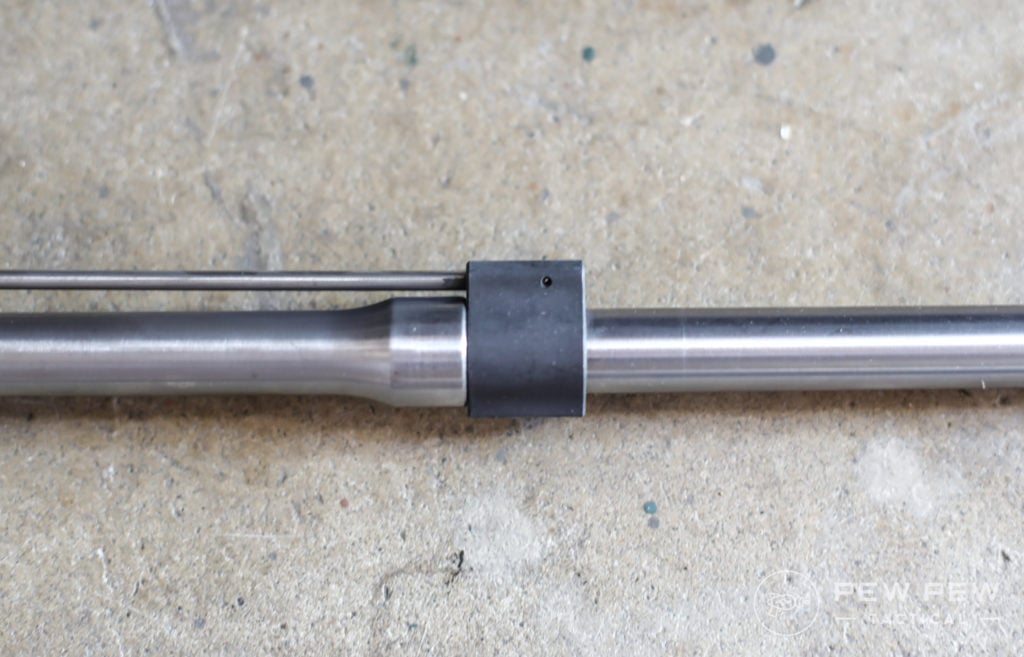 Reliability
Bummed that you can't tune down the gas?
One good thing is that being overgassed makes it more reliable.
The AR-10 ate up all 6 kinds of ammo I threw at it…from the cheapest brass ammo I could find, to regular plinking ammo, and several kinds of match ammo.
The bolt always held back on empty with both my Magpul and DPMS magazines.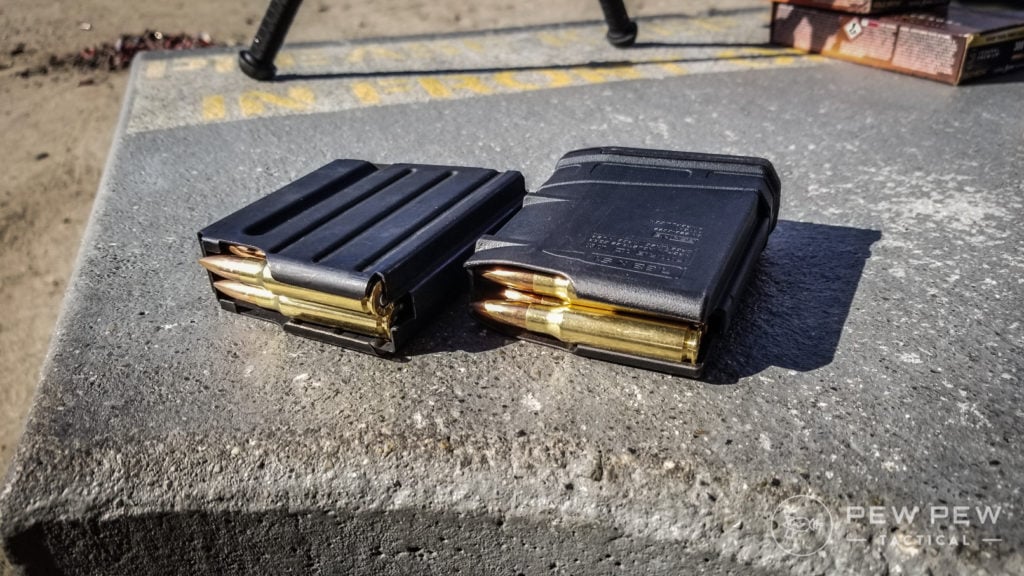 For reliability…PSA's AR-10 was great.
Accuracy
I really hoped the accuracy was going to be good…especially since I spent a lot of time breaking in the barrel.
I set the rifle up in my standard testing rig…now with a chronograph.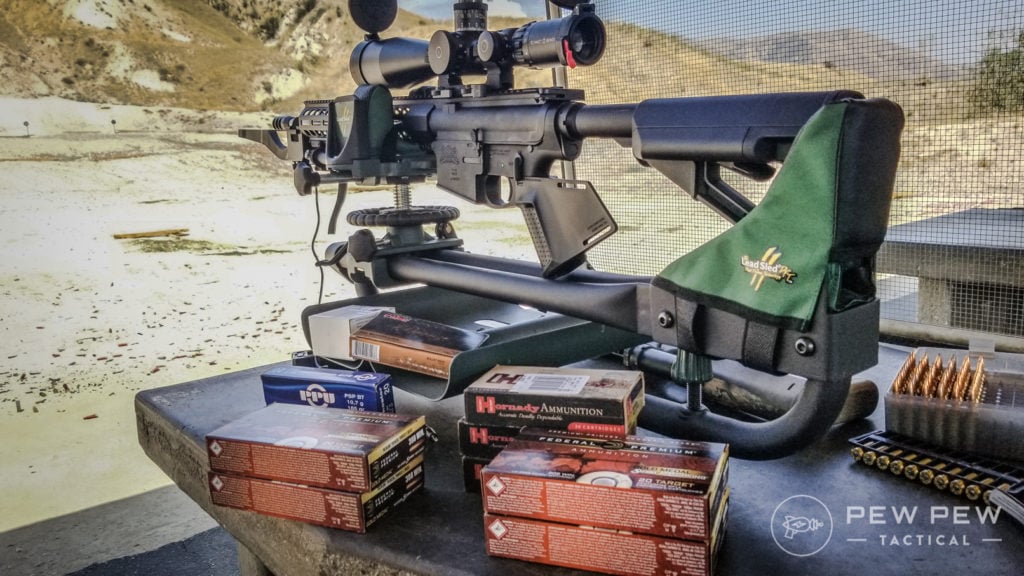 Lead Sled DFT ($200)
Schmidt & Bender PMII 5-25x Scope with Larue Mount ($3500)
Triggertech Drop In ($230)
Magnetospeed Sporter Chronograph ($180)
100 yards, slow shooting with each group, and about 5 minutes to cool down before the next group.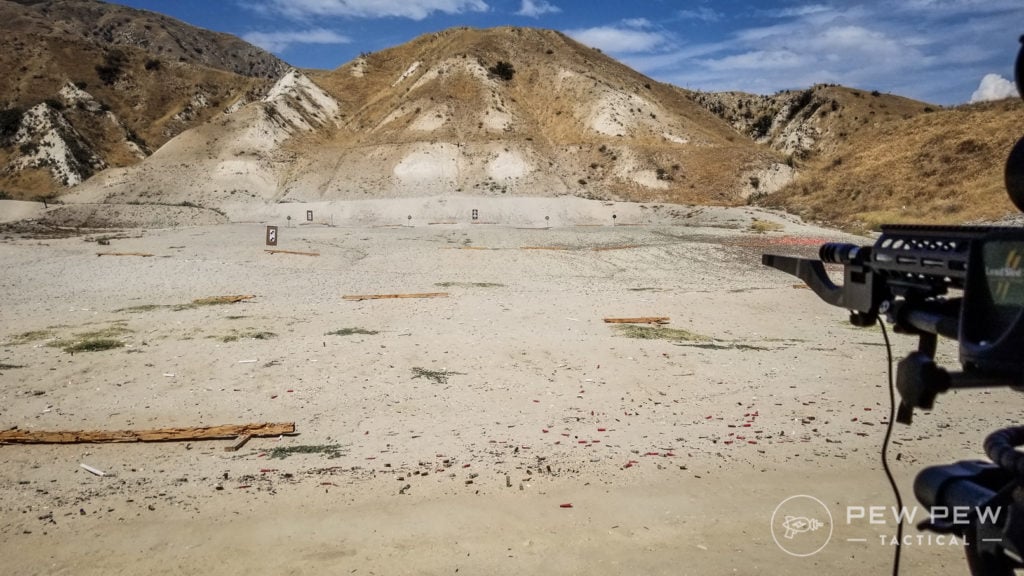 And used a bunch of my favorite .308/7.62×51 ammo (Best .308 Ammo)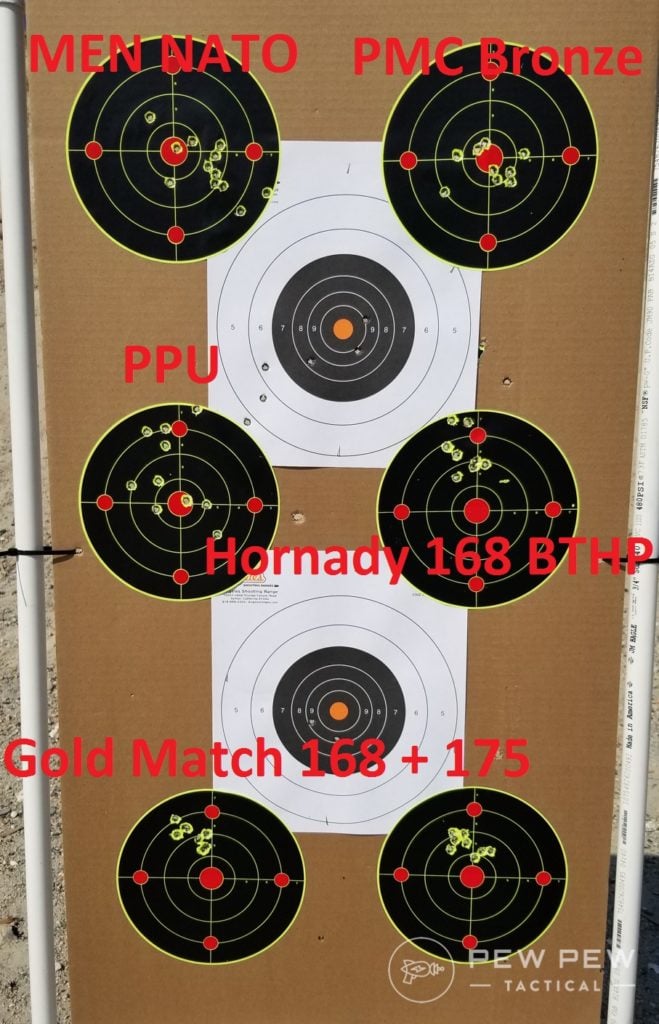 The MEN, PMC Bronze, and PPU were my plinking ammo…and it looks like PMC Bronze did the best with probably 2.5 MOA.
For match ammo…Hornady's 168 BTHP didn't do as well as I had hoped.
But Federal's Gold Match in both 168 and 175 gr were excellent at around 1.5 MOA.
Here are the average velocities for each ammo out of the 18″ barrel:
MEN: 2622 ft/sec, std deviation: 16 ft/sec
PMC Bronze: 2644 ft/sec, 6.5 ft/sec
PPU: 2634 ft/sec, 6.4 ft/sec
Hornady 168 BTHP: 2593 ft/sec, 7.7 ft/sec
Gold Medal 168: 2459 ft/sec, 10.8 ft/sec
Gold Medal 175: 2447 ft/sec, 14.4 ft/sec
Long Range
100 yards is great and all…but chances are if you're looking at a .308 you want to stretch its legs.
So I went to my local rifle range and set up with a bipod (Best Rifle Bipods).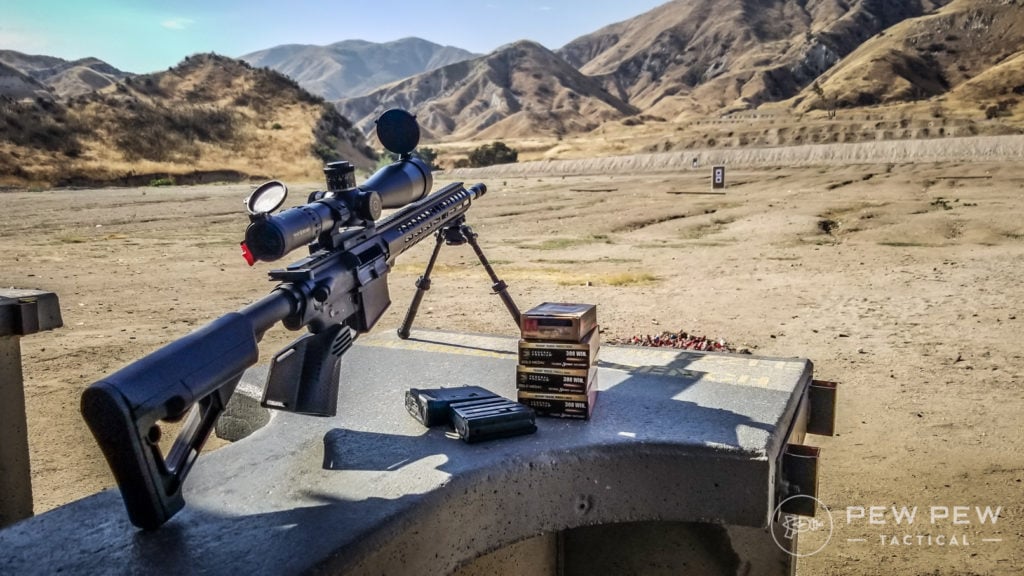 There's berms for 100-600 yards.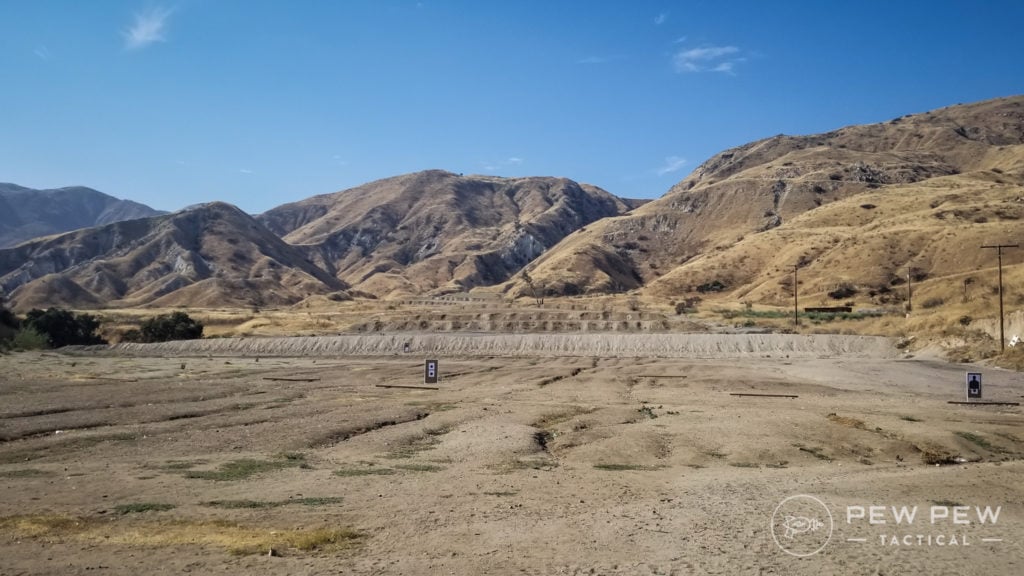 If you zoom in a little you'll see the 500 and 600 sections off to the left.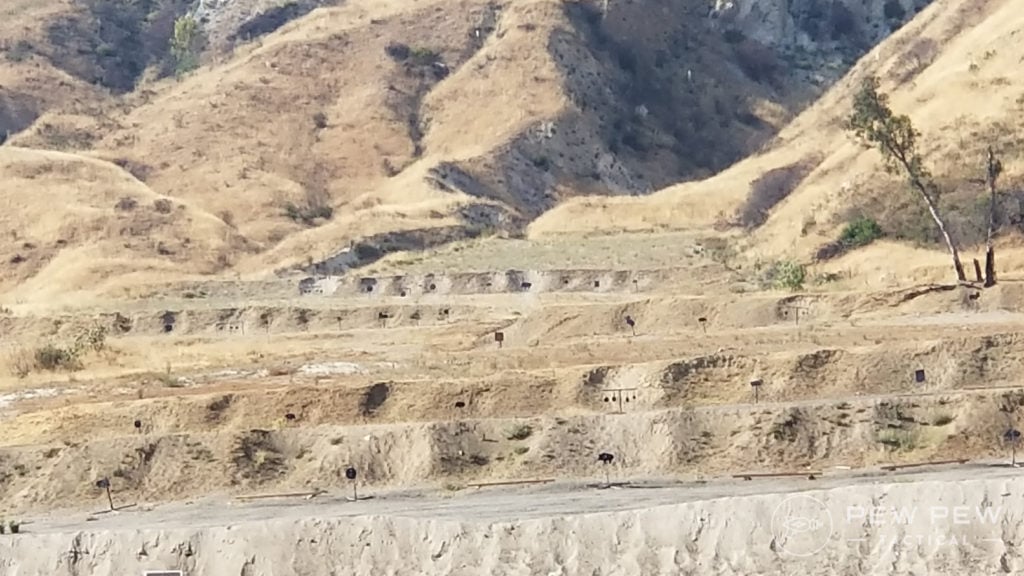 And at the very back…my 600 yard targets.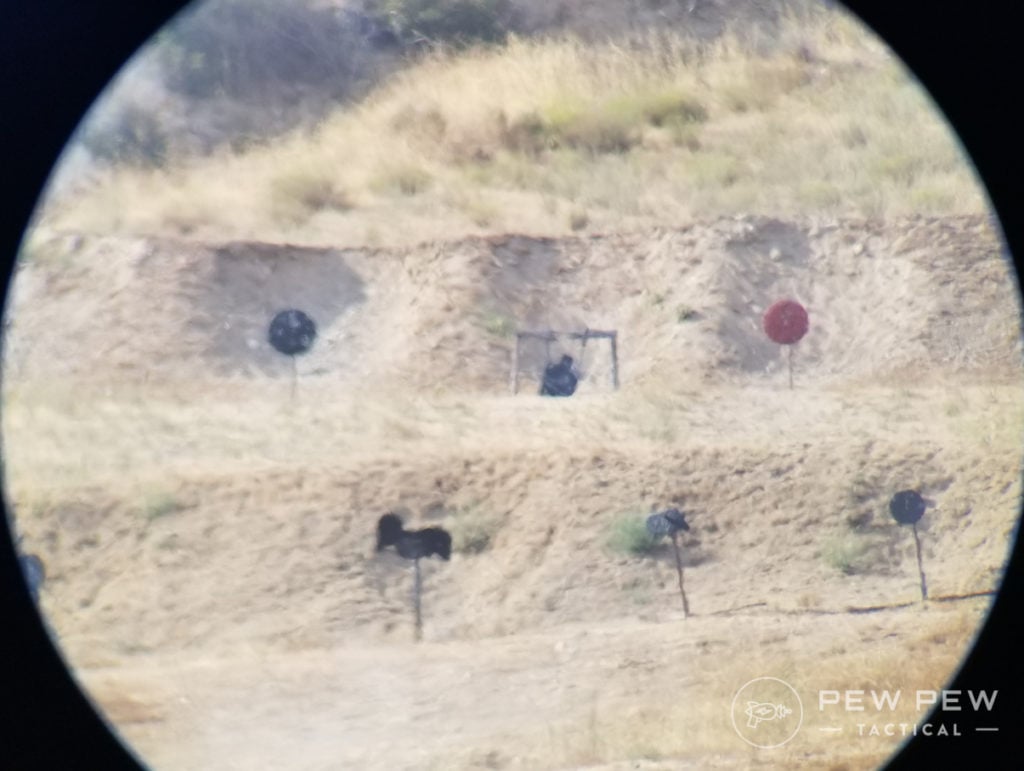 I shot off the bench in a reasonably comfortable position.  No rear bag though…I did forget it.
Video: I hit 9/10 with the 175 gr Gold Medal…and super cool to see the vapor trails!
Not too shabby for my skill level…if you've got the range and the skills you should be able to hit out to 800 and even 1000 yards with a .308.
Compatibility
AR-10s in general don't play that nicely with each other.  So if you're going PSA…stick with both PSA upper and lower.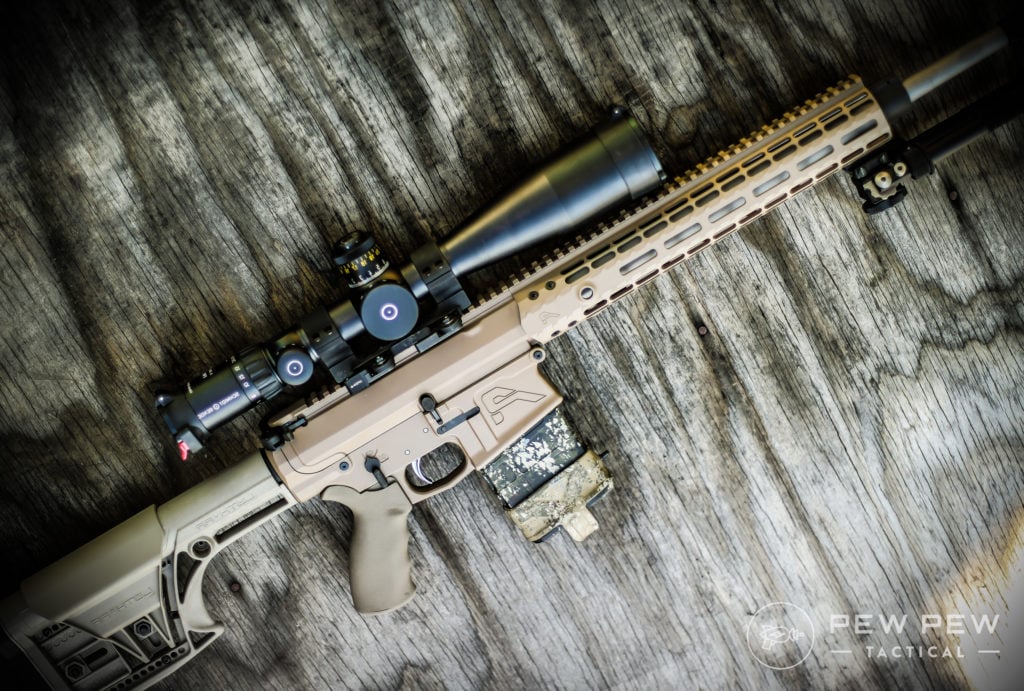 The newest generations are Gen 2 but even if you have a Gen 1 lower…it will still work with a Gen 2 upper.
Plus it might look a little funky.  Functional…but a little weird looking.
Recommended Models
There's not nearly as many models of the AR-10 compared to PSA's AR-15 offerings.  But it's ok…you're pretty much choosing between free-float and going either 18″ or 20″.
If you're strictly bench or prone shooting…get the 20″.  Otherwise if you want something a little lighter and maneuverable…get the 18″ like me.
I also strictly go for the free-floating variety…especially for a long range precision rifle.
Best Entry Level AR-10

PSA AR-10 Complete Rifle
See It
Prices accurate at time of writing
Those are the complete rifles…but if you know PSA…the deals are to be had by separating the upper and lower.  That way you avoid the 11% completed firearm tax.
My specific upper which I recommend is the 18″ Stainless with 15″ Lightweight M-Lok with BCG (bolt carrier group) and CH (charging handle) for $499.
While the lower I would heavily recommend getting a better buttstock that has a nice cheekweld.  The one I have is the Magpul MOE STR but the ACS-L is also great.
The EPT is a nice upgraded single stage trigger while the Nickel Boron 2-Stage trigger is PSA's version of Geiselle's SSA-E trigger.  Great when I tried it out on their 6.5 Creedmoor guns (review coming soon).
Possible Upgrades
The PSA AR-10 is a great beginning platform for long-distance shooting.
One of our readers even sent in his build…thanks Derek!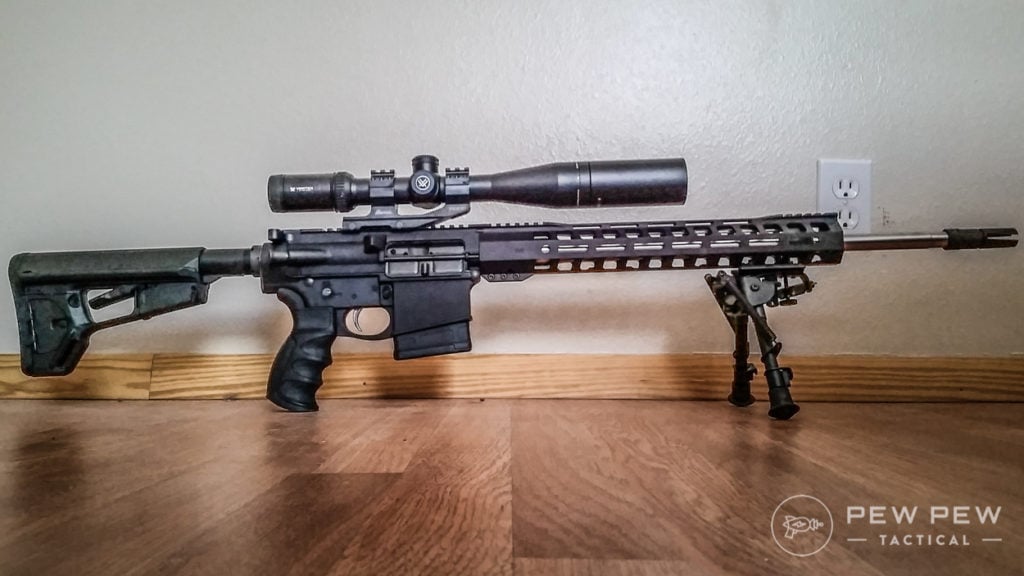 He has in his 20″ PSA AR-10:
ATI X1 Grip
Smith Enterprise Vortex flash hider
Radian Raptor charging handle
Burris PEPR Mount with Vortex Viper 4-16x
Harris bipod
His AR-10 gets 1-1.5 MOA with 165 gr Nosler Ballistic Tip and 1 MOA with Remington CORE-LOKT in 150gr.  I'll have to try those loads out next!
By The Numbers
Reliability: 5/5
Besides really tight takedown pins…the AR-10 performed flawlessly with 6 kinds of ammo, 2 types of magazines, and hundreds of rounds.  Overgassing gives it the reliability at the expense of a little more recoil.
Accuracy: 4.5/5
OK with the cheapest plinking ammo and decent with PMC Bronze.  But great with Federal Gold Match in both 168 and 175 gr flavors.  600 yards all day long for me.
Ergonomics: 4/5
Handguard feels much better than PSA's AR-15 models.  Otherwise everything is where it's supposed to be.  Make sure to get a better buttstock with a wider cheekweld.  Your long distance shots will thank you.
Looks: 3/5
It is what it is…the handguard is a little mismatched in color from the upper and lower.
Customization: 5/5
It's an AR platform with M-LOK so you can do anything to it.  I easily added in a new trigger, compensator, M-LOK rail, and Atlas Bipod.
Bang for the Buck: 5/5
GREAT deal…especially when the next comparable/affordable maker is Aero Precision and theirs is $1400.  Full review here of that one.
Overall Rating: 5/5
Conclusion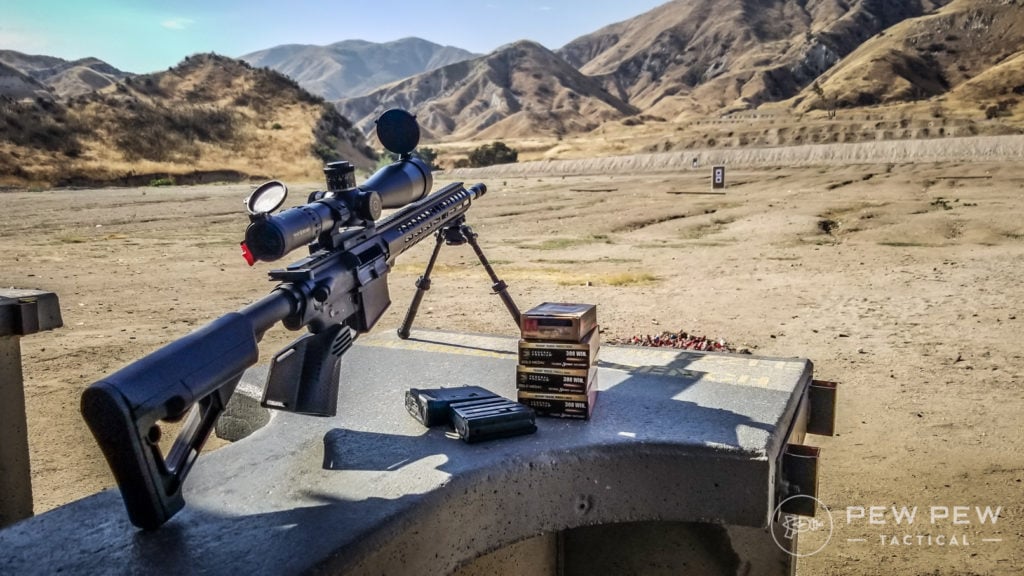 A great AR-10 that didn't give me the problems of other platforms.
And at an unbeatable price that's about half the price of the next closest competitor!
There's some coloring issues in the handguard and you'll have to deal with it being overgassed…but for the price there's no complaints from me.
Get the complete upper of your choice:
Pair it up with a complete lower:
And you're good to go for 600+ yards.  If that's a little too far…check out our review for other PSA guns:
PSA AR-15 (3 Rifles)
9mm AR-9
What do you guys think of the PSA AR-10?  How would you modify it to make it your own?  Also…check out more of our favorites in Best AR-10s.
The post [Review] Palmetto State Armory AR-10 in .308 appeared first on Pew Pew Tactical.
Slickguns – Guns In Your Dream

Source link
Please follow and like us: