Best AR-15 Pistols [2018 Complete Guide]
What really sets the AR-15 platform above basically all other firearms is the fact that you can do just about anything with it.
Long-range precision build? Check. Battle rifle? Basically, a beefed up AR-15. Lightweight carbine? Of course!
Pistol? Yes!
Read on to learn all about the legality, best braces, complete AR-15 pistol builds, and uppers.
Table of Contents
Loading…
Legality
So, what exactly is an AR pistol? If you want the complex legal definition of a pistol Check ATF's Website.
The short version is: An AR Pistol is an AR-15 that was built from the start to be a pistol – it also has a barrel less than 16 inches in length and does not have a stock.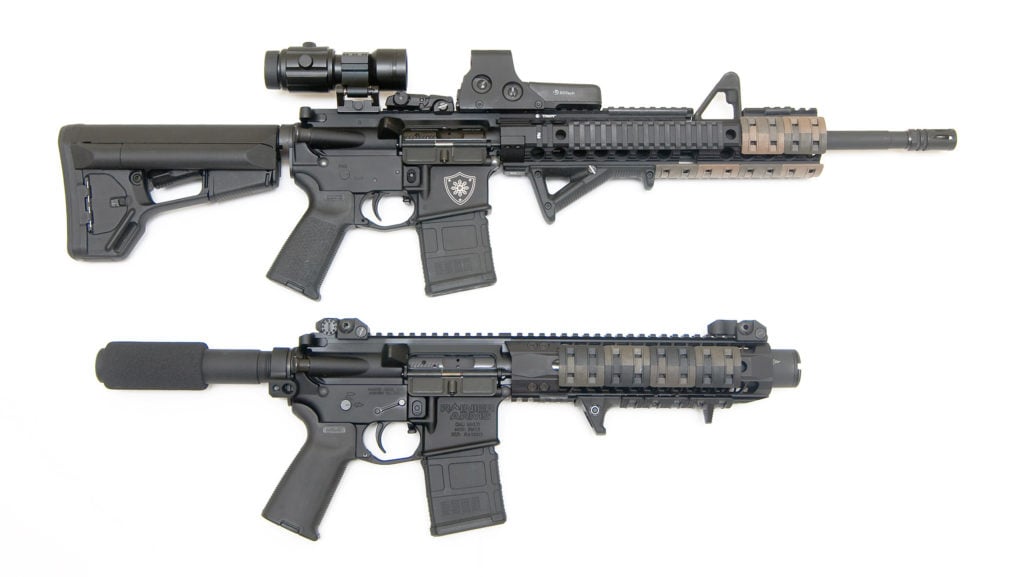 Generally, an AR-15 Pistol will have a stabilizing brace instead of a stock, but that isn't required.
Those are the three major federally important points. Double check your state law before embarking on this kind of build, what federally qualifies as a "firearm" or "pistol" might be an "assault pistol" in your state.
Most of the components on an AR pistol are going to be quite similar to a classic AR-15 build. There are a few key differences to note:
Stabilizing brace: an AR pistol cannot have a stock, as it would then be classified as an SBR

Gas System: pistol length

Pistol buffer tube instead of a rifle buffer tube

A vertical foregrip is only allowed when the overall length is over 26 inches
Shouldering
Lots of pistol braces are designed to be as aesthetically close to a stock as they can be, without changing their legal definition. In fact, most braces can even be shouldered much like a traditional stock can be.
But the act of shouldering it can be a murky question, legally.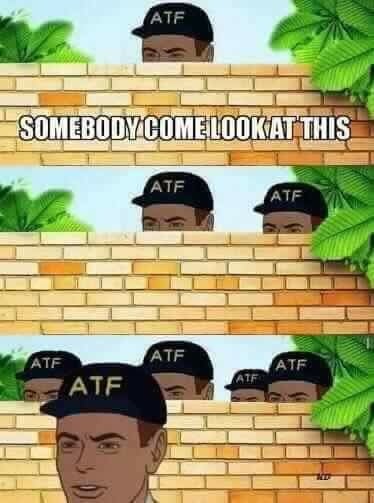 Many manufacturers and people have concluded that it is okay to shoulder a firearm that is affixed to a stabilizing brace. While the ATF forbade this for many years, in 2017 they issued New Guidelines reversing that.
While the ATF might change their minds again someday, for now, you're in the clear! So, ready to get your new AR pistol?
Disclaimer that this is not legal advice and you should double-check everything, especially since the laws surrounding this always seem to be in flux.  Also the installation instructions are for entertainment only.  Always have a qualified gunsmith work on your firearm.
Best AR-15 Pistols
Nearly all major manufacturers of AR-15s now offer an AR Pistol option making it easy to get a clone of your main rifle in a pistol format. 
Building your own AR-15 and AR Pistol is a lot of fun and a GREAT learning experience, but not all of us have the time or space to make that happen.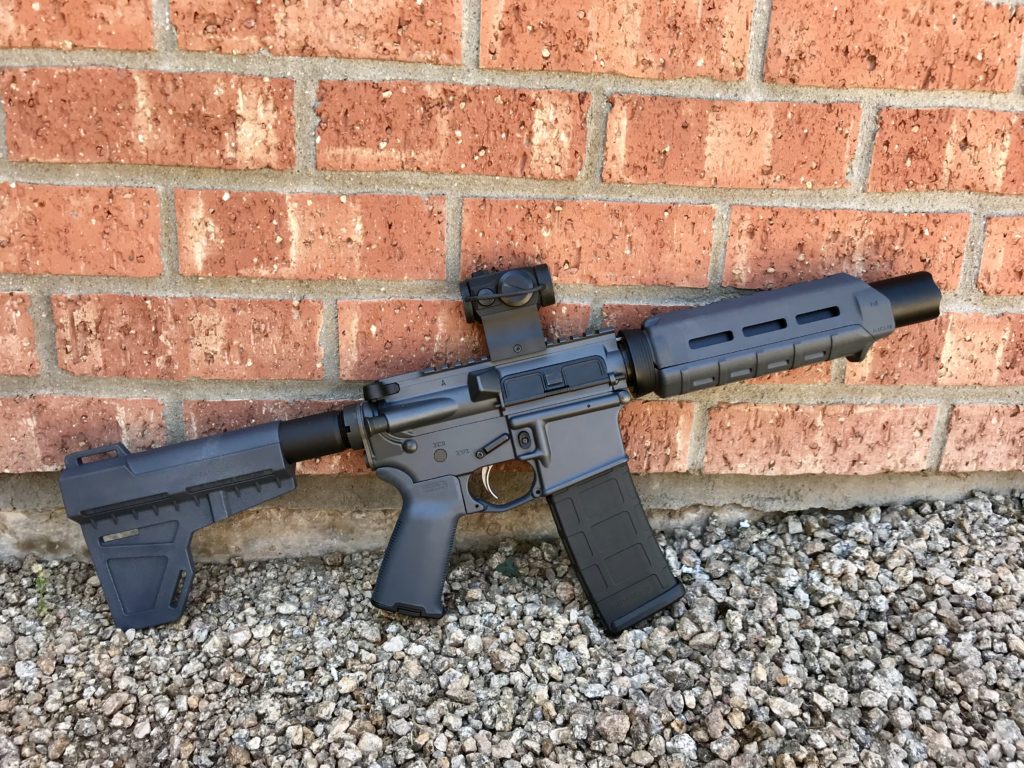 With that in mind – here are some great options you can buy right now.
1. Palmetto State Armory
PSA is well known for offering many configurations based on barrel length, caliber, and brace options. Come up with a combination, and they most likely have it at a shockingly low price. 
We haven't written our review of their AR pistol…yet! (coming soon!) but we've shot them and loved them. We're also fans of their Full-sized Rifles.
What's your take on the PSA AR-15 pistol?
2. Springfield Saint AR-15 Pistol
I personally had a chance to shoot this model at a Springfield demo. It shot very comfortably for such a short barrel and was not terribly loud.

The 7.5" barrel keeps the platform compact, but an M-LOK rail and Picatinny section means for easy accessorizing. 
If you're interested in learning more about the Saint, you'll need to read my Full Review of the Springfield Saint Rifle.
3 . BCM Recce 11 KMR-A Pistol
Stepping outside of the budget end of rifles we find the BCM Recce 11 KMR-A. Quality parts and craftsmanship meets a sleek design with a classic KMR Alpha rail.
Accessorized with BCM furniture, the possibilities are endless. 
4. Sig Sauer MCX Virtus Pistol
Sig surely contributed to the pistol craze with their SB15 stabilizing brace and the Virtus pistol has only increased the hype.
Truly a top-of-the-line design, the Virtus features ambidextrous controls, two amazing finishes, and a Matchlite Duo trigger.
Lucky for me, I have been able to shoot this pistol and it truly did impress me.
Build Your Own AR-15 Pistol
If buying a complete gun isn't enough fun for you, then read on for endless building options. Building an AR pistol is not too difficult with the endless internet resources and companies who have made it very consumer friendly.
Just remember, if you've built an AR-15 before – this is basically the same process, just with some different parts. If you want a refresher or if this is your first build, make sure to read our AR-15 Definitive Resource.
There are three major things you need to consider for a pistol build: caliber, barrel length, and brace.
Caliber
You have options here. I would first determine your primary use. Is this going to be a range toy, home defense weapon, truck gun, or hog hunter?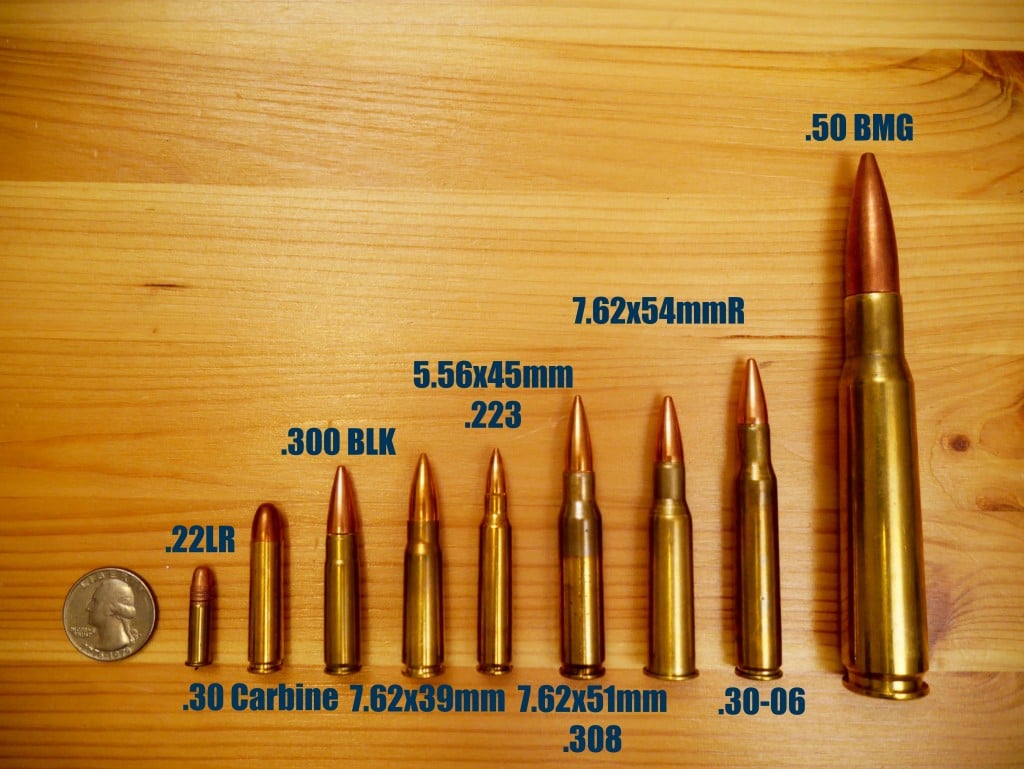 Your main caliber choices are going to be 5.56, .300 AAC Blackout, or 9mm. But if you really wanted to go wild, 6.8 SPC and 7.62×39 are also options. We're going to focus on the big three here.
5.56: this is a great go to if you're not exactly sure or are wanting this to be a multi-use gun. Ammo is not too expensive and finding the parts for 5.56 is easy.
.300 Blackout: looking for a super short barrel or wanting to suppress it? This is going to be your go-to option. .300 Blk is a larger round that was meant to be shot suppressed and can be run through a shorter barrel than 5.56. Learn all about .300 Blackout!
9mm: if you own a Glock and want to be able to swap mags, this might be your option. It's not as loud as rifle calibers and cheaper to shoot, but parts can be harder to find.
Barrel Length
Ask an AR nut the shortest barrel length 5.56 needs to burn or what length .300 is optimized at and you are sure to get into a heated argument. Here are a few of the most common barrel lengths explained.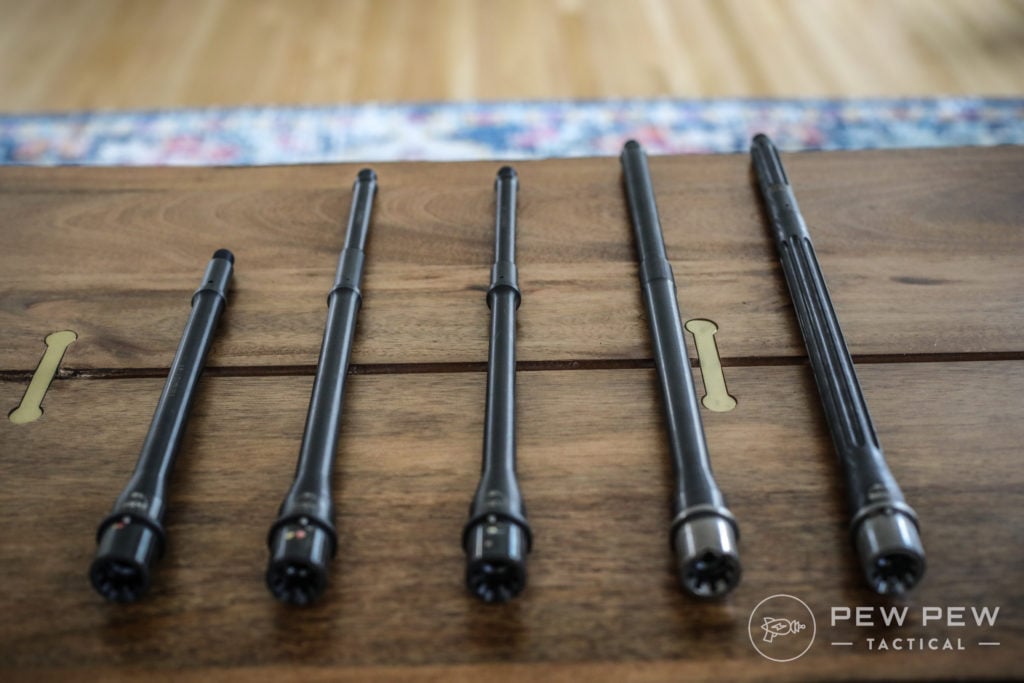 11.5": this is a pretty safe bet for 5.56 because it can nearly fully burn and barrels are common. A 10" or 11" rail pairs perfectly.
10.3" or 10.5": Common among USSOCOM rifles, the 10.3 and 10.5 has been pushing its way into the civilian market as well. I personally have a 10.5" in 5.56 and love it. Yes, there are some fireballs and it is quite loud, but it is a comfortable length for me and allows for a lightweight build.
9": in .300 AAC, you will get the highest velocity making this the ideal combination. You truly get the pistol feel with this short of a barrel.
5.5": probably the most common length for 9mm, not really offered for much else, however – the Sig Sauer Rattler uses a 5.5″ barrel in .300 Blackout.
The barrel is a crucial component. If you're going to splurge on one thing, I would choose a nice quality barrel.
Prices vary immensely and you often have options when it comes to finish and material. Here are a few manufacturers and their 10.5" pricing for general comparison.
Ballistic Advantage
You really can't go wrong here. They also have just about every length/caliber combination so if you have something specific in mind this is a great place to start.
We've used their barrels before for other builds and loved them – take a look at the Full Review.
Brownells B-TAC
Not one of the biggest names in the barrel business, but definitely one of the cheapest. If you're looking for a good barrel that is for a budget build – take a hard look at Brownells branded barrels.
Rainier Arms
Generally, when you're looking at pistol length barrels one thing that isn't on your mind is long-range precision since the length of the barrel prevents the round from really stretching its legs.
However, that doesn't mean your barrel can't help it as much as possible. If you're looking to get that little bit more out of your 5.56 – using a .223 Wylde barrel might be the answer.
Rainier Arms is not only one of the few makers of a pistol length barrel in .223 Wylde, they also make some of my favorite AR-15 barrels period.
Faxon
This is where I purchased my barrel, partially because it happened to be on a great sale, but also because it had great reviews – two of those great reviews coming from Pew Pew Tactical.
They are manufactured in-house and have high QC standards all for outstanding prices. From Glock Barrels to Pencil Profile AR-15 Barrels we're big fans of Faxon.
Brace Yourself
The key defining component of the AR pistol is the brace of course. Many manufacturers have competed to produce the simplest, lightest, and most stock like designs.  We cover these more in-depth in our Best AR-15 Pistol Braces article.
SB Tactical
The original inventors of the stabilizing brace, so you know they're good. Today, they offer SO many options, and not even just for ARs.
HK, CZ, Sig, AK, and even Mossberg 590 and Kriss Vector Braces are designed by SB. My pick is their SOB model. It is the skeletonized model of their original design and comes in black and FDE.
KAK Shockwave
If you want it to look like a stock from the side, this is a great option.
While the Shockwave is not as comfortable to shoot with because it is marketed as a "blade" it is a less-expensive and simpler alternative. 
Maxim Defense CQB Pistol BDW Brace
Hands down one of the best pistol braces on the market, but also with a price tag to match. This is the Rolls-Royce of pistol braces. Solid, easy to use, and looks outstanding.
The only problem is that at this price, you don't want to put this on a budget build or a truck gun. This is for serious use only. If you plan on using your AR pistol as your home defense gun, you might want to shell out the cash for this.
KAK Shockwave Buffer Tube
The un-sexy part of any brace or stock, the buffer tube. Don't underestimate this component though – it's important.
Generally, when you get a brace you'll get the tube at the same time since it is always better to go with what the brace manufacturer recommends.
But if you are looking for just a tube, my favorite is the KAK Shockwave Buffer Tube.
Optics
Over the past year, optics have most certainly become my favorite accessory and favorite thing to research.
They're incredibly important and can make or break a firearm. On an AR pistol, the main considerations are size and zoom.
You need to think about how far you're going to be shooting it and what conditions you'll be shooting under.
Holosun 510C
On the less-expensive side for a holographic option, but has a very wide sight picture which makes it comfortable to shoot with. You also have the option for a single 2 MOA dot or an entire ring. 
Aimpoint Patrol Rifle Optic
This thing runs for 3 years on a single battery and is nothing short of durable. The dot is clearer than you can imagine and makes target acquisition extremely simple, this is the gold standard for red dots. 
Need to know more? Read the Complete Review. 
EOTech EXPS 2-0
We have a Review of the EOTech EXPS 2-0 but in simple terms – this optic kicks ass. EOTech is one of the most respected names in optics and the EXPS lives up to its hype.
Trijicon ACOG
fixed power works well for this platform, especially with the optic that has become the symbol of rugged and functional.
Vortex PST Gen II 1-6×24
If you're looking to take this thing out to 300 yards with ease, the Vortex PST is a great choice and all around great optic. While it will add quite a bit of weight, the 6x zoom will give you endless possibilities.
Take a look at our in-depth and hands-on review of the Vortex PST alongside other 1-6x optics.
Accessories & Upgrades
Anything that you can put on a normal AR-15 rifle, you can put on your AR Pistol. From slings to a new High-Tech BCG, it's all the same.
Our first stop would be a Weapon Mounted Flashlight like the SureFire M600 Scout.
Once you have that mounted, you'll need a sling. Just because it is a pistol, doesn't mean there are holsters for it. A sling is a must-have for any firearm the size and weight of an AR pistol.
Personally, I like a 1-point sling for an AR pistol – like the Magpul MS4.
The Pros and Cons
Over the past few years, AR pistols have been increasing in popularity for good reason. The ATF has yet to be crystal clear on their stance but we can't expect too much.
If waiting ten months and paying an extra $200 isn't a viable option, the AR pistol might be for you. The platform is extremely versatile and has quickly become one of my favorites as the building ideas just seem so endless.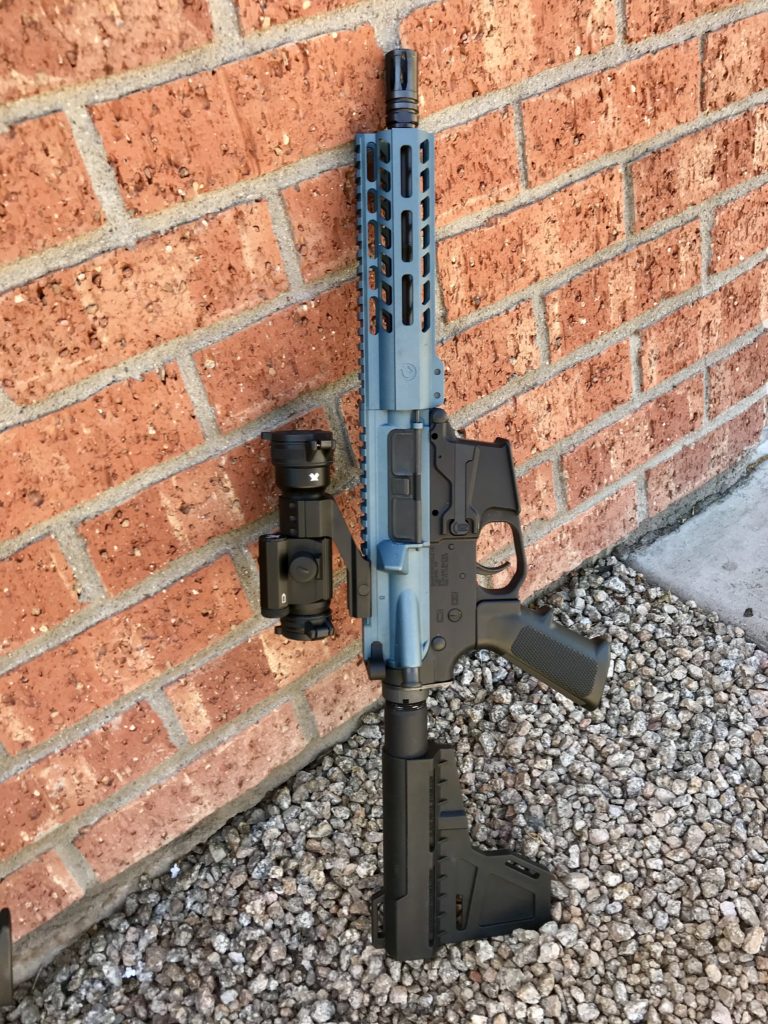 Because it is so technically similar to an AR15, you have the same pool of options when it comes to accessories.
The ATF has proven itself to be a bit of an unpredictable bureau. It can surely be unsettling to invest $1000 into something that might become illegal but you do have other options.
If you are looking to be a stamp collector eventually, you can always file a Form 1 and have fun with your AR pistol while you wait for the SBR stamp.
Need more options? Remember that the AR-15 is basically the most customizable firearm platform ever made. Brouse through our AR-15 Definitive Resource and find anything you need.
How about it, did you get your stamp or build an AR Pistol? What brace did you use? Let us know in the comments!
The post Best AR-15 Pistols [2018 Complete Guide] appeared first on Pew Pew Tactical.