Best AR-15 Lower Parts Kits
Finishing up your AR-15 build and need a lower parts kit to finish out that stripped lower?
Nowadays…you can typically build an AR-15 that will perform better than a pre-built that costs 30-50% more.  
What's more, you can get exactly the parts you want, and none of the ones you don't.
Of course, to turn that lower into the beginnings of a rifle (or something you can slap together with a pre-existing upper assembly)…you're going to need a lower parts kit.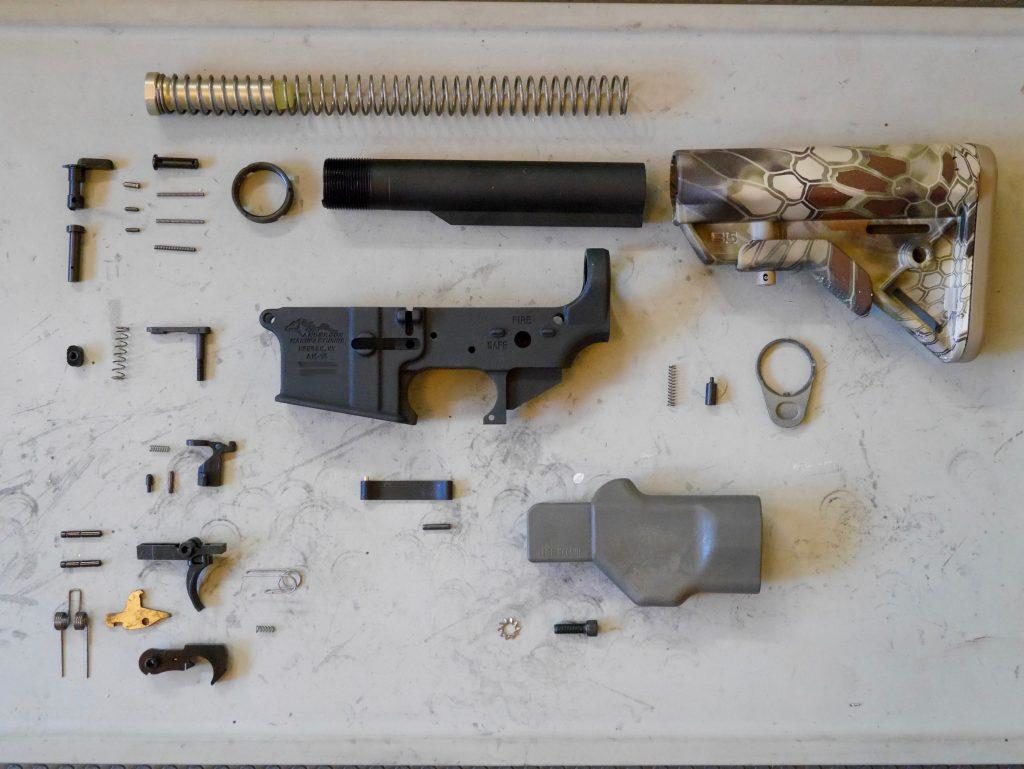 It's not sexy…but they contain all the itty bitty important parts that make your lower function like a champ.  We'll cover what's in a standard LPK and our favorite picks.
Table of Contents
Loading…
What's in a Lower Parts Kit?
Specifically, you're going to need the following:
| | | |
| --- | --- | --- |
| Trigger Spring | Bolt Catch | 2 – Takedown Detents & Springs |
| Trigger Pin | Bolt Catch Plunger | Pivot Pin |
| Trigger | Bolt Catch Spring | Rear Takedown Pin |
| Hammer Spring | Bolt Catch Roll Pin | Buffer Retainer & Spring |
| Hammer Pin | Safety Selector | Magazine Catch Assembly |
| Hammer | Safety Selector Detent | Triggerguard Assembly |
| Disconnector & Spring | Safety Selector Detent Spring | Pistol Grip |
Now, I can feel like 75% of you losing interest immediately when confronted with that parts list but in the words of the Hitchhiker's Guide: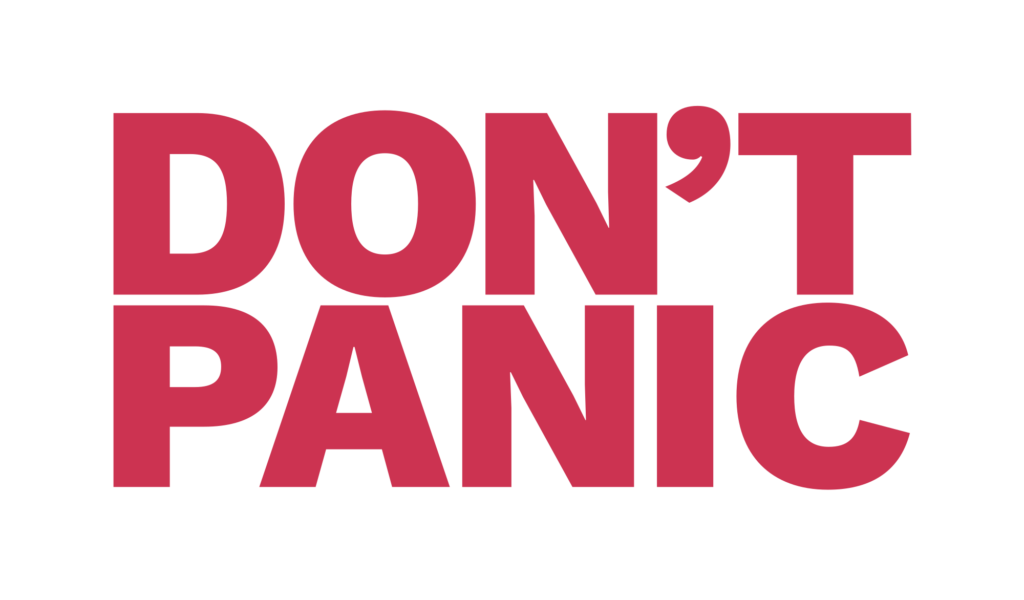 I promise it's easier than it looks.  
In fact, you can check out the whole process of assembling a lower and decide for yourself.  If you can hammer a nail and turn a wrench, you've got what it takes to build a lower of your very own (and building an upper isn't that much more involved).
But what, I hear you saying, about all those little parts?  
Well, many manufacturers have recognized what a pain in the posterior it would be to chase down all those little springs, detents, and what not, not to mention the expense that would be involved in shipping them all, so there are parts kits out there that include all of them.
These lower parts kits will include everything you need to finish that stripped lower, and when you're done you'll be able to slap an upper on it and go shooting.
Editor's Pick (Forged)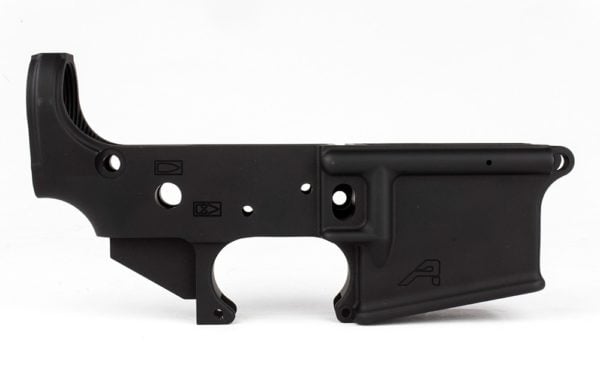 Aero Precision Lower
See It
Compare prices (2 found)
Aero Precision (See Price)
Brownells (See Price)
Prices accurate at time of writing
Wondering which one to pick?  Where to buy them? What to do if you already have a trigger?
Fear not, firearms aficionados.  I've got you covered.
See, I've built well over a hundred rifles, some for work, some for personal use, and I've used and tested literally every LPK that's available today.  I can tell you what to look for, where to buy them, and what parts to replace to get the most out of your shiny new rifle.
Interested?
Let's get started.
Choosing a Lower Parts Kit
You'd think that lower parts kits were all the same, I mean how many different ways are there to make a spring, right?
Well, there are some differences, and they can affect the price of your lower build dramatically, and even screw up your build if you aren't careful, so it's important to understand the differences.
First, you need to know that most parts kits won't include the buffer tube, buffer, buffer spring, or stock assembly, so those will have to be purchased on the side.  This is just something to be aware of when you're pricing your build.
A cheap stock assembly kit that will include all of these parts including a basic mil-spec stock will run you about $40.  Taking that into consideration, it may be cheaper to just buy a complete lower, rather than a stripped lower, LPK, and stock assembly.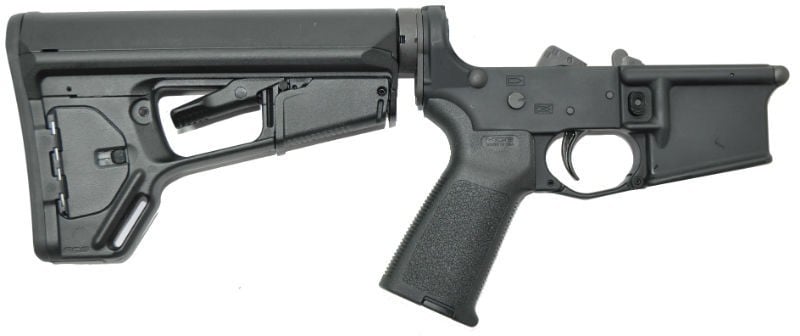 PSA Complete AR-15 Lowers
See It
Prices accurate at time of writing
You'll have to price that for yourself, but its most likely that buying the three separately will save you some money, and will certainly give you an easier time choosing the parts you want which ones to upgrade.
For me, I'm almost never building a "cheapest of the cheap" gun, and I want a certain stock and a good trigger for all my guns, so I don't like going solely on price anyway.  A gun that's no fun to shoot is a much worse investment than a gun that costs $50 more and is a blast.
Which leads to my next point, and that is that some of the parts on your lower, particularly the pistol grip, stock, and trigger, will have an enormous impact on the accuracy of your gun, as well as your comfort when shooting it.
Our 12 Best AR-15 Stocks [Hands-on] article has some great recommendations when it comes to finding the perfect stock for you.
A gun with the ergonomics of a brick is no fun, and not worth the time, money, and effort spent on it.  Make sure you're getting the parts you want, which might mean buying a trigger-less LPK so that you can drop that sweet 3Gun or single-stage precision trigger in it.  
You may also want to buy a buffer tube assembly and stock separately so you can get the exact buffer weight (which will dramatically impact felt recoil) and stock (which will dramatically affect ergonomics and shooter comfort) that you want.
Best Lower Parts Kits
These are the best lower parts kits out there and are the ones I keep coming back to for build after build.  These are repackaged and rebranded by some folks, but its best to try and get them from the original manufacturers when you can…cheaper that way too.
1. DPMS AR-15 Lower Parts Kit
The DPMS AR-15 lower parts kit is pretty much the standard-issue LPK for many folks.
This is a full set of mil-spec parts that is perfect if you're looking for the cheapest of the cheap builds, building rifles in bulk (look, I don't wanna know why you're stockpiling them, but don't do anything illegal with them, okay?), or stocking them for sale in a store.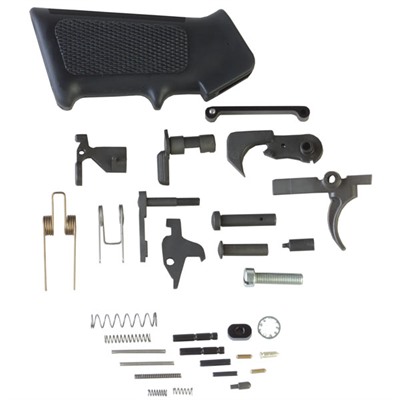 DPMS AR-15 Lower Parts Kit
See It
Prices accurate at time of writing
This kit includes everything but the stock and buffers assembly, but you can easily pick up a mil-spec buffer and stock for about $30 more, less if you shop around a bit, or have a spare left over from another build that got upgraded.
I've used this kit probably thirty times, maybe more,  and while it isn't the best, and the trigger is way less than great, it is perfectly serviceable, and will do just fine if you're building a rifle on the cheap.
You can also get a trigger-less version which will allow you to install a better trigger out of the box without worrying about having a spare lying around.
If you're anything like me, spare rifle parts are dangerous and have a way of turning into spare complete rifles…much to the detriment of my wallet and relationship to my significant other.
2. Brownells MOE AR15 Lower Parts Kit
Brownells is the premier online retailer of gun parts and accessories, so it makes sense that they would have an LPK for sale. The Brownells MOE AR-15 Lower Parts Kit actually comes with the buffer assembly, and Magpul MOE stock and grip, as well as an ALG Defense trigger, which is why it is so expensive compared to others.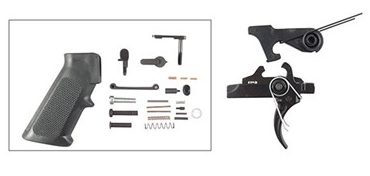 Brownells AR-15 LPK With Geissele Trigger
See It
Prices accurate at time of writing
This kit is great if you're looking for getting some good parts out of the gate and don't want to spend a lot of time picking out parts.  In other words, if you're here more for the building than for the savings or the part picking, this is the way to go.
Not that these parts are bad, and it's certainly very convenient to have everything you need to complete the lower in one contained package (and it's over Brownell's free shipping threshold too) but you can get better parts and save money if you shop individually.
The ALG trigger and the MOE furniture are certainly a far sight better than standard mil-spec furniture, but you'll have to decide if that's worth it.
3. Geissele Automatics Lower Parts Kit
Geissele is known mostly for their triggers, muzzle devices, and handguards, but they make everything from complete rifles to parts kits as well.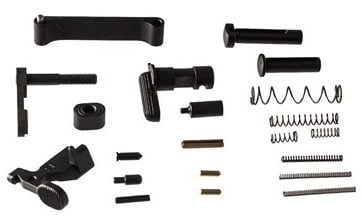 Geissele AR-15 Lower Parts Kit
See It
Prices accurate at time of writing
And the Geissele parts kit is pretty great.
It's precision machined with all the skill and accuracy you'd expect from Geissele, and the price isn't half bad for a set this nice.  The only things that are missing are the pistol grip and trigger group.
I'd personally recommend throwing your favorite grip on there, and coupling that with a matching Geissele SSA-E trigger, or some other equally awesome Geissele offering.
What's your take on the Geissele LPK?
What If You Lose Parts?
Well, you could just order the part, probably from Brownells or the like, but shipping for one part is annoying.  That said, sometimes that's the only way, and most places will drop it in a cheap bubble mailer for you.
However, if you're going to make a hobby out of this, you are almost guaranteed to lose parts (springs and detents will go flying across the garage at some point), so it may make sense to invest in a spare parts kit like this one.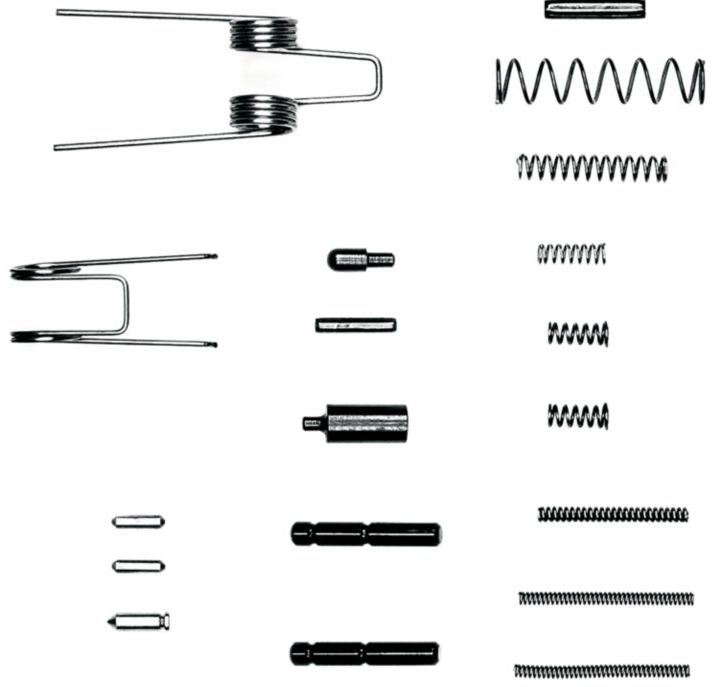 Anderson Ar-15 Oops! Kit
See It
Prices accurate at time of writing
This kit gives you a spare of all the little springs and other fiddly parts you'll need, as well as spares for when springs start to wear out and break down.  If you're going to get serious about this as a hobby, I highly recommend grabbing one of these.
Upgrading From Standard Parts
Finally, I want to make a note about upgrading these parts kits.  Granted, a spring is a spring, but an upgraded trigger, buffer, grip, and stock can really make a huge difference in how your rifle performs.
The trigger is really going to be the single biggest performance factor for the speed and accuracy of your gun. We're coming out with a major update to our trigger recommendations, but for now these are the 6 Best Drop-in AR-15 Triggers.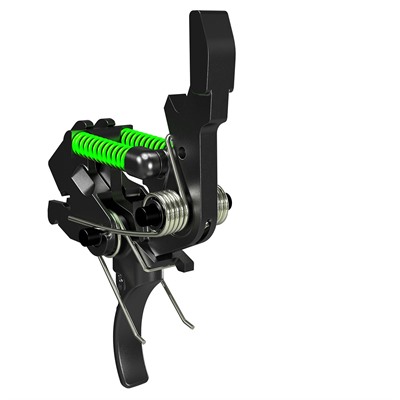 Hiperfire Triggers
See It
Compare prices (3 found)
Brownells (See Price)
Rainier Arms (See Price)
Optics Planet (See Price)
Prices accurate at time of writing
After that, start with your furniture and go with something like Bravo Company or Magpul, in whatever color and design you like, and at whatever price point matches your build goal.
Next, tuning your buffer weight to your rifle can dramatically reduce felt recoil and improve your shooting experience.  This is especially important and especially useful if you have an adjustable gas block.
Parting Shots
That does it for lower parts kits.  You should now know what to look for, how to choose a lower parts kit, and what to buy, as well as how to move on from the standard parts kits.  
If you're building a rifle, and you've got your lower, this should get you the rest of the way to completing it.
Don't forget about taking a look at the Best AR-15 Upgrades [2018]!
Building a rifle?  Like these parts kits?  Hate these parts kits? Got questions?  Let me know in the comments below!
The post Best AR-15 Lower Parts Kits appeared first on Pew Pew Tactical.
Slickguns – Guns In Your Dream

Source link
Please follow and like us: