7 Best Spotting Scopes [2018]: Range & Hunting
Not sure if you need a spotting scope?
We usually don't hesitate when getting a new scope or red dot…but we lag on getting a spotting scope.
We'll cover what exactly is a spotting scope, what to look for, and a couple choices spanning all budgets.
By the end you'll know if you even need one…and also which one to get.
What is a Spotting Scope?
They are not telescopes.
Telescopes are purpose-built for looking at celestial objects, aka: stars and space.
The glass elements are arranged so that the object you are viewing is actually upside down and sometimes backward left to right as well.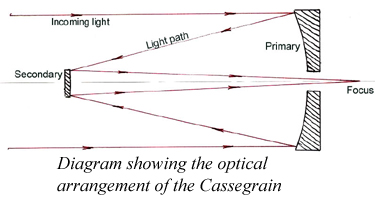 When you are looking at something tens of thousands of miles away, who cares?  
But if you use that same telescope to spot for your buddy at the range, you are going to have problems calling the shots and corrections.
Spotting scopes are built to look at terrestrial objects.
Things on the earth.
The glass is arranged so what you are looking at appears right side up and correct left to right.
Further, the glass coatings allow you to see through the atmosphere parallel to the earth's surface. That means you see better through dust, smoke, and haze at normal distances we would encounter while hunting or shooting at long range.
What to Look For
Magnification
All those numbers you see in the catalogs are important to understand.
When you see the following in a catalog: 20-60×80 it means the scope has zoom magnification from 20 power to 60 power and the objective lens (the lens in front) is 80 millimeters in diameter.
That gives you a lot of magnification as well as a big lens to gather more light and make your image brighter during those all-important first light and last light glassing periods.
The scope you buy will depend on your most frequent use or targeted use.
If you are a dedicated long range shooter you may opt for a scope with a larger objective lens and higher magnification.
But that extra glass means more weight and more dollars.
The same scope may be not necessary if your passion is mountain hunting.
Chasing critters like sheep and goats in the far north usually means an investment in glass that allows you to determine if an animal is worth leaving the mountain you are glassing from and descending thousands of feet and climbing up the next ridge.
The weight of that big scope can save you many miles and thousands of vertical feet.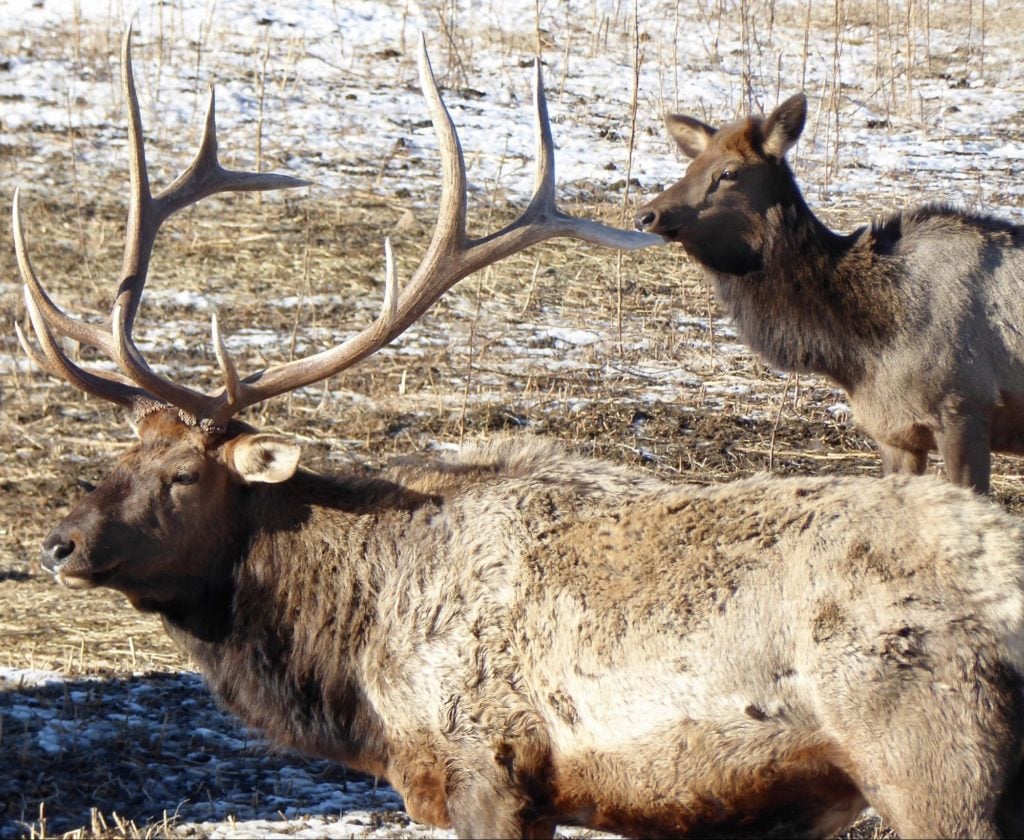 Eye Piece
Spotting scopes can be found with either a straight view eyepiece or with an angled eyepiece. For many of us, it is much easier to find our target or critter with a straight view scope.
However, if multiple folks are going to be looking through the scope, it's a little more difficult to get the tripod height just right.
With an angled eyepiece you can lock in on the target object and folks just look down through the scope.
The other part of the eyepiece that is critical is the exit pupil.
If you hold a rifle scope or spotting scope at arms length and line it up to look through it you will see a little white disk of light.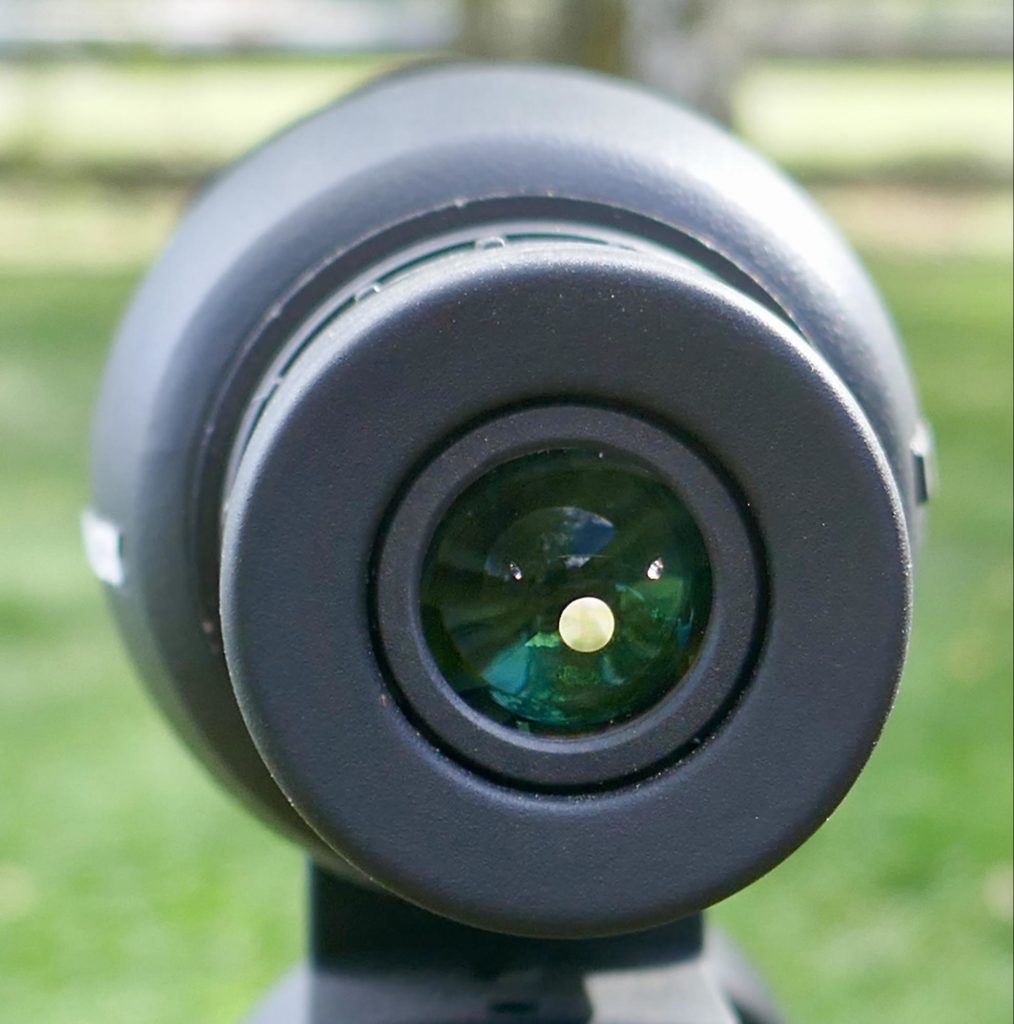 The diameter of that disk is the exit pupil diameter. The exit pupil should be approximately the same as the diameter of the pupil of your eye.
This will allow a bit of flexibility as to how close your eye must be to the eyepiece of the spotting scope to have a full view through the scope.
Generally, the larger the exit pupil, the more eye relief you will have.
Weather Proofness
Be sure the scope you choose is weatherproof. I say weather because it's not just rain and snow that cause issues with optics. Be sure the scope is sealed against dust as well.
If you've ever laid out prone in a prairie dog town in the Wyoming wind you know why dust proof is critical. Somehow dust gets on and in everything you own.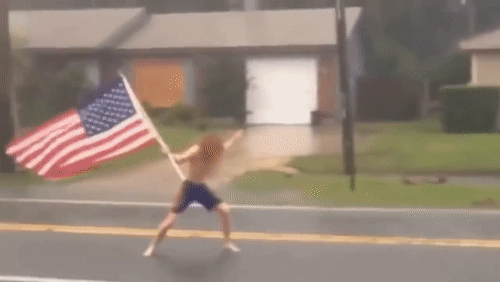 You need to be sure the scope tube is properly purged and free of as much moisture and oxygen as possible. If not you may experience the internal glass fogging if you take the scope from cold outdoor temperatures to a warm tent or cabin, then back out again.
The fog will dissipate over time, but it's a hassle to deal with.
Best Spotting Scopes
Like guns, there are dozens of spotting scopes out there that will serve you well and last a lifetime.
Of course, the Big Three; Leica, Zeiss, and Swarovski all will provide you with ultra clear glass, smooth zooms and easy focusing.
But do you really need $2000-$3000 glass for your shooting and hunting endeavors?
Probably not.
But, if budget is no object, by all means, get the best you can and enjoy it.
1. Leica APO-Televid 82
If I were to pick any scope out there and know that it is likely the best glass and engineering available I'd head straight to the counter where they display the big scopes with the little red circle…Leica.
The APO-Televid 82 will do anything you need a spotting scope to do and do it with class and perfection.
The APO is 25-50x82mm and has an angled or straight eyepiece that is interchangeable. A nice feature of the eyepiece is that is a wide angle design so you have a better peripheral view even at high magnification.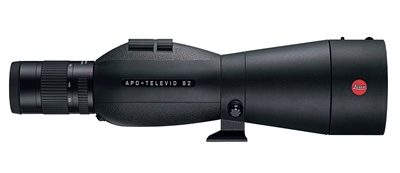 Leica APO-Televid 82
See It
Compare prices (3 found)
Brownells (See Price)
Amazon (See Price)
Optics Planet (See Price)
Prices accurate at time of writing
If you need more than 50 power you can add a 1.8x multiplier to the scope and have a nice 40-90 power spotter. The scope is heavy at 51.82 ounces so a quality tripod and head are in order.
The 25-50 eyepiece will run you another $879. So for the scope and eyepiece, you'll need to write a check for $3,578.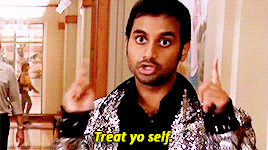 And don't forget your tripod.
Now how about for the rest of us mere mortals?
2. Celestron 52250
From our editor, here's his pick of the best bang-for-the-buck for something that will do it's job of telling you hits and misses.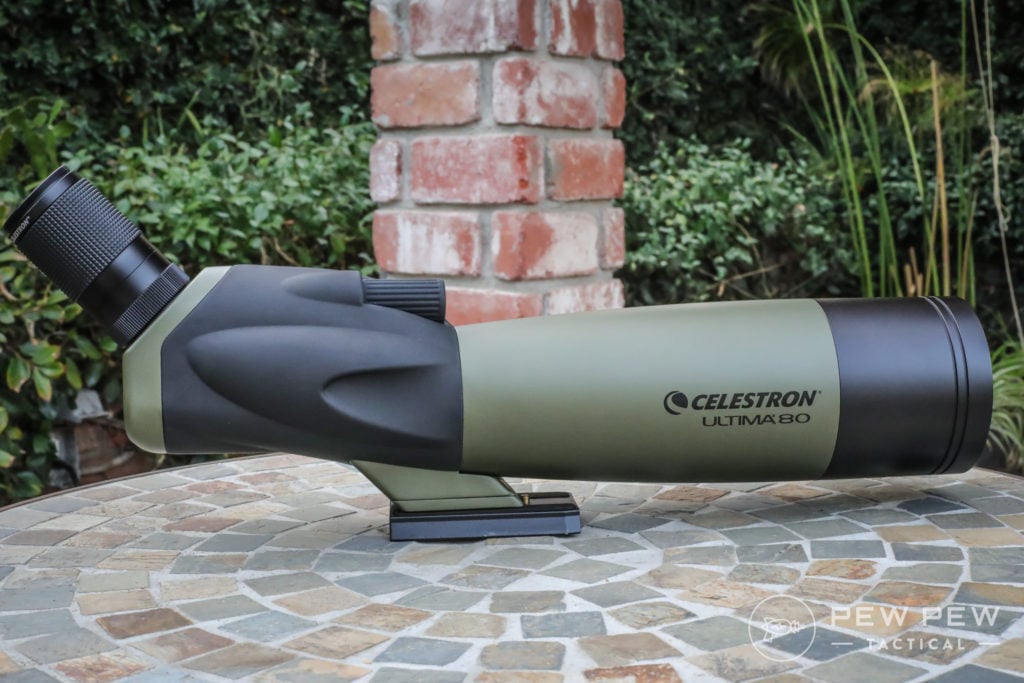 The Celestron 55250 ($149) gets you out of the ultra-budget zone into spotting scopes with decent glass to see with 20-60x magnification.
It's hard to get proper photos through a spotting scope…but this one of the Celestron at 20x looking at 500 and 600 yard targets.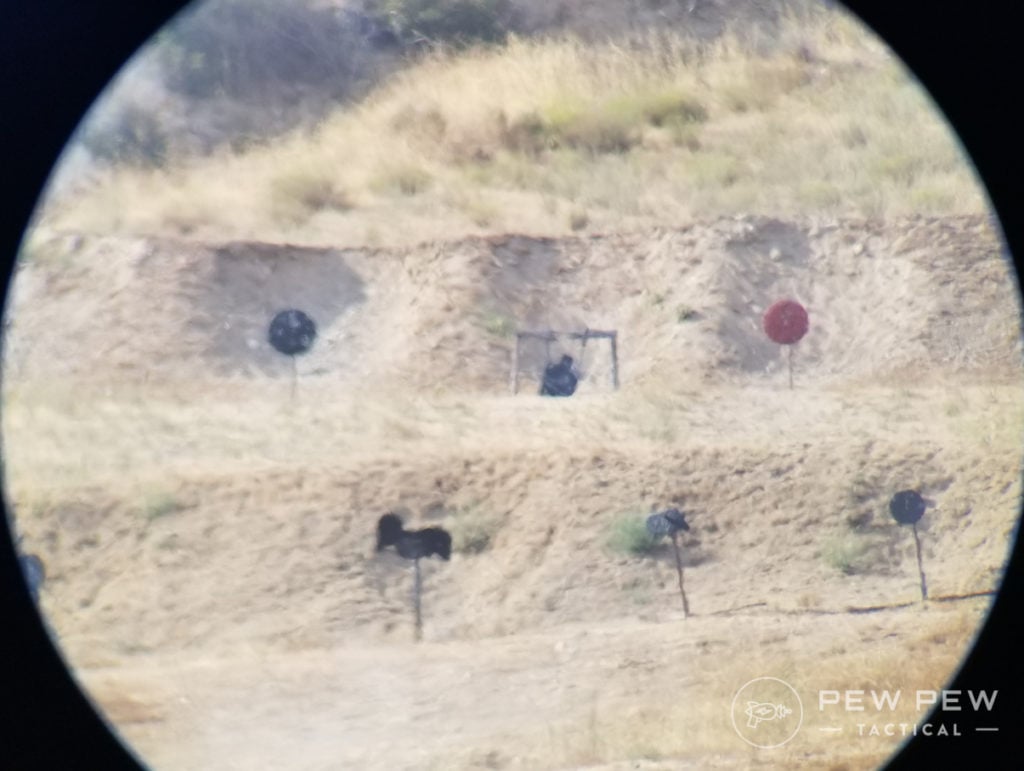 And an attempt at getting footage from our PSA 6.5 Creedmoor Slickguns Review.
Plenty enough to see what you need to at this range.
Once you use your own eyes and 60x…you can go up to 1000 yards.
45 degree angle works well and adjustment on the eyepiece and focus are very usable.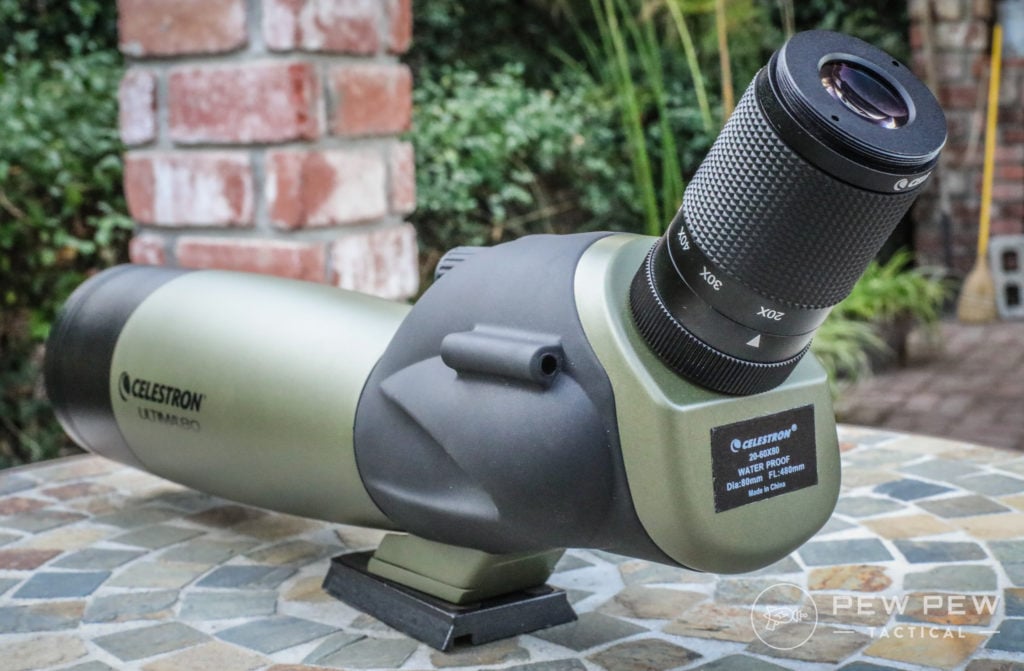 Our recommendation for a great starter spotting scope.
Editor's Pick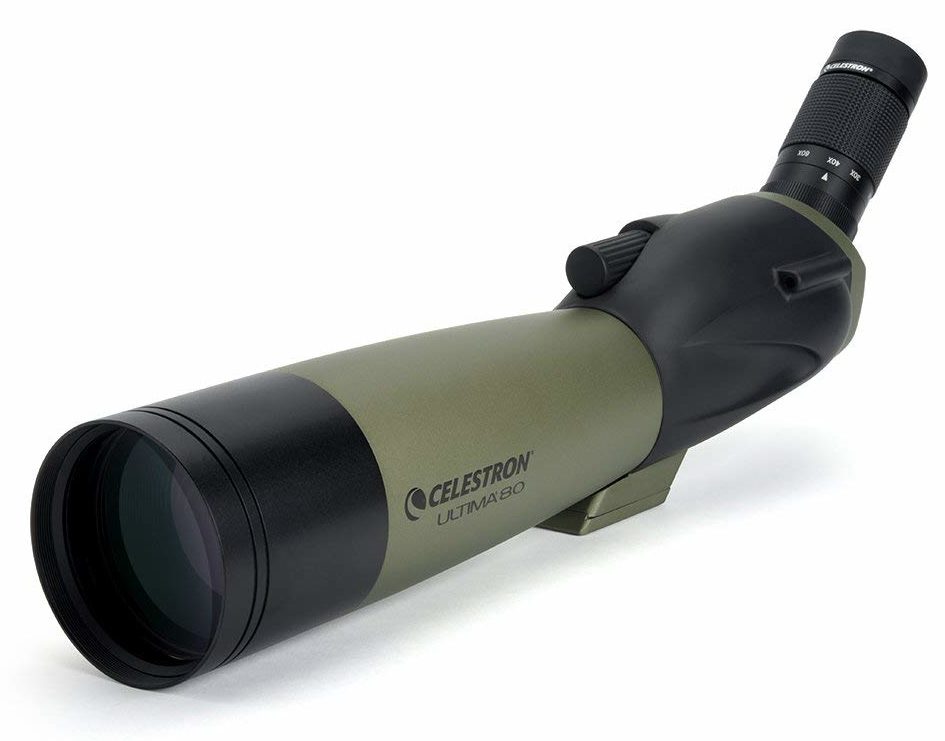 Celestron 52250 80mm
See It
Prices accurate at time of writing
What's your take on the Celestron?
3. Leopold Golden Ring 15-30x50mm Compact
For the mobile hunter, I really like the Leopold Golden Ring 15-30x50mm Compact spotter.
This scope has a straight eyepiece and only measures 11 inches long and weighs 21.5 ounces. With a compact tripod, this scope easily fits into an outside pocket on your pack or in your range box.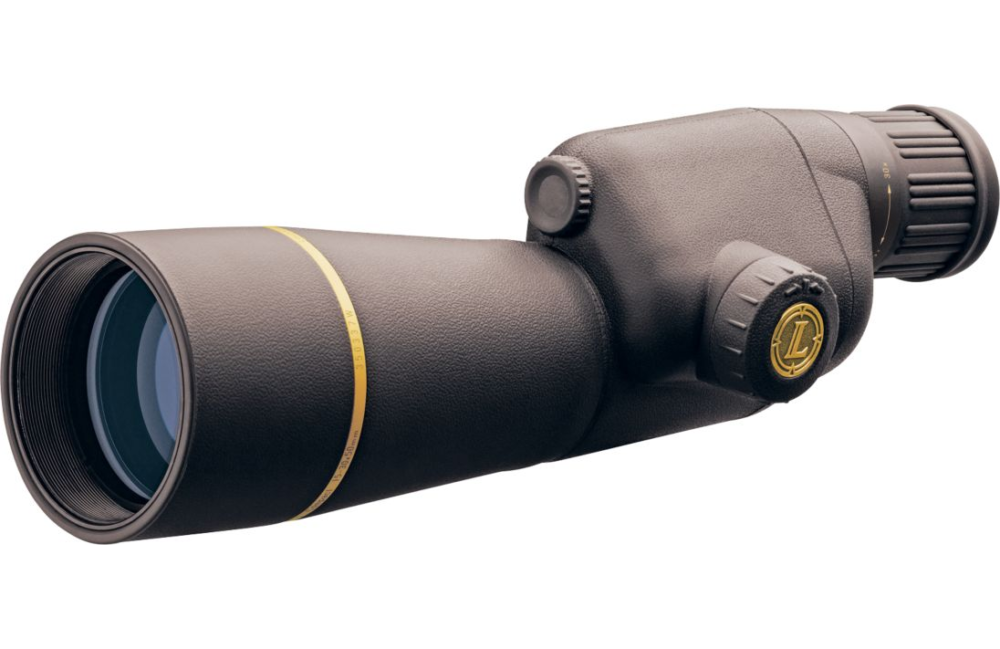 Leupold VXSS 15-30X50 Golden Ring Compact Spotting Scope
See It
Compare prices (2 found)
Amazon (See Price)
Cabelas (See Price)
Prices accurate at time of writing
Leopold claims this scope is 100% waterproof and fog proof and it has a durable armor coating.
It also carries Leupold's full lifetime guarantee. At $449.49, this is a scope that will provide a lifetime of service at the range and in the field for almost any budget.
4. Vortex Diamondback 20-60x80mm
Vortex optics have a reputation for being clear and precise at prices that don't seem possible.
Take the Vortex Diamondback 20-60x80mm Spotting Scope. Here we have scope offering a great range of magnification as well as a big 80mm objective lens to help us at last light when that big mule deer buck is just sneaking out of the timber for a bite to eat.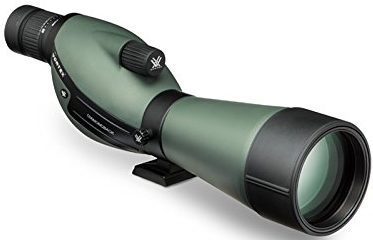 Vortex Diamondback Spotting Scope 20-60x
See It
Compare prices (2 found)
Amazon (See Price)
Cabelas (See Price)
Prices accurate at time of writing
The Diamondback is nearly 15 inches long and weighs 47.1 ounces, so it is by no means a compact or lightweight scope. It is waterproof and fog-proof and comes with a view-through carry case so your scope is always protected in the field.
The scope is available with either straight or angled eyepieces. As with all Vortex products you are covered with the transferable Lifetime Warranty should you ever need service. All in all a quality option for the shooter or hunter for just $499.00
5. Pentax PF-80ED Angled
Stepping up a bit in price is the Pentax PF-80ED Angled spotting scope.
This scope gets pretty high marks from those using it on long-range rifle courses and not wanting to spend $2000-3000 for German glass. The PF-80 has a big 80mm objective lens and comes with 20-60 zoom eyepiece for $1149.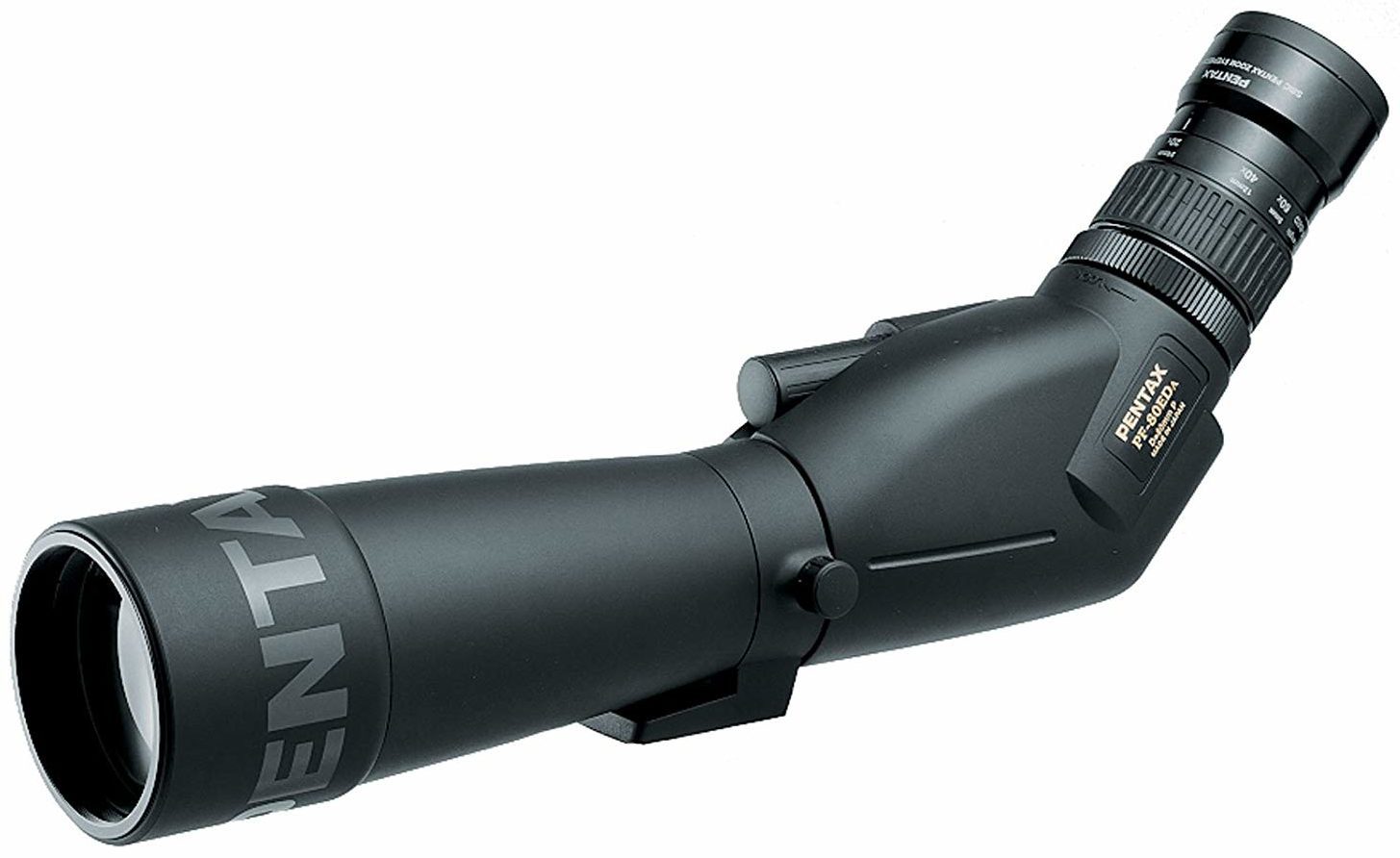 Pentax PF-80ED
See It
Compare prices (2 found)
Amazon (See Price)
Optics Planet (See Price)
Prices accurate at time of writing
The scope is also available as a body only and you can choose from four fixed power eyepieces or the 20-60 zoom.
As expected with high-end glass, the Pentax is waterproof and fog-proof and features a built-in lens shade. It also has an eyepiece that is extendable to allow those with eyeglasses to use the scope without removing their glasses. 
6. Bushnell 20-60×80 Legend Ultra HD
Bushnell has been offering quality, economical optics for many years.
The 20-60×80 Legend Ultra HD Spotting Scope is no exception.
Here you are getting an angled zoom eyepiece and 80mm objective glass that is coated with Rainguard HD to provide clear views even in inclement weather. The scope is also waterproof and rubber armored to soak up the bumps in the field.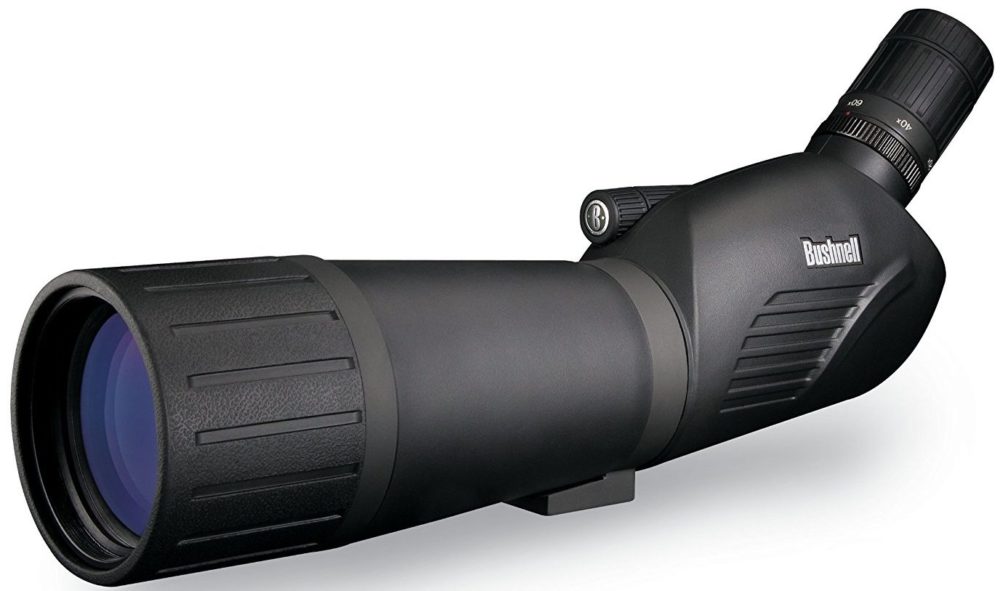 Bushnell 20-60×80 Legend Ultra HD
See It
Compare prices (2 found)
Amazon (See Price)
Optics Planet (See Price)
Prices accurate at time of writing
Really, the only downside on this scope is the weight. The scope measures 16.5" long and weighs in at 80.1 ounces. I'd either find a not too bright friend to pack this scope into the hills or make it my dedicated optic for spotting at the range.
7. Minox MD 50 W
My personal spotting scope that lives in the range bag and my pack when I'm headed deep into the wilderness for elk or deer is the Minox MD 50 W.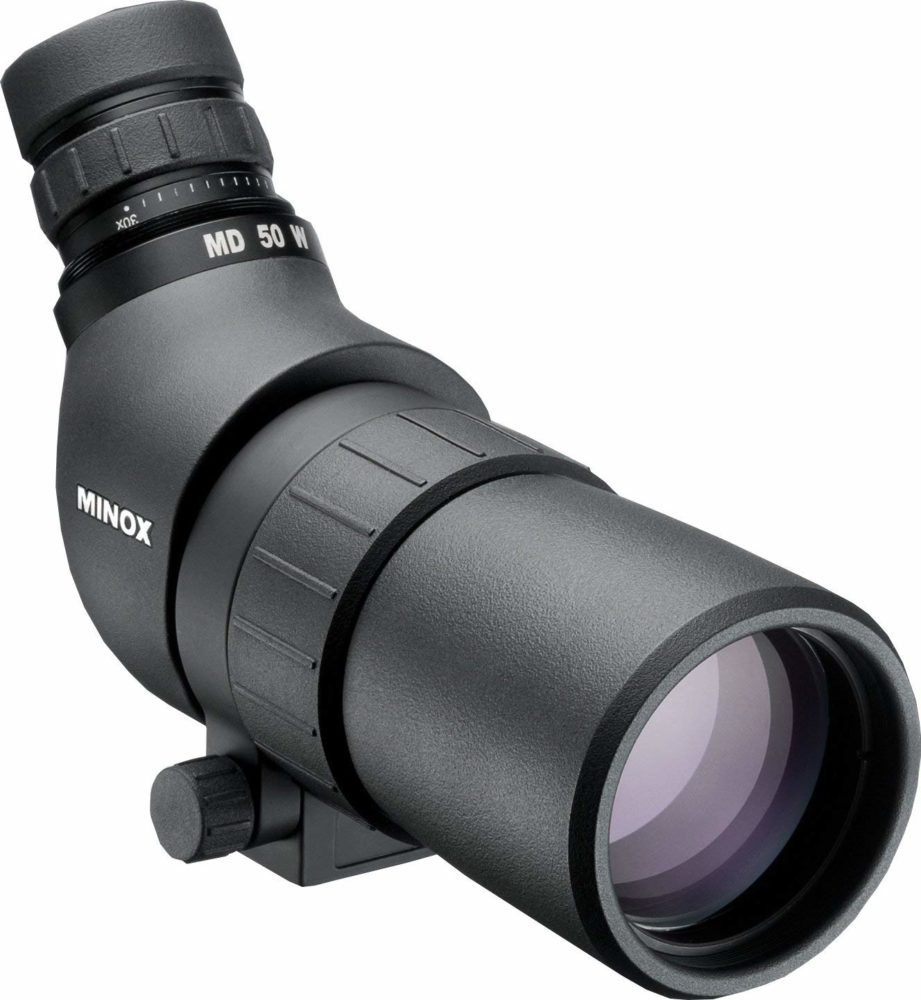 MINOX MD 50 W Spotting Scope
See It
Compare prices (2 found)
Amazon (See Price)
Optics Planet (See Price)
Prices accurate at time of writing
This little scope is only 8.39 inches long and weighs just 21.7 ounces.
The eyepiece is a 16-30 zoom. While this is no Leica or Zeiss it is compact and clear enough to do what I need it to do. I can see and call shots at the 1000 yard range and tell if the buck is legal from a long way off.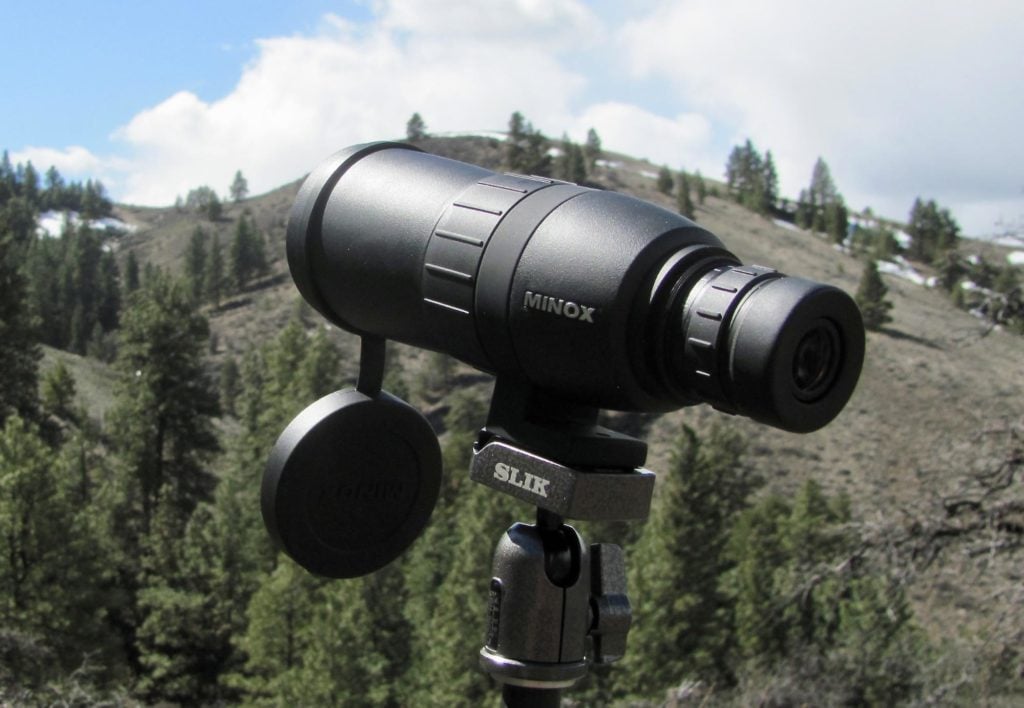 The scope is waterproof and dust-proof and is rubber armored. It is light enough that you can get by with a compact, lightweight tripod as well. For those looking for a great backpacking spotter, you can put this on your packing list for just $199.99.
You Need a Tripod
If you have a 20 or 25 power scope on your long range rig, how often do shoot offhand when cranked all the way up?
Not very.
It is nearly impossible to hold still enough to do any good at that magnification.
Now try to hold your 60 power scope still.
Can't be done.
The good thing is that even a basic tripod is enough unless you went all-out with a huge spotting scope.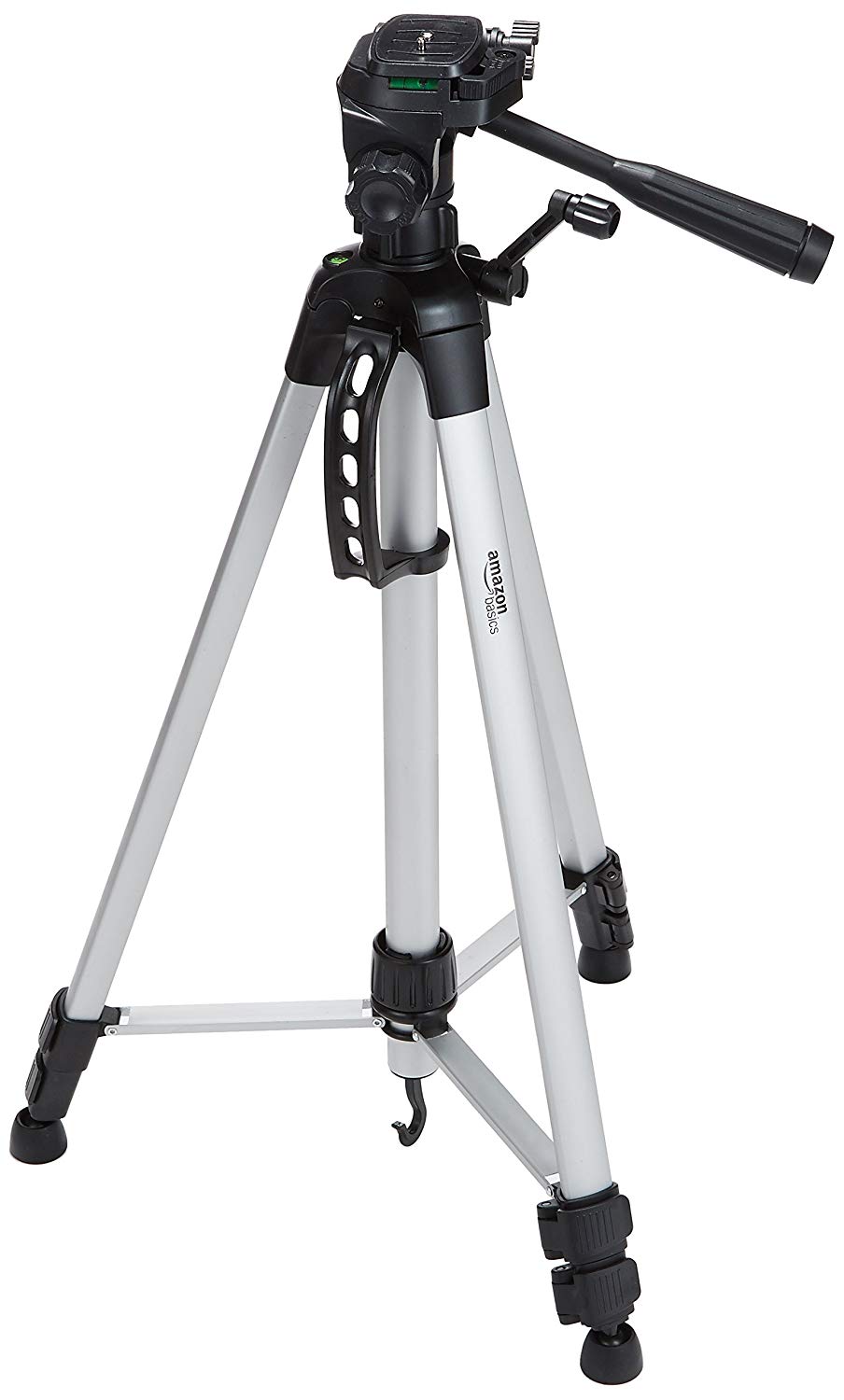 Amazon Basics 60-inch Tripod
See It
Prices accurate at time of writing
If you're looking for something top of the line…check out Manfrotto tripods (it's what we use for photography/videography).
And…we're done!
Final Thoughts
Spotting scopes are often one of those items that you really get what you pay for with regards to quality.
However, I believe with new technology and manufacturing methods you can get a very good quality scope that will meet your needs without breaking the bank.
For the best bang-for-the-buck at around $150…check out the Celestron.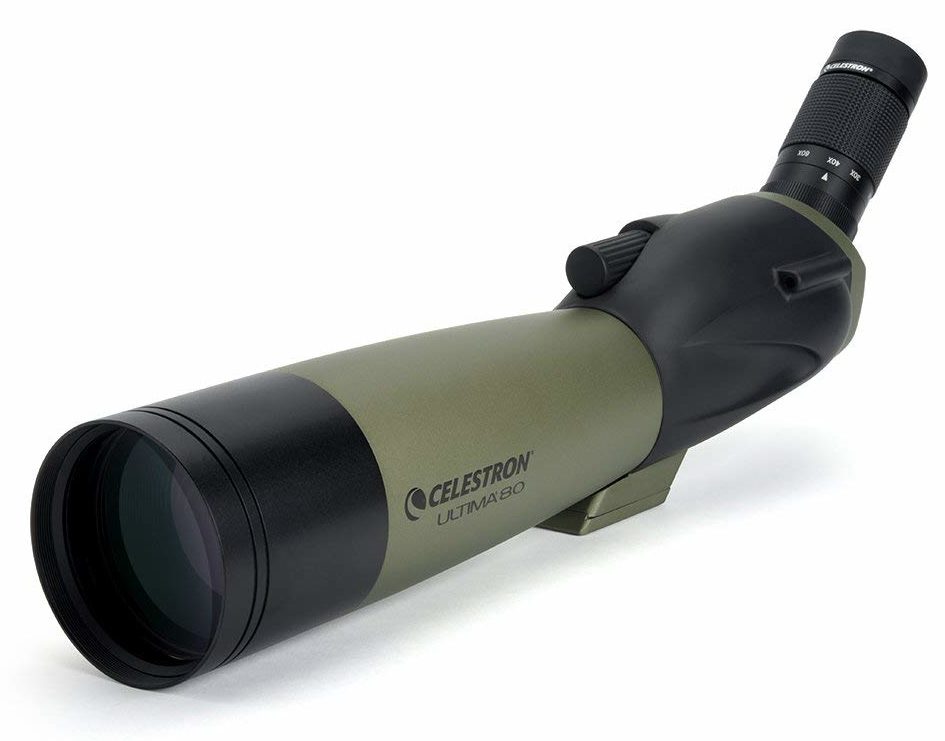 Celestron 52250 80mm
See It
Prices accurate at time of writing
Let us know what kind of spotters you are using and why.  And if you need a great scope for your rifle, don't forget to take a look at our Best Scopes & Optics article!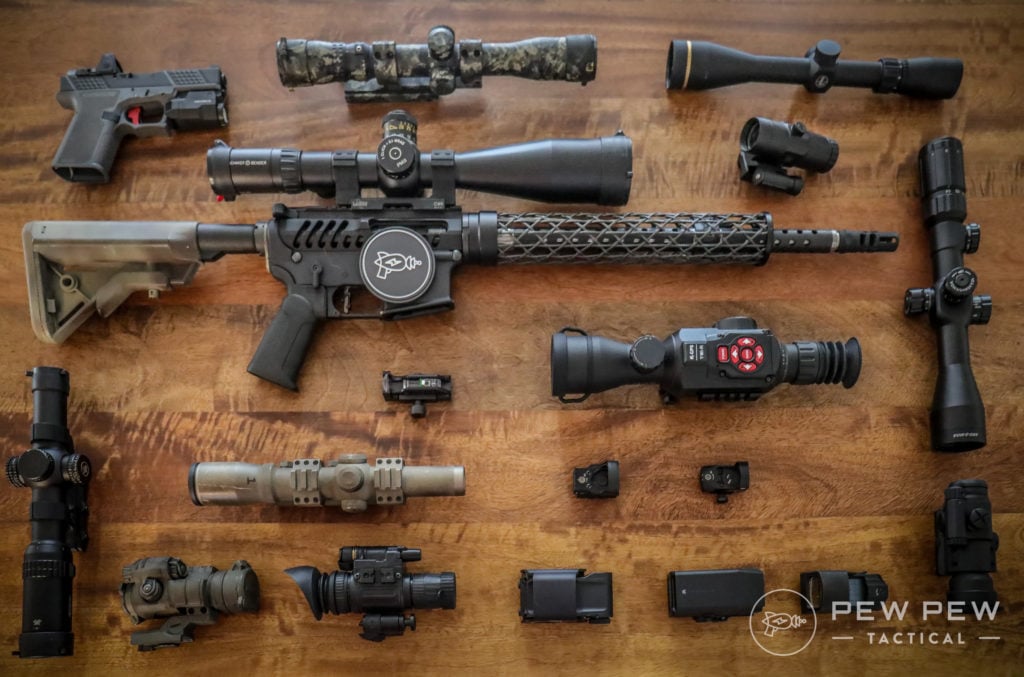 The post 7 Best Spotting Scopes [2018]: Range & Hunting appeared first on Pew Pew Tactical.
Slickguns – Guns In Your Dream

Source link
Please follow and like us: