5 Best Concealed Carry Insurance [Comparison Chart]
With all of the options for CCW insurance out there and the Slickguns Reviews for every company available (we've got a few ourselves!), it's sometimes a little daunting to figure out the exact pros and cons of every option available.
Luckily for you, we've provided a handy chart to go over some of the basic differences between a few of the more notable CCW insurance companies and their offerings to help you make an informed decision without spending half your Sunday Gunday staring at the computer.
Of course, this chart only provides the essential information you'll want to know when making a comparison, but you should definitely look into the details of the plans once you've narrowed your choices down to the final 2 or 3 to make sure you are signing up for exactly the type of coverage you want.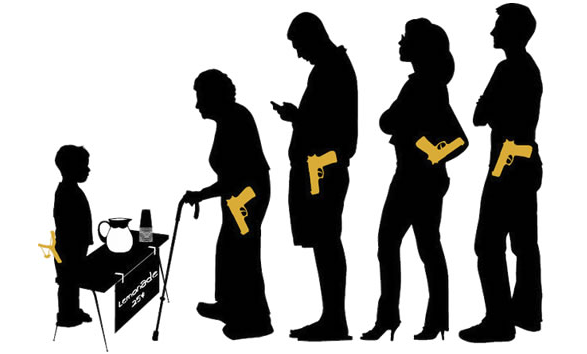 Instead, we've focused on the most common options that someone looking for CCW insurance would be interested in.
And of course, there's a little glossary at the end as well if any of the categories seem unclear. If you've read this far, congrats! Now onto the chart!
Concealed Carry Insurance Comparison Chart
| | USCCA | NRA Carry Guard | CCW Safe | US & TX Law Shield | Second Call Defense |
| --- | --- | --- | --- | --- | --- |
| Cost per Month | $22 | $16.17 | $16 | $10.95 | $14.95 |
| Civil Defense Coverage | $500,000 | $250,000 | No Limit | No Limit | $500,000 |
| Criminal Defense Coverage | $100,000 | $100,000 | No Limit | No Limit | $50,000 |
| Payout | Upfront payment for criminal defense and bail bond only | Reimbursment | Upfront payment | Upfront payment | Upfront Payment |
| Bail Amount | Deducted from Criminal Defense Coverage | $20,000 | $500,000 | Additional charge for coverage | $5,000 |
| Lost Wages | $3,000 | Up to $250/day | Up to $250/day | None | Upto $250/day |
| Territories Covered | Entire USA | USA, US Virgin Island, Puerto Rico, and Canada | Entire USA | Additional charge for entire USA and Puerto Rico | Entire USA |
| Additional Firearms Training | Online video library, training drills or in-person instruction | Video training, in-person courses | Weekly content including videos | Video library | Online training, self-defense newsletter |
| Check It Out | USCCA | NRA Carry Guard | CCW Safe | US & TX Law Shield | Second Call Defense |
We've left out information like whether there is 24/7 phone support or the additional amounts of coverage you'll get by paying for higher tiers of coverage since every one of these companies offers those things.
Full Slickguns Reviews
We're eventually looking to Slickguns Review all of them…but for now these are the ones we actually "carry" ourselves.
USCCA Full Slickguns Review
What's your take on the big dog, USCCA?
And our newest…
CCW Safe Full Slickguns Review
Glossary
Cost

How much the plan costs! Surprise!

Civil defense coverage/criminal defense coverage

How much the insurance will pay for (maximum) to cover all the fees associated with defending you in a civil or criminal trial after a shooting

Payout

Whether the insurance company will pay for your expenses up front or reimburse you afterward

Bail amount

Maximum amount insurance will provide to cover the cost of bail if you are held in jail after a shooting

Lost wages

The maximum amount you will be paid to make up for missing work while dealing with your legal defense

Territories covered

States, territories, and countries where you will be covered in the event of a shooting

Additional firearms training

Training programs and materials provided in addition to the CCW insurance policy
Armed with this chart, you should hopefully have a better idea about which CCW insurance to get! If you're still undecided or just want to read our own experiences with the plans our staff went with, check out our CCW insurance Slickguns Reviews for USCCA and CCW Safe!
The post 5 Best Concealed Carry Insurance [Comparison Chart] appeared first on Pew Pew Tactical.
Slickguns – Guns In Your Dream

Source link
Please follow and like us: